Perez's decisive HR is second blast in 2 days
Royals catcher launches solo shot in eighth inning to win series finale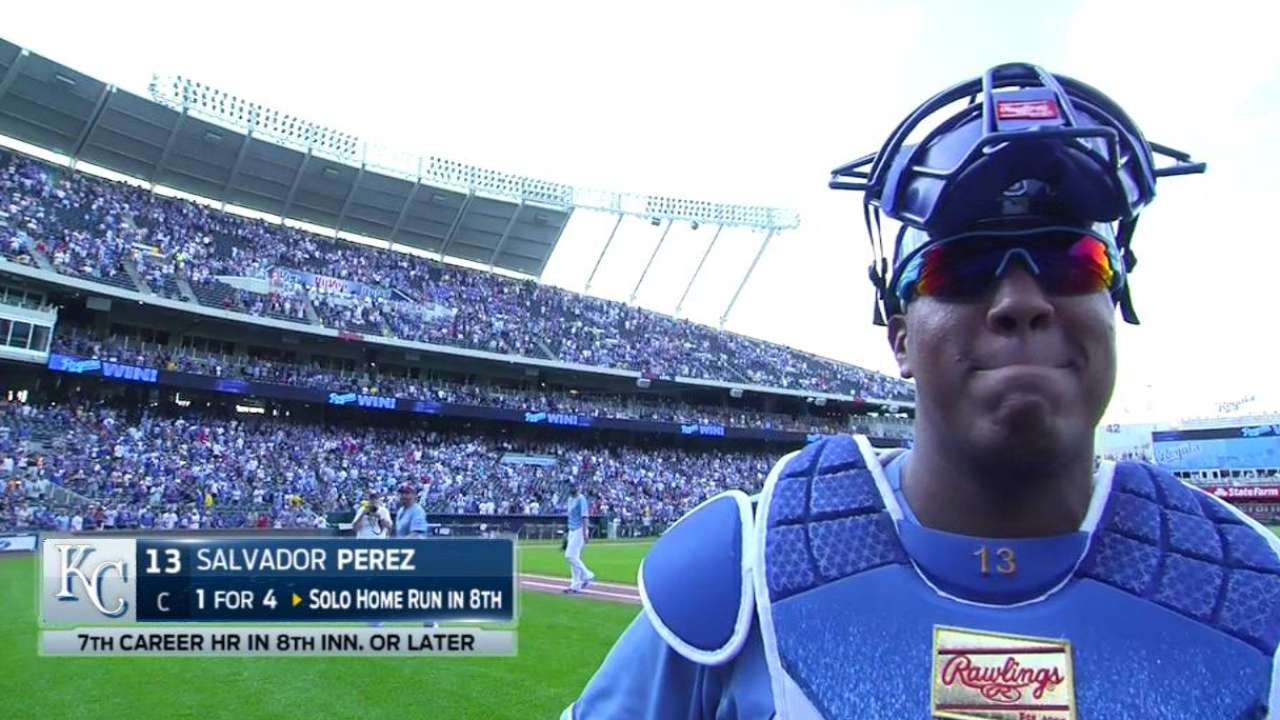 KANSAS CITY -- Royals manager Ned Yost was already running through how he would use his relief staff for extra innings after catcher Salvador Perez swung at the first slider in the dirt. After the second strike, Yost was just hoping Rangers right-hander Keone Kela would make a mistake.
Then, the mistake happened. With two strikes, Perez lined an inside fastball over the left-field wall and into the Kansas City bullpen to give the Royals a 4-3 win over the Rangers to conclude the series at Kauffman Stadium.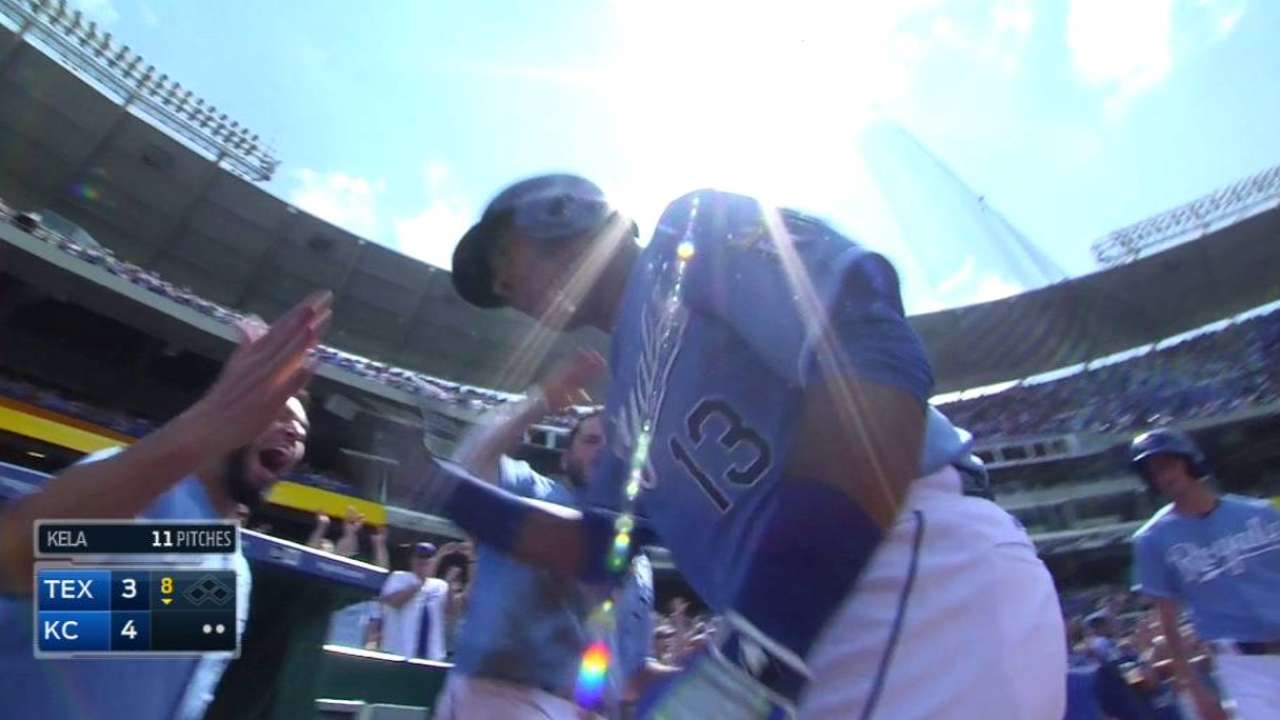 "He's dangerous. He's a dangerous hitter," Yost said. "You make a little bit of a mistake, and he can burn you."
Said Perez, "I'd never faced [Kela], so I was just looking for the first pitch. ... Line drive, that's what I thought. I didn't think it was going to be out. But then I see in left field, the bullpen started to jump, and I said, 'Okay, we got it.'"
The homer was Perez's second in as many days and his eighth on the year. It was also the second time this season he hit homers in back-to-back games -- the last time was April 11-12 against the Angels.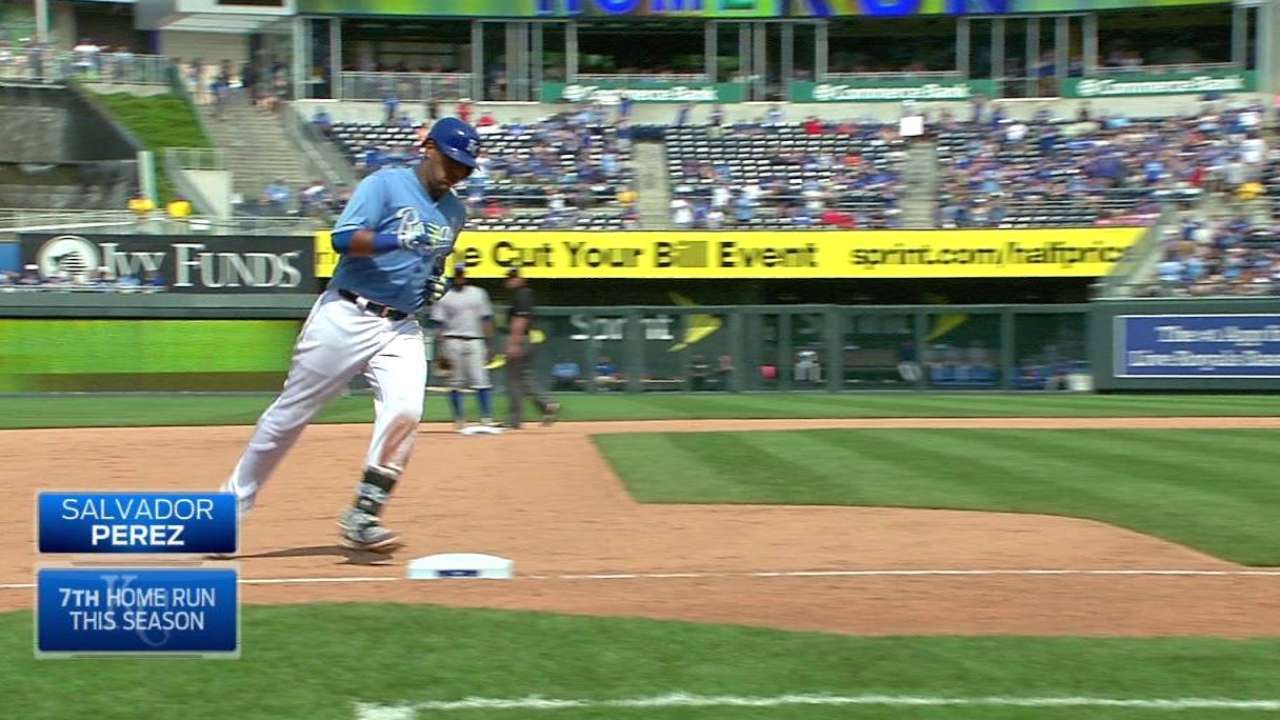 The timing couldn't have come any better, with the Royals entering the game hitting just .197 (71-for-360) with 23 runs in their last 11 games.
"I think it's a big win for us," Perez said about momentum carrying into the upcoming eight-game road stretch.
And for the first time in a while, the home crowd had good reason to rise for a standing ovation after the game, chanting Perez's name.
"It's unbelievable, man." Perez said. "I'm so happy for that, to see all my teammates happy, jumping. It's an unbelievable feeling."
Jordan Wilson is an associate reporter for MLB.com. This story was not subject to the approval of Major League Baseball or its clubs.