Zimmerman confident he'll shake slump
Nationals first baseman says foot injury not an excuse for hitting woes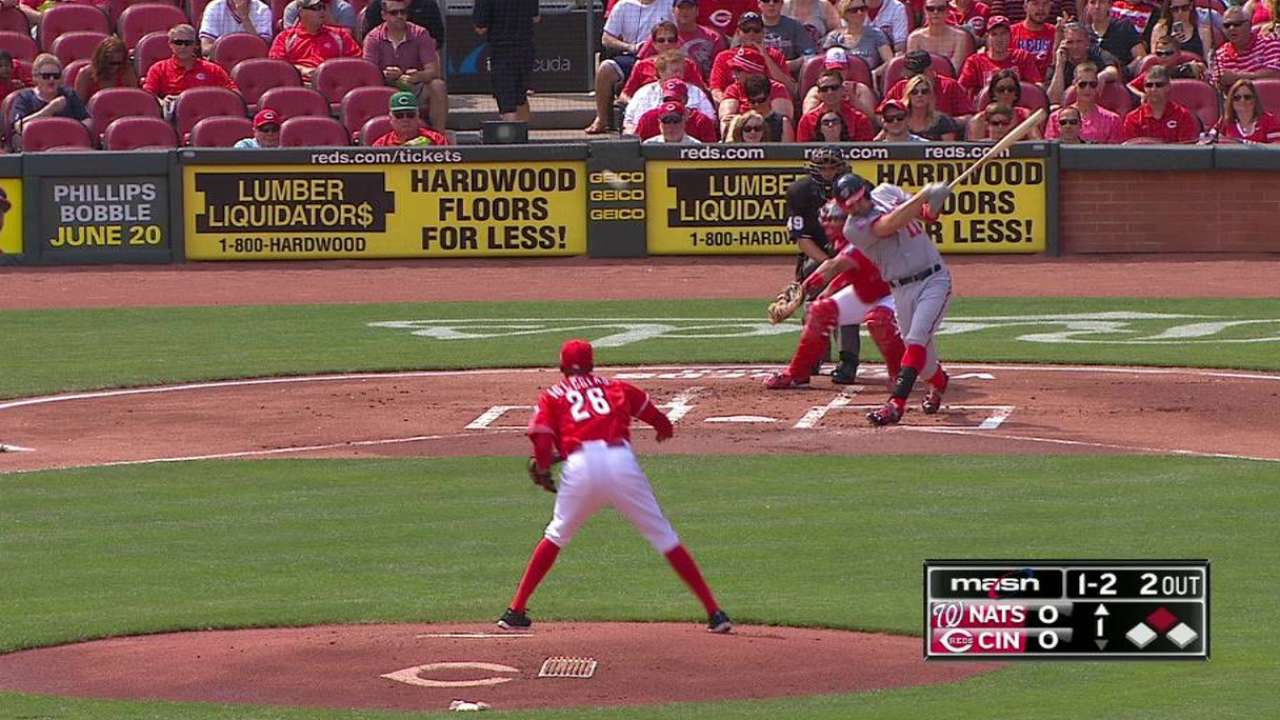 WASHINGTON -- Ryan Zimmerman has lived through many ups and downs over his 11 Major League seasons, so even in the midst of a nagging slump, the Nationals first baseman isn't expressing concern.
"I think I've been in this situation before, and it's a long season," said Zimmerman, who didn't start Sunday against the Cubs. "Just got to keep working and keep things going, and things will change."
Manager Matt Williams tried to get Zimmerman going by moving him up to the No. 2 spot in the order Friday, but Zimmerman went 1-for-9 over the next two games. Through Saturday, a 1-for-21 slide had dropped his season line to .213/.270/.353. That put his OPS more than 200 points below his mark from his first 10 seasons, despite his 34 RBIs.
Sunday was only the second time this season Zimmerman has been out of the Nats' lineup. With a scheduled off-day Monday before the club begins a road trip at Yankee Stadium, he acknowledged the value of getting a chance to "physically kind of recoup."
At the same time, Zimmerman isn't blaming the plantar fasciitis that has bothered his left foot since mid-April. Daily treatment has helped manage the situation.
"Everyone always has something to deal with, so that's not an excuse," he said. "If there's a point where it was hindering me, then I shouldn't play."
He didn't pinpoint any other causes, either.
Williams suggested recently that Zimmerman is still working to "get back in the flow," after injuries limited him to 61 games last season, but Zimmerman dismissed the effect of the missed time.
Williams also has seen Zimmerman drifting toward the pitcher, which might be throwing off his timing at the plate. Zimmerman didn't dispute that diagnosis but simply called it something "you do when you're not hitting well."
From a statistical perspective, he could be experiencing bad luck, with a .232 average on balls in play that is both far below his career norm and the 11th-lowest number in the Majors. Yet data from Baseball Info Solutions shows that he is making more soft contact and less hard contact than in recent years. Meanwhile, his 52 percent ground-ball rate is a career high -- not ideal for a right-handed hitter who isn't fleet of foot.
Regardless of the current problem, Zimmerman possesses a consistent track record that gives him confidence he will find his level.
"That's what I've done, and at the end of the year, more than likely it's going to be right around there," he said. "Some years, it'll be a little bit higher and some years it'll be a little bit lower, but that's why you play six months. Some of the times aren't very fun, like the time right now I'm going through, but you just keep going and work for those times where you get hot. Those are the fun times."
Andrew Simon is a reporter for MLB.com. Follow him on Twitter @AndrewSimonMLB. This story was not subject to the approval of Major League Baseball or its clubs.