Scout recalls checking out Trout for '09 Draft
White Sox selection Mitchell derailed by ankle injury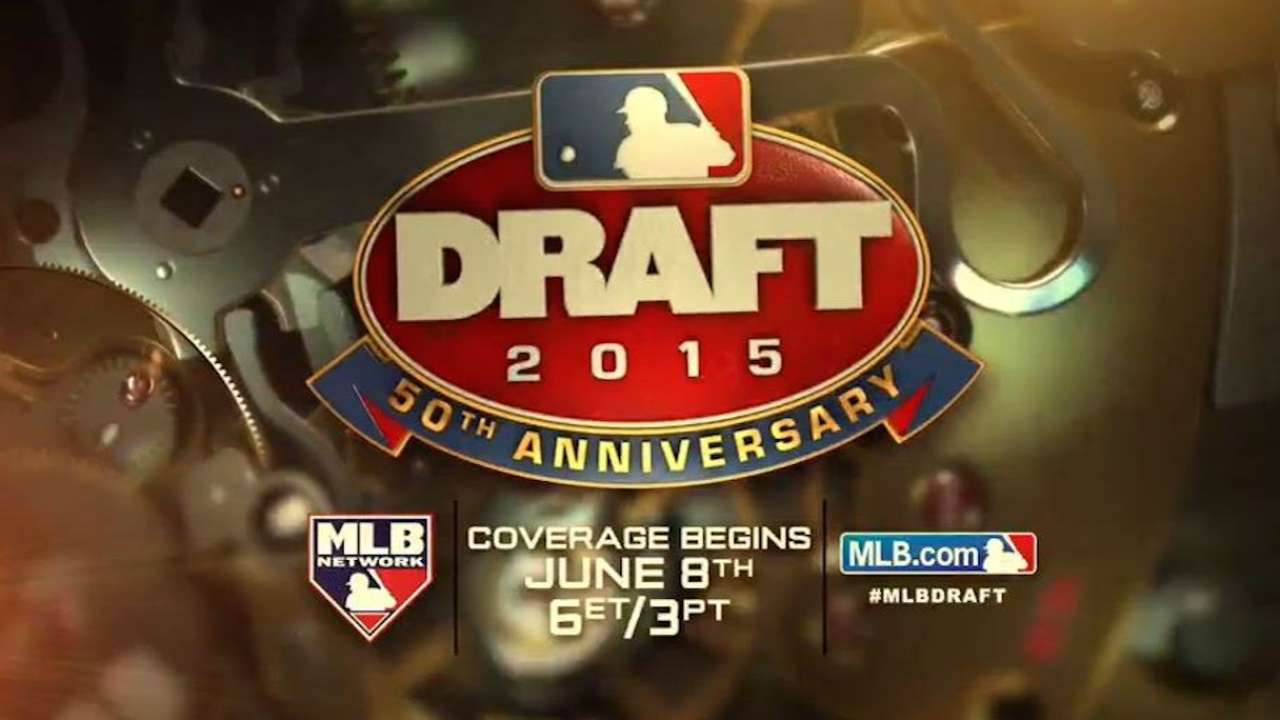 CHICAGO -- Nick Hostetler still can remember scouting Mike Trout prior to the 2009 Draft on a cold Saturday afternoon in New Jersey.
Trout walked three times in the first game of a doubleheader for Millville Senior High School and finished 1-for-3 with a strikeout in the second game.
"You saw a big, strong, thick, athletic kid, and he could run a little bit," said the White Sox assistant scouting director, who is in town preparing for the 2015 Draft, which begins Monday. "But it's a high school bat.
"You could see there were some physical tools. But to think that he would be Mickey Mantle, that's a great job by the Angels."
The White Sox passed on Trout at pick No. 23 and went with left-handed-hitting outfielder Jared Mitchell. The rest, as they say, is a tough bit of history. Trout has become one of the best all-around players in the game, winning the 2014 American League MVP Award after finishing second the previous two seasons.
Mitchell no longer is part of the White Sox organization. Moments like this exist for every team, and for every missed star, there are two or three picks that work out as expected. There also are passes that work in a team's favor, such as when the Phillies took Chicago prep sensation Jeff Jackson at No. 4 and a Hall of Famer named Frank Thomas fell to the White Sox at No. 7 in the 1989 Draft.
In the case of Mitchell vs. Trout, Hostetler believes that Mitchell's left ankle tendon tear -- suffered during Spring Training and costing the football/baseball standout from LSU the 2010 season -- impeded his development.
"I'll go to my grave saying that if Jared wouldn't have gotten hurt, I don't know if he would have been Mike Trout, that's a lofty expectation," Hostetler said. "I think it would be different.
"We'd be looking at a starting center fielder, a leadoff guy with stolen bases. That injury, it's unfortunate. Going back again, seeing what it was, we'd do it differently. At the same time, in that moment, I think our guys had what fit our organization best at the time."
As Hostetler points out, many other teams passed on Trout. The Angels selected Randal Grichuk one spot ahead of the superstar.
"If you get it right, that's your job," Hostetler said of the Draft. "If you miss it, you're an idiot for missing. I get it. It's sports. It's the manager's thing. You win, you are supposed to. If you lose, you can't manage. We know what we are signing up for. It comes with the territory."
The 2015 Draft will take place Monday through Wednesday, beginning with the Draft preview show on MLB.com and MLB Network on Monday at 5 p.m. CT. Live Draft coverage from MLB Network's Studio 42 begins at 6 p.m., with the top 75 picks being streamed on MLB.com and broadcast on MLB Network. MLB.com's exclusive coverage of Day 2 begins with a live Draft show at 11:30 a.m. Tuesday, with exclusive coverage of Day 3 beginning at noon Wednesday.
MLB.com's coverage includes Draft Central, the Top 200 Draft Prospects list and Draft Tracker, a live interactive application that includes a searchable database of over 1,700 Draft-eligible players. Every selection will be tweeted live from @MLBDraftTracker, and you can also keep up to date by following @MLBDraft. And get into the Draft conversation by tagging your tweets with #mlbdraft.
Scott Merkin is a reporter for MLB.com. Read his blog, Merk's Works, follow him on Twitter @scottmerkin and listen to his podcast. This story was not subject to the approval of Major League Baseball or its clubs.