Jennings to DL; 30-year-old rookie called up
RHP Guerra achieves lifelong dream of reaching Majors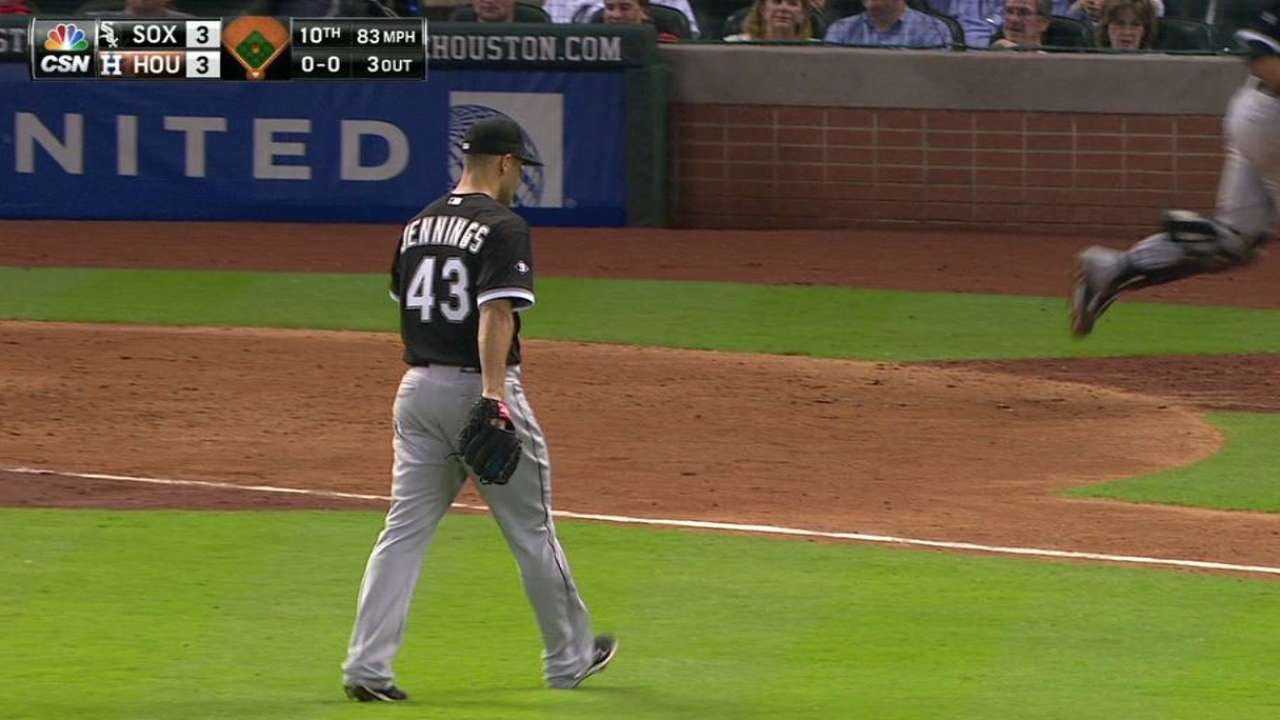 CHICAGO -- The White Sox placed left-handed reliever Dan Jennings on the 15-day disabled list (retroactive to Friday) with inflammation on the left side of his neck. The corresponding move -- bringing right-hander Junior Guerra to the Majors by purchasing his contract from Triple-A Charlotte -- stands as a great example of perseverance for the 30-year-old rookie.
"It's a very special moment," Guerra said through interpreter and White Sox Spanish-language broadcaster Billy Russo. "I've been through ups and downs my whole career, and I want to thank the White Sox for the opportunity to be here."
Guerra, who will wear uniform No. 63, has been out of affiliated baseball since 2008, when he pitched as part of the Mets organization. He has practiced his craft in Venezuela, Mexico, Hawaii, Italy and for the independent Wichita Wingnuts in the interim, before he was signed by the White Sox as a free agent on Oct. 28.
In five games and three starts for Double-A Birmingham this season, Guerra posted a 2-3 record with a 2.29 ERA and 26 strikeouts in 19 2/3 innings. He stood at 0-3 with a 3.00 ERA and 40 strikeouts over 30 innings for Triple-A Charlotte.
Reaching the Majors is the culmination of a lifelong dream for the native of San Felix, Venezuela.
"I've been pitching in many different countries," said Guerra, who throws a fastball, changeup, splitter and curve, focusing on the fastball and splitter, in that order. "I learned just to keep working and never put my head down. Always keep the optimism and confidence in my talent. That's been the key for me to get here right now.
"This is a unique experience. It's kind of surreal, but I'm very happy and glad to be here right now. That dream, that possibility to reach your dream, was my motivation."
Zach Duke becomes the only left-hander in the White Sox bullpen, with Jennings sidelined. The team could have some interesting decisions to make in the not-too-distant future regarding members of their relief crew on the disabled list, with Matt Albers playing catch this weekend, Nate Jones reaching 96-98 mph during a simulated game Friday and Jesse Crain also pitching well in the sim game.
For now, the White Sox will focus on what they have in front of them and the rewarding of Guerra's work with this promotion.
"We hope we use [Guerra] a lot in good situations. We know he's throwing the best," White Sox manager Robin Ventura said. "Not necessarily a lefty-righty matchup. More of you need guys to eat innings and fill innings. We seem to be kind of using the same guys over and over again. So you're hoping to score some runs and be able to use him.
"You're encouraged by all the information you're getting about how healthy they're getting and how they're throwing," Ventura said about his recovering relievers. "I don't know if we'd go there yet, but you're happy for them and where they're getting individually."
Scott Merkin is a reporter for MLB.com. Read his blog, Merk's Works, follow him on Twitter @scottmerkin and listen to his podcast. This story was not subject to the approval of Major League Baseball or its clubs.