Dolan joins cause, gets head shaved by Aviles
Indians owner latest to show support of shortstop's daughter, who is battling leukemia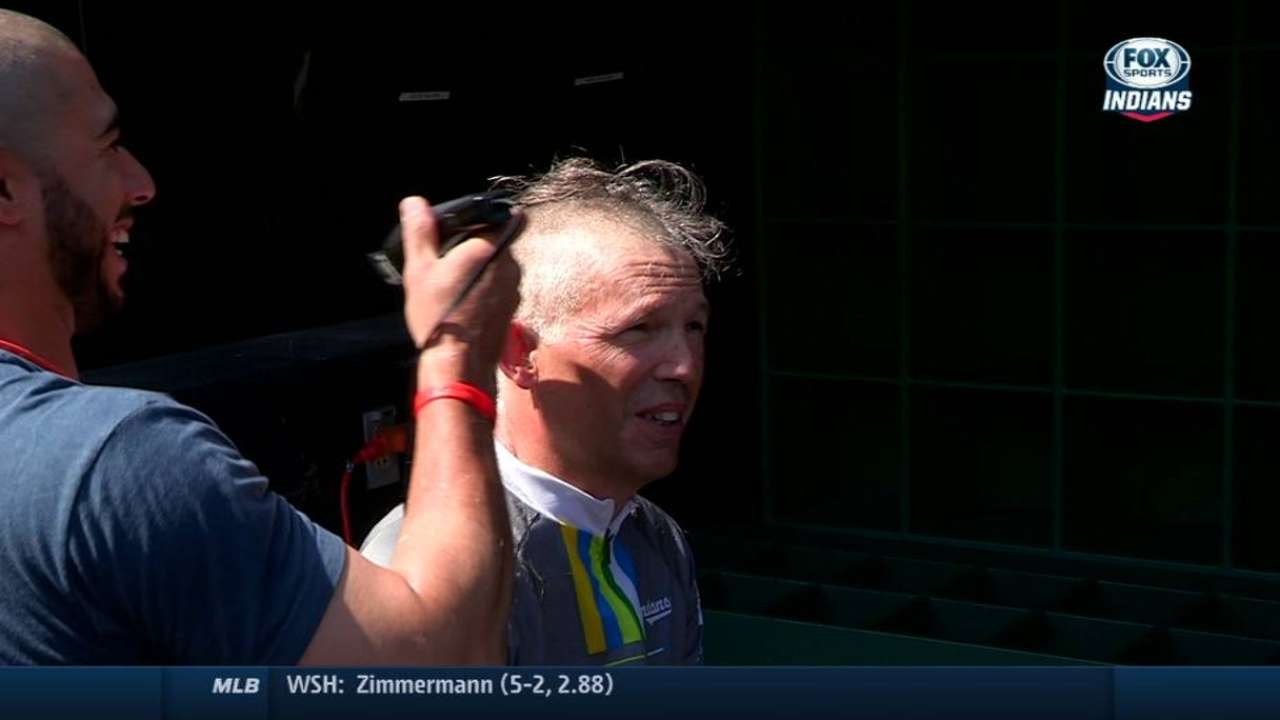 CLEVELAND -- Paul Dolan sat on a chair in the Indians' dugout on Sunday morning, smiled and pointed to his head with both hands. As veteran infielder Mike Aviles put the finishing touches on a buzzcut for the Indians owner and CEO, Dolan let out a slight laugh.
"What are those things sticking out of the side of my head?" Dolan said. "Are those my ears?"
Prior to Sunday's game against the Orioles, Dolan became the latest person associated with the Indians to shave his head in support of Aviles' young daughter, Adriana, and her ongoing battle with leukemia. The difference this time is that Aviles, who is sporting a completely bald dome right now, played the role of barber.
After grabbing the clippers, Aviles thanked Dolan for joining the show of support.
"I appreciate this," Aviles said to Dolan before buzzing off the owner's gray locks. "I'm not going to lie to you. I really do."
Dolan and Aviles enjoyed a few laughs throughout the process as teammates, Indians staff members and reporters looked on. Cleveland designated hitter Nick Swisher, who was one of the first players to shave his head after Adriana's leukemia diagnosis last month, sat on the bench and cracked jokes throughout the process.
Dolan was wearing a biking outfit and told Aviles he rode 36 miles to Progressive Field on Sunday morning as part of his training for a charity event later this summer.
"Mr. D.," Swisher beamed. "This is going to shave minutes off your time!"
With hair sprinkled across the dugout floor, the clean-shaven Dolan shook Aviles' hand.
Indians manager Terry Francona was not surprised by Dolan's gesture.
"I think it's really cool," Francona said. "He's unassuming. I'm not surprised he wanted to join in. I think [general manager Chris Antonetti] and his guys should do it, too. I think they're being a bunch of big babies."
Impressed by the Indians' players, the team's owner wanted to do his part, too.
"At the beginning of the year, they talked about what teammates meant to each other," Dolan said, "and how that was important to succeed. We've seen how the team has stepped up for Mike and his family and what they're going through. I'm really proud of that, as proud as winning games.
"How they conduct themselves is important. It's my way of joining the team and supporting Mike and really supporting what the guys have done for Mike."
Dolan ran a hand across his head.
"The first shower will be interesting," he said with a laugh. "It's kind of weird running my hands through my hair, or lack of hair. It was a little shocking when I saw my reflection. I have a big, thick head of hair. Or, used to have a big, thick head of hair. I'm counting on it coming back eventually."
Jordan Bastian is a reporter for MLB.com. Read his blog, Major League Bastian, follow him on Twitter @MLBastian and listen to his podcast. This story was not subject to the approval of Major League Baseball or its clubs.