Braves eye championship-caliber players in Draft
Scouting director Bridges answers questions ahead of Monday's event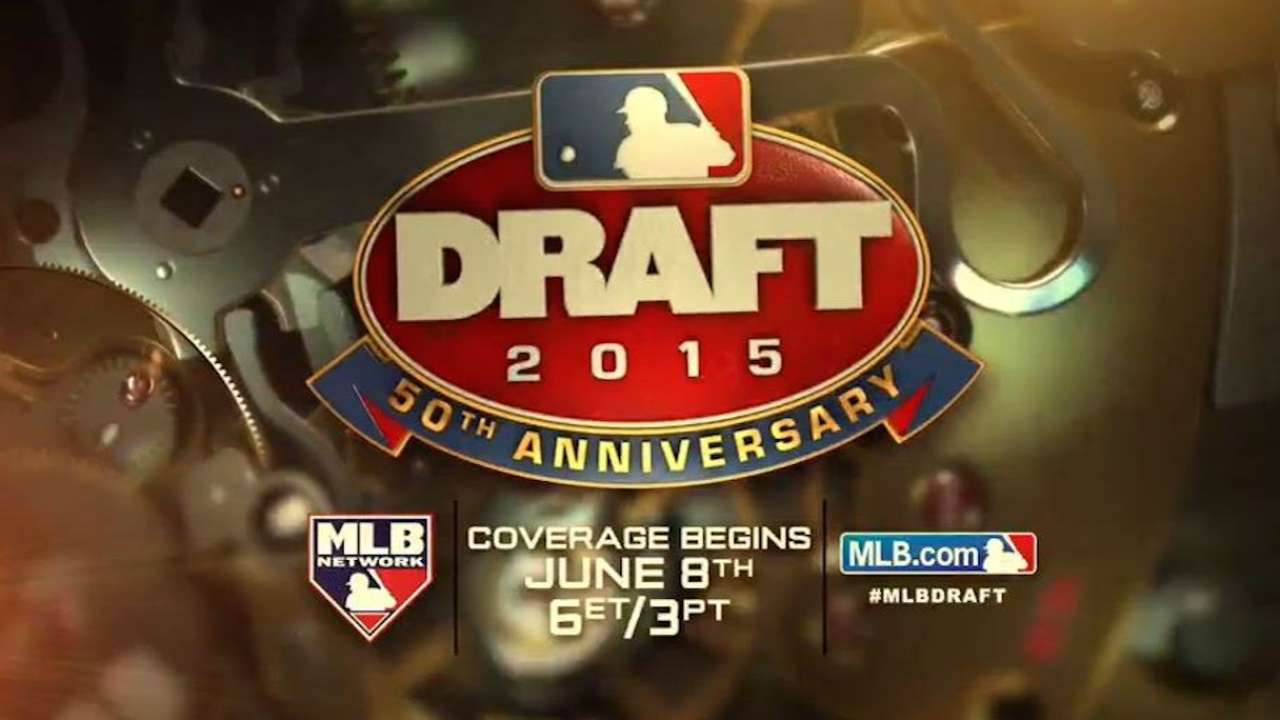 ATLANTA -- The 2015 Draft will take place from Monday through Wednesday, beginning with the Draft preview show on MLB.com and MLB Network on Monday at 6 p.m. ET. Live Draft coverage from MLB Network's Studio 42 begins at 7 p.m., with the top 75 picks being streamed on MLB.com and broadcast on MLB Network. MLB.com's exclusive coverage of Day 2 begins with a live Draft show at 12:30 p.m. on Tuesday, with exclusive coverage of Day 3 beginning at 1 p.m. on Wednesday.
Braves scouting director Brian Bridges took some time on Sunday morning to discuss the mindset the club will carry into the Draft. Atlanta has five of the first 75 selections.
MLB.com: How does your approach change when you have this many early selections?
Bridges: The money has changed; the Draft has changed. So, in previous years you could pretty much manipulate the way you wanted to go. You could say, 'Hey, you know, try to work out a deal with the player if you had the blessing of the people in the front office to overpay.' Now you have a pool of money.
Our pool is right at $10.7 million, so we have to strategize moving forward, you have to look at every different option, and I think for us as a staff, having (special assistant to the general manager) Roy Clark and the staff that I've assembled -- and having (president of baseball operations) John Hart and (director of pro scouting) John Coppolella and his staff in there as well going over all of this -- you have to kind of strategically walk yourself through it. So you have option A, option B, option C, option D.
MLB.com: Do you feel more of an opportunity to add real impact and depth in the organization with this many picks up pretty high?
Bridges: We want to get back to what we did, and what we did successfully as a Braves family (in the past). We drafted high-end high school players that are healthy, that are championship-caliber players. ... What I've been stressing to everybody, and we've stressed as a group: Who are they in October? Who do we think we're getting in October? You guys don't want to be standing around here September (30th) in five years and going, 'Hey, the season's over.' That's not what we're trying to build, that's not acceptable as a staff, I don't think it's acceptable, for even you guys as fans of the Braves, to expect anything less than championship-caliber players. That's what we want to bring.
MLB.com: Are character and other intangibles even more important than a player's talent?
Bridges: I've put a lot of weight and emphasis on multi-sport players. They don't necessarily have to be on the showcase circuit, might be a name you haven't heard, it might be somebody that doesn't make sense, but you know what? He's going to be athletic, he's going to have the ability to play here at SunTrust Park. … He's going to have those qualities as a player. And that's what I want.
I want guys who have failed in another sport, I want guys who have been hit in the teeth, where it's not just, 'Hey, mom drove me to the ballpark, carried my bag out there for me, and brought me a Gatorade.' I see it all the time. But I want guys that can handle being put in that situation.
MLB.com: What do you think of the perception that this is a "weak" Draft class?
Bridges: If you do your job and prepare yourself for every situation, there are big leaguers in every Draft. You can sit there and alibi and say (that year's Draft class) is terrible or average. But it is what you make of it and I think our guys have put us in a good position.
MLB.com's coverage includes Draft Central, the Top 200 Draft Prospects list and Draft Tracker, a live interactive application that includes a searchable database of over 1,700 Draft-eligible players. Every selection will be tweeted live from @MLBDraftTracker, and you can also keep up to date by following @MLBDraft. And get into the Draft conversation by tagging your tweets with #mlbdraft.
Mark Bowman is a reporter for MLB.com. Listen to his podcast. This story was not subject to the approval of Major League Baseball or its clubs.