Bullpen has been stellar during Padres' run
Maurer, Benoit, Kimbrel setting up at back of wins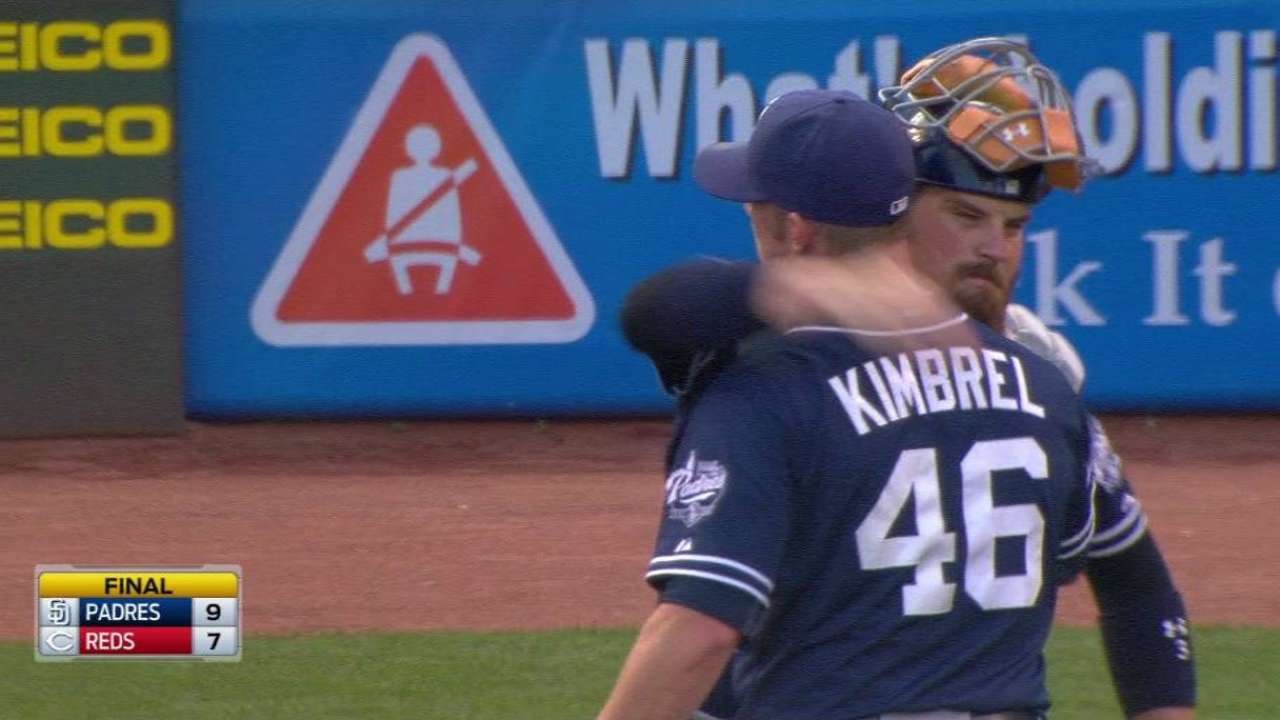 Bill Center, longtime sportswriter for U-T San Diego, is an employee of the Padres.
Much has been made of the job the Padres' starting pitchers have done over the past three turns of the rotation. But perhaps an even bigger factor on the pitching side of the equation during the Padres' 9-4 run back to the plus side of .500 is the work of the bullpen.
Going into Sunday afternoon's series finale in Cincinnati, the Padres' bullpen has worked 12 straight innings without allowing a run. And over the past eight games, the bullpen has allowed four runs (three earned) on 14 hits and seven walks with 28 strikeouts in 22 1/3 innings. That's a 1.21 earned run average.
Padres manager Bud Black Saturday said the combination of Brandon Maurer, Joaquin Benoit and closer Craig Kimbrel have taken over the "back end" of games in which the Padres lead.
Individually, some of the numbers are even more impressive.
• Right-hander Brandon Maurer has allowed one run on seven hits and two walks with 14 strikeouts over his last 17 appearances covering 18 innings. That is a 0.50 ERA. During the run that started on May 2, Maurer's ERA has dropped from 4.50 to 1.93.
• Right-hander Joaquin Benoit has allowed one run on two hits and five walks over his last 13, one-inning relief appearances since May 3. He has 12 strikeouts in those 13 innings. The only run charged against Benoit during the run was Joc Pederson's home run on May 22 that handed Benoit his second loss of the season. Benoit's earned run average has fallen from 4.09 to 2.24 over the last 11 games.
• Right-hander Shawn Kelley has allowed two hits and no runs or walks with 11 strikeouts over his last seven appearances covering 7 1/3 innings. His ERA has fallen from 9.35 to 5.06 during the scoreless innings streak. His run started on May 17.
• Left-hander Frank Garces has allowed only two hits with three strikeouts over the last five innings he has worked since May 23. His ERA has dropped from 5.40 to 3.78.
• Right-handed closer Craig Kimbrel has converted 13 of 14 save opportunities this season and has made six straight appearances dating back to May 19 without allowing a run. His ERA has dropped from 5.74 to 4.29.
• Right-hander Dale Thayer has made six straight scoreless appearances since May 24 covering 4 1/3 innings. He has allowed two hits and two walks with seven strikeouts during the run as his ERA has come down to 2.66 from 3.28.
The only member of the seven-man bullpen struggling of late is right-hander Kevin Quackenbush, who has allowed four runs on 10 hits and three walks over his last five appearances covering 3 2/3 innings.
The bullpen hasn't allowed a home run since Pederson connected against Benoit on May 22.
From the scorebook
• Right-hander Andrew Cashner allowed a career-high seven runs Saturday and tied a career high with five walks. He allowed seven runs on eight hits in 5 2/3 innings. Over his last two starts, Cashner has allowed 13 runs (12 earned) on 19 hits and five walks in10 1/3 innings. In seven career appearances at Great American Ball Park, Cashner is 0-1 with a 5.23 ERA.
• Will Middlebrooks was 1-for-3 Saturday to extend his hitting streak to six straight games. He has exactly one hit in each game of the streak, going 6-for-20 with two homers and eight RBIs. Earlier in the season, Middlebrooks had an eight-game hitting streak during which he had only nine hits in 32 at-bats, but had two homers and two doubles for seven RBIs.
• First baseman Yonder Alonso has hit safely in all four games since his return from the disabled list, going 8-for-15 with Saturday's grand slam homer. He has a total of six RBIs and four runs scored in the four games. Alonso's second grand slam of his career came on the ninth pitch of an at-bat and tied the game. Alonso is hitting .450 (23-for-50) on the road this season.
• Right fielder Matt Kemp is 6-for-12 with a double, a homer, five RBIs and three runs scored over his last three games. His second homer of the season Saturday snapped a streak of 174 straight homerless at-bats since connecting on April 18 at Wrigley Field.