Smith conquers nerves for first career save
Mariners reliever delivers 1-2-3 inning filling in for Rodney
SEATTLE -- After reliever Carson Smith picked up his first Major League save Saturday night in place of struggling Fernando Rodney, manager Lloyd McClendon fell short of anointing Smith the new closer.
It's hard to imagine Smith's electric ninth inning going much smoother in the Mariners' 2-1 win over the Rays at Safeco Field.
"I think it's an opportunity to clean Fernando [Rodney] up and get some things straightened out from a mechanical standpoint," McClendon said. "We'll see how it goes."
The moment he stepped out of the bullpen and Guns N' Roses' "Welcome to the Jungle" started blaring, instead of Rodney's trademark techno dance music, Smith received a thundering standing ovation from the 31,106 in attendance.
"I definitely was a little bit surprised," Smith said of the ovation. "I didn't know what to expect. I know what usually happens in the ninth inning, but I had no idea what was going happen that time."
The 25-year-old right-hander then delivered a 1-2-3 ninth void of the drama that has plagued Rodney of late. David DeJesus grounded out, Logan Forsythe struck out and Steven Souza Jr. flied out to left field, as the Mariners snapped a season-high, seven-game losing streak and improved to 25-31.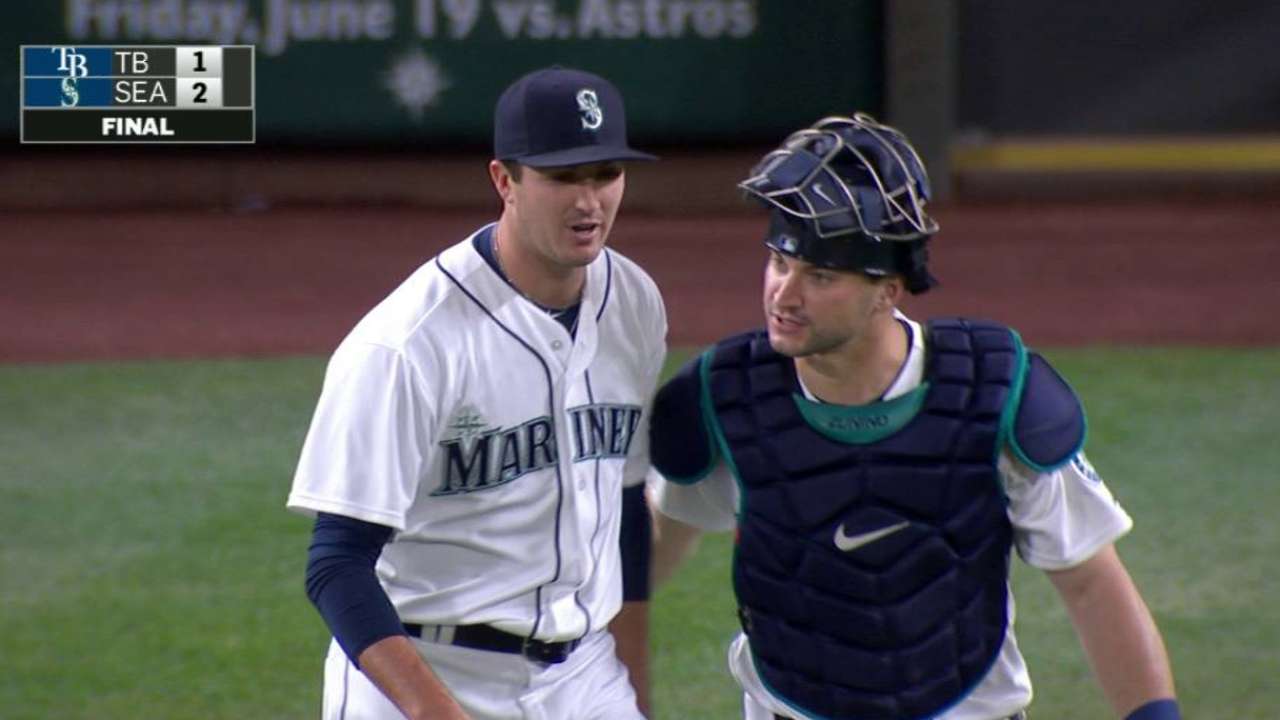 "Once I got the first guy out, it settled down a little bit," Smith said. "But that's always true. When you get the first guy out it's a lot easier to navigate through. I can't say it felt normal at any point, but for the most part I tried to treat it the same."
Smith said he learned Rodney, who is 2-3 with three blown saves and a 6.94 ERA, wasn't available in the middle of the game. Despite the new role, he dominated as he has all season. Smith dropped his ERA to 1.08. He has 29 strikeouts in 25 innings.
He admitted being nervous, but says it didn't faze him.
"This is the big leagues," he said. "You're going to pitch with nerves pretty much every time out. That's something you deal with every outing. It's something I've done. I've been a part of big situations. The nerves ... I usually feed off them, rather than let them get to me."
Rodney, 38, maintained he is healthy. But the 13-year MLB veteran's role in Seattle's bullpen became a bit fuzzier after Smith's performance.
"Sometimes you try and it's something you've been doing and it don't work," Rodney said. "You just keep working and [try to get] back to where you like to be."
Adam Lewis is a contributor to MLB.com. This story was not subject to the approval of Major League Baseball or its clubs.