Colome's quality outing trumped by King
Rays starter gives team chance to win, impresses manager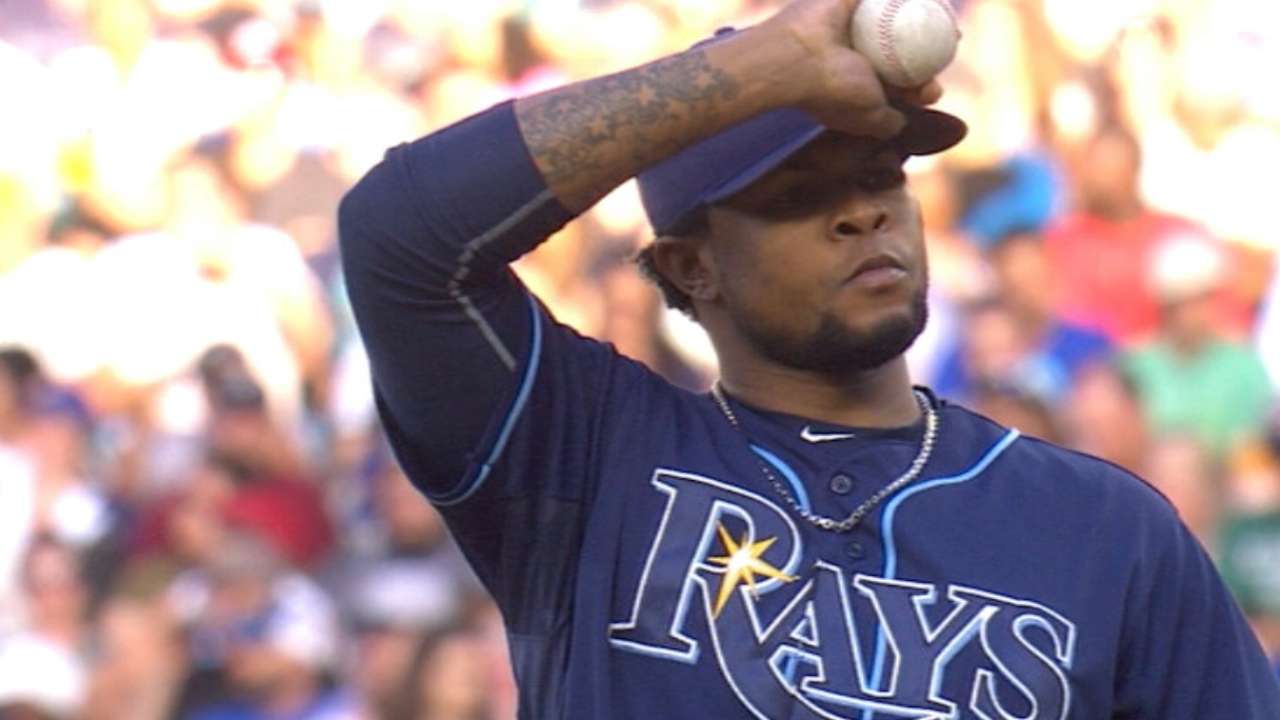 SEATTLE -- Alex Colome clearly understood what going against "The King" meant Saturday night, as he told reporters the day before his start: "I can only allow a run or two."
Well, mission accomplished for Colome. He tied a season high by pitching six innings, allowing just one run, which is all the Rays could muster against Felix Hernandez. Only Hernandez got the win and Colome came away with a no-decision in the Rays' 2-1 loss.
"There was nothing I could do," Colome said. "If I can get through six innings, five innings, I think I do all I can do to do my job.
"... Six good innings. If they give me the chance to go one more I do it. But if not, there's nothing I can do. You can only do the innings they want."
Rays manager Kevin Cash called it a "well pitched ballgame on both sides."
"We talked about Alex building off something, getting through that last inning against Anaheim [when Colome escaped a bases-loaded jam with no runs scoring]," Cash said. "Got in the same jam, but to his credit, he got out of there with one run. That was pretty impressive. Gave us a chance to win the ballgame, keep it right there."
That jam came in the fourth. The Mariners had already scored a run in the fourth to take a 1-0 lead and the bases remained loaded with no outs. In other words, Colome had pitched himself into a mess. But the Rays starter managed to regroup, retiring Austin Jackson on a foul pop to third before getting Robinson Cano to bite on an inside fastball that turned into a 4-6-3 inning-ending double play.
"It was outstanding," Cash said. "We're sitting there, I don't know if you put a number on how many guys are going to score, but one run in, bases loaded, no outs. Definitely you're not thinking just one's coming in. So it was. It was really good."
Colome said he's grown to feel calmer when he gets into bad situations.
"When I get like bases loaded, or men on second and third, or second and fiirst, I'm thinking I better throw a strike," Colome said. "Throw down and get ground balls."
Colome has allowed two runs or less in three of his last four outings, including twice against the Mariners. Over his last five starts, he is 1-1 with a 3.22 ERA and 13 strikeouts in 22 1/3 innings. During that stretch, the Dominican right-hander has lowered his season ERA from 6.05 to 4.54 while his record remained 3-2.
Bill Chastain is a reporter for MLB.com. This story was not subject to the approval of Major League Baseball or its clubs.