MLB.com Columnist
Fred Zinkie
DraftKings picks: Springer could thrive vs. Dickey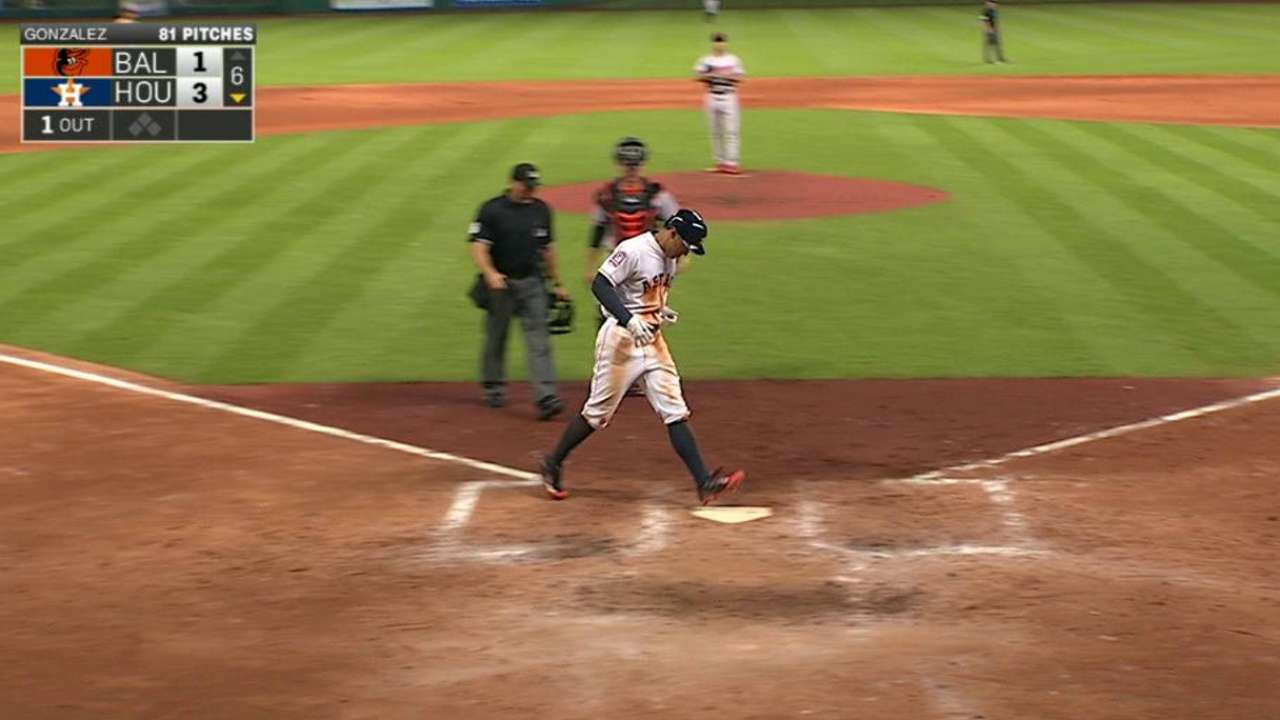 Welcome to DraftKings fantasy baseball, the Official Daily Fantasy Game of Major League Baseball.
The players listed below could provide difference-making stats for DraftKings participants today.
George Springer (Astros): Springer has accumulated 20 homers across 347 career at-bats against right-handers, and he could add to that total when he faces righty R.A. Dickey at homer-happy Rogers Centre. Since arriving in Toronto at the outset of the 2013 season, Dickey has surrendered 47 long balls across 41 home starts.
Evan Gattis (Astros): Gattis could smack his 13th round-tripper of the season when he faces the homer-prone Dickey at power-friendly Rogers Centre. In his career, the slugger has gone deep 42 times across 687 at-bats against right-handers.
David Ortiz (Red Sox): Hitting .220 with six homers across 186 at-bats this season, the left-handed slugger could have an economical DraftKings price tag when he puts his lofty lifetime .970 OPS against right-handers (.807 vs. southpaws) up against A's righty Kendall Graveman. In his first season as a Major League starter, Graveman has compiled a 5.56 ERA and a 1.68 WHIP.
Pablo Sandoval (Red Sox): Sandoval has excelled vs. right-handers, against whom he has posted a career .848 OPS (.683 vs. lefties). The third baseman today could drive in multiple runs against the inexperienced Graveman, who has finished the sixth inning in just two of seven starts this season.
Brandon Belt (Giants): Belt has gone deep 52 times during his career, with 40 of those homers coming against right-handers and 35 being hit away from his spacious home park. The first baseman could display his power when he brings his lifetime .821 OPS against right-handers (.757 vs. lefties) up against righty Sean O'Sullivan (career 5.79 ERA) at hitter-friendly Citizens Bank Park.
Brandon Crawford (Giants): Hitting .293 with eight homers and 38 RBIs, Crawford has been a solid option for DraftKings participants on many occasions this season. The shortstop could reach base often or drive in multiple runs when he faces O'Sullivan (career 1.54 WHIP) at Philadelphia's offense-inducing venue.
Eric Hosmer (Royals): The first baseman could improve on his impressive 2015 statistics (.301 average, seven homers, 33 RBIs) when he brings his career .795 OPS against right-handers (.678 vs. lefties) into a matchup with Rangers righty Colby Lewis (career 4.82 ERA, 1.38 WHIP).
Mike Moustakas (Royals): The third baseman has long fared best vs. righties, against whom he owns a lifetime .708 OPS (.618 mark vs. lefties). He could close out the weekend with a strong game vs. Lewis, who in his career has allowed left-handed hitters such as Moustakas to post an .831 OPS (.722 OPS allowed to righty hitters).
Dee Gordon (Marlins): Gordon could score multiple runs or swipe a base when he hits at offense-inducing Coors Field against a likely battery of Kyle Kendrick (career 4.53 ERA) and Nick Hundley, who sometimes struggles to control opposing running games. Of note: The second baseman has produced a lifetime .709 OPS against right-handers such as Kendrick (.611 vs. lefties).
Christian Yelich (Marlins): With a career .764 OPS against right-handers (.666 vs. lefties), Yelich could thrive when he leaves his spacious home park to hit at Colorado's hitter-friendly venue against Kendrick (6.55 ERA, 1.47 WHIP in 2015). The outfielder also could provide late-game production against a Rockies bullpen that lacks dominant arms.
Charlie Blackmon (Rockies): With 26 homers and 40 steals since the outset of the 2014 season, Blackmon will bring his diverse skill set into a matchup with Marlins righty Jose Urena. With a 7.24 ERA and a 1.61 WHIP across 13 2/3 innings in his young career, the rookie right-hander may struggle at hitter-friendly Coors Field.
Lucas Duda (Mets): Since the outset of the 2014 season, Duda has hit .269 with 33 homers and 100 RBIs across 542 at-bats against right-handers. The first baseman could display his power when he leaves his pitcher-friendly home park to hit at homer-happy Chase Field against D-backs righty Josh Collmenter (5.03 ERA, 1.36 WHIP in 2015).
Curtis Granderson (Mets): Having accumulated 183 of his 243 homers and 118 of his 134 steals against right-handers in his career, Granderson could help DraftKings participants in multiple ways when he matches up against the right-handed Collmenter. Having posted a .755 OPS on the road as opposed to a .669 OPS at his spacious home park since joining the Mets at the outset of the 2014 season, the outfielder may thrive at offense-inducing Chase Field.
Gerrit Cole (Pirates): With a 1.90 ERA, a 1.08 WHIP and 79 strikeouts across 71 innings this season, Cole has emerged as a fantasy ace. The right-hander could continue to dominate when he plies his trade at pitcher-friendly Turner Field against a Braves lineup that is 29th in the Majors with 35 homers this season.
Jordan Zimmermann (Nationals): The right-hander will look to make his 10th consecutive quality start when he brings his season-to-date 2.88 ERA into a matchup with the Cubs. Zimmermann could twirl a quality effort, with several whiffs, when he works at his pitcher-friendly home park against a Cubs lineup that leads the Majors with 519 strikeouts.
Ryan Vogelsong (Giants): His career stats (4.41 ERA, 1.39 WHIP) notwithstanding, the right-handed Vogelsong could be a cost-effective second starter in DraftKings contests when he faces a Phillies lineup that ranks last in the Majors by wide margins in runs scored (175) and OPS vs. righties (.614). Vogelsong has enjoyed recent success, allowing seven earned runs across his past six starts. He could benefit today from pitching in front of a defense that ranks eighth in the Majors with a .705 defensive efficiency ratio.
All statistics are accurate through the completion of Friday's games.
Fred Zinkie is the lead fantasy baseball writer for MLB.com. Follow him on Twitter at @FredZinkieMLB. This story was not subject to the approval of Major League Baseball or its clubs.