MLB's horses: Who has won Triple Crown?
Miggy most recent to lead in HRs, RBIs, average; two did it twice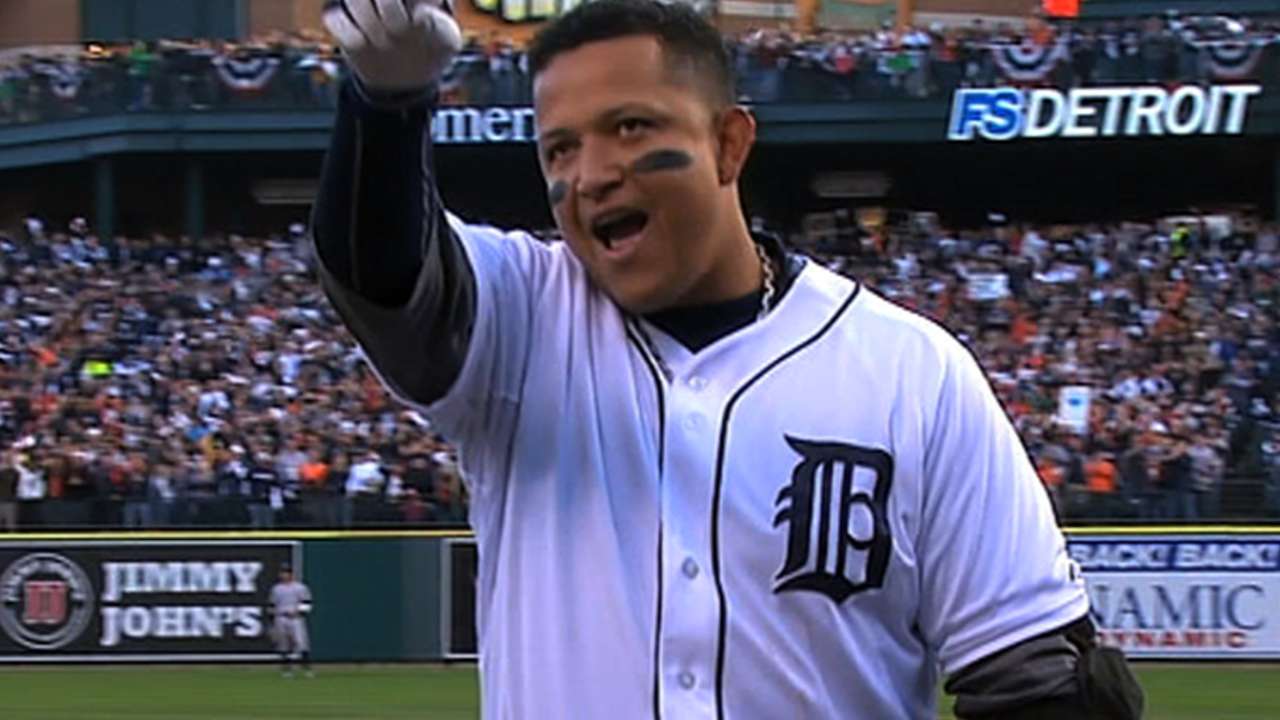 When American Pharoah ran away from the field at the Belmont Stakes on Saturday in New York, winning the race by 5 1/2 lengths, he became the first horse in 37 years to capture that sport's Triple Crown.
The last horse to sweep the Kentucky Derby, Preakness and Belmont in one year was Affirmed in 1978. American Pharoah, who led wire to wire, is the 12th horse to accomplish the feat.
Baseball, of course, has its own version of the Triple Crown, which goes to any hitter who leads his league in batting average, home runs and RBIs. In light of American Pharoah's triumph, now is a good time to appreciate his Major League counterparts.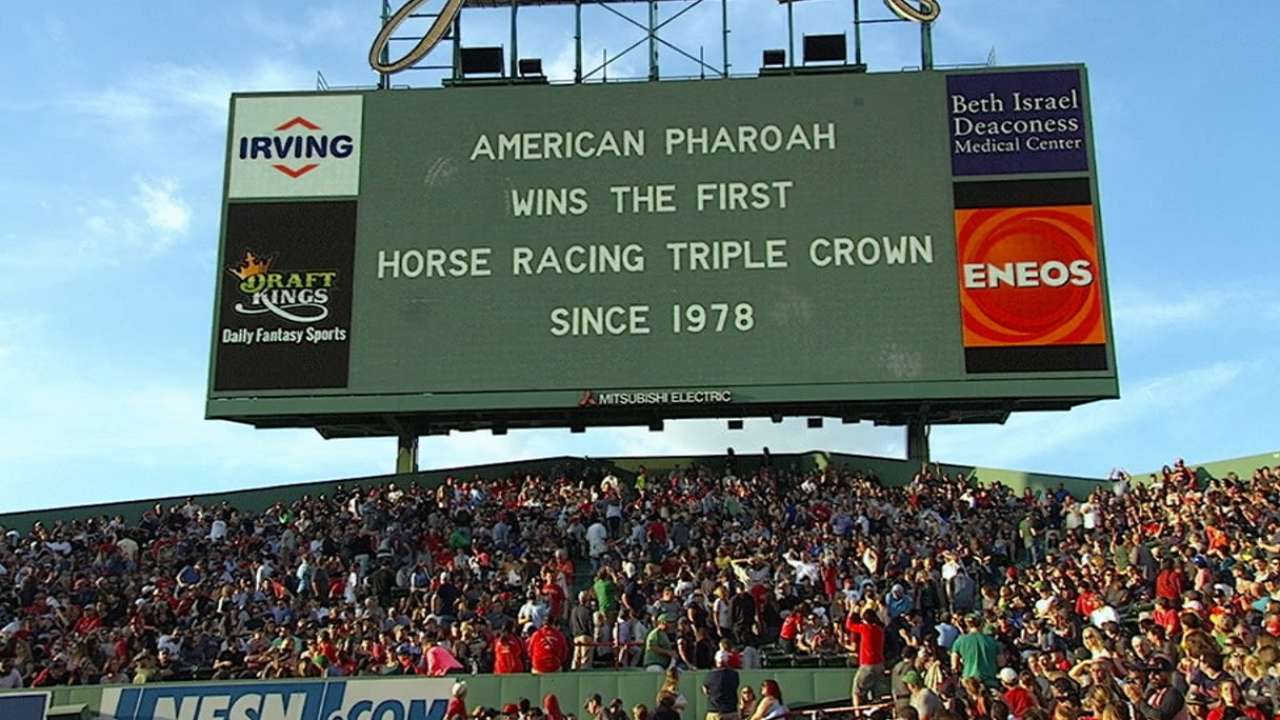 Here is a look at MLB's 16 Triple Crown winners, including the 12 who have done it since RBIs became an official statistic in 1920:
2012 -- Miguel Cabrera, Detroit Tigers (AL): Miggy broke an even longer drought than American Pharoah, capturing baseball's first Triple Crown in 45 years by batting .330 with 44 homers and 139 RBIs. Even during the offense-filled 1990s and early 2000s, no player managed to achieve what Cabrera did by leading the American League by four points of batting average, one homer and 11 RBIs. The effort propelled Cabrera to the first of two consecutive AL MVP awards.
1967 -- Carl Yastrzemski, Boston Red Sox (AL): In the year before 1968's "Year of the Pitcher," Yastrzemski won the second of his three batting titles (.326) while leading the league in homers (44) and RBIs (121) for the only time in his 23 seasons. All three numbers were career highs for the Hall of Famer, who also topped the AL in on-base percentage (.418), slugging (.622), runs (112), hits (189) and total bases (360) while earning Gold Glove and MVP awards.
1966 -- Frank Robinson, Baltimore Orioles (AL): In December 1965, the Reds traded Robinson to the Orioles for three players ahead of his age-30 season. All Robinson did for his new club was hit .316 with 49 homers and 122 RBIs, while also leading the AL with a .410 OBP, .637 slugging and 122 runs. Those efforts earned Robinson MVP honors for the second time, giving him one in each league after he also won for Cincinnati in 1961. Robinson's timing was impeccable, as this was the only time in 21 seasons he led his league in any of the three categories.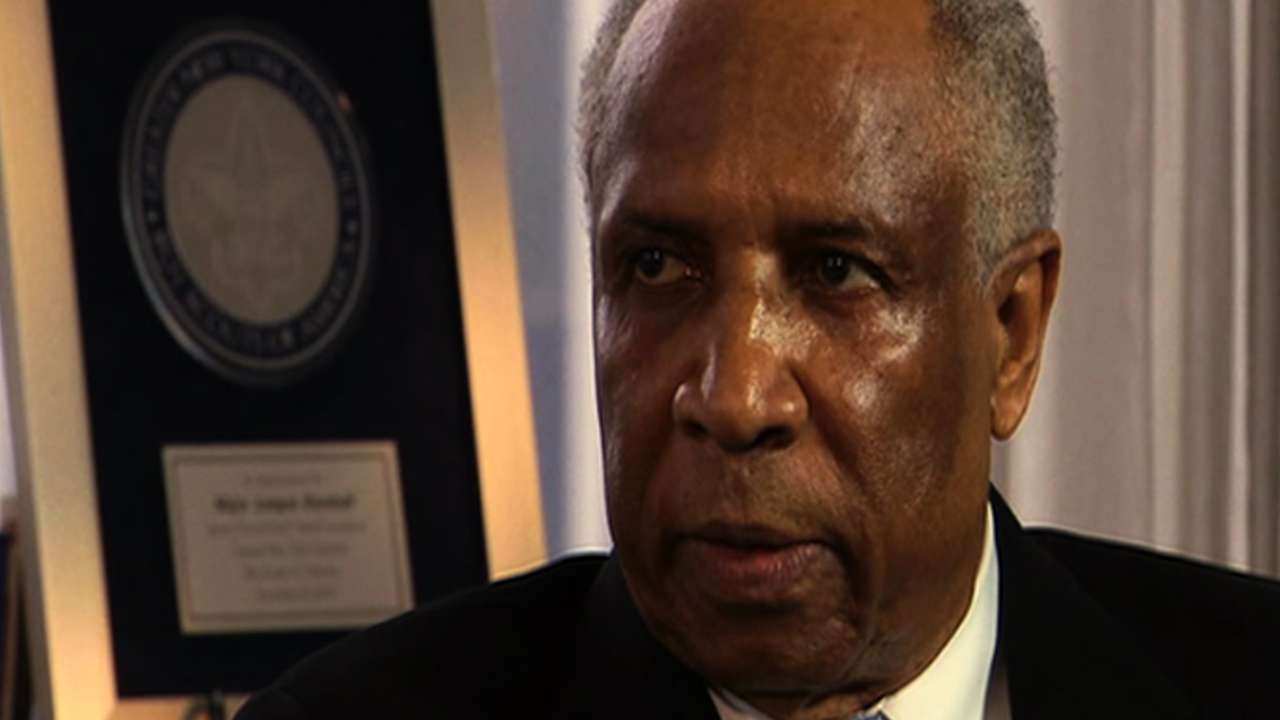 1956 -- Mickey Mantle, New York Yankees (AL): Mantle took batting average (.353) and RBIs (130) by fairly narrow margins, but blew away the field in homers. His 52 bombs were 20 more than Vic Wertz's 32 and nine more than NL leader Duke Snider's 43. Not surprisingly, Mantle captured the first of two straight MVP awards, and first of three for his career.
1942 and '47 -- Ted Williams, Boston Red Sox (AL): Williams is the only AL player, and one of two total, to take multiple Triple Crowns, but he might have won even more if not for World War II. A year after he became the last Major League player to bat at least .400, a 23-year-old Splendid Splinter hit .356 with 36 homers and 137 RBIs in 1942. He then sat out three full seasons to serve in the military but didn't miss a beat when he returned in '46, finishing a measly second in the AL in all three categories while winning MVP honors. He then returned to Triple Crown glory the next year, batting .343 with 32 homers and 114 RBIs. In his six seasons between 1941-49, Williams led the league in average four times, homers four times and RBIs three times.
1937 -- Joe Medwick, St. Louis Cardinals (NL): It's now been nearly 80 years since Medwick won the NL's last Triple Crown. The Hall of Fame left fielder set career highs with a .374 average, 31 homers and 154 RBIs, also leading the league in slugging (.641), runs (111), hits (237) and doubles (56). Though his homer total was actually tied for first with the Giants' Mel Ott, Medwick drove in 39 more runs than any other NL player.
1934 -- Lou Gehrig, New York Yankees (AL): A 31-year-old Gehrig won his only batting title, at .363, and also topped the AL with a .465 OBP and .706 slugging. In the power department, his 49 homers tied a career high, while his 166 RBIs marked one of seven seasons in which he eclipsed the 150 mark. Amazingly, the Iron Horse placed only fifth in a close MVP race, including second among Yankees.
1933 -- Jimmie Foxx, Philadelphia Athletics (AL): Foxx was one of two players to grab a Triple Crown this year (more on that below) and earned a second straight MVP award. The Hall of Famer had walloped 58 homers and driven in 169 runs the year before, coming up a batting title short despite a .364 mark. He got the job done in '34 by hitting .356 with 48 homers and 163 RBIs, surpassing Babe Ruth by 14 long balls and Gehrig by 23 RBIs.
1933 -- Chuck Klein, Philadelphia Phillies (NL): Not only did baseball have two Triple Crown winners in '33, but so did the city of Philadelphia. Klein batted a robust .368, and while his 28 homers and 120 RBIs were well short of Foxx's prodigious totals, they were good enough in the NL. Klein also took the league's top spots in OBP (.422), slugging (.602), hits (223) and doubles (44), though he finished second in the MVP race after winning the year before. Amazingly, the Phillies traded him to the Cubs after the season.
1922 and '25 -- Rogers Hornsby, St. Louis Cardinals (NL): The only NL player to take multiple Crowns, Hornsby did so in the midst of an incredible run in St. Louis. From 1920-25, he led the league in average, OBP and slugging every year, batting at least .370 each time and topping .400 on three occasions. His two Crowns coincided with the only home run titles of his career, as Hornsby hit .401 with 42 homers and 152 RBIs in '22 and .403 with 39 bombs and 143 driven home in '25. The latter year, he took the first of his two MVP awards.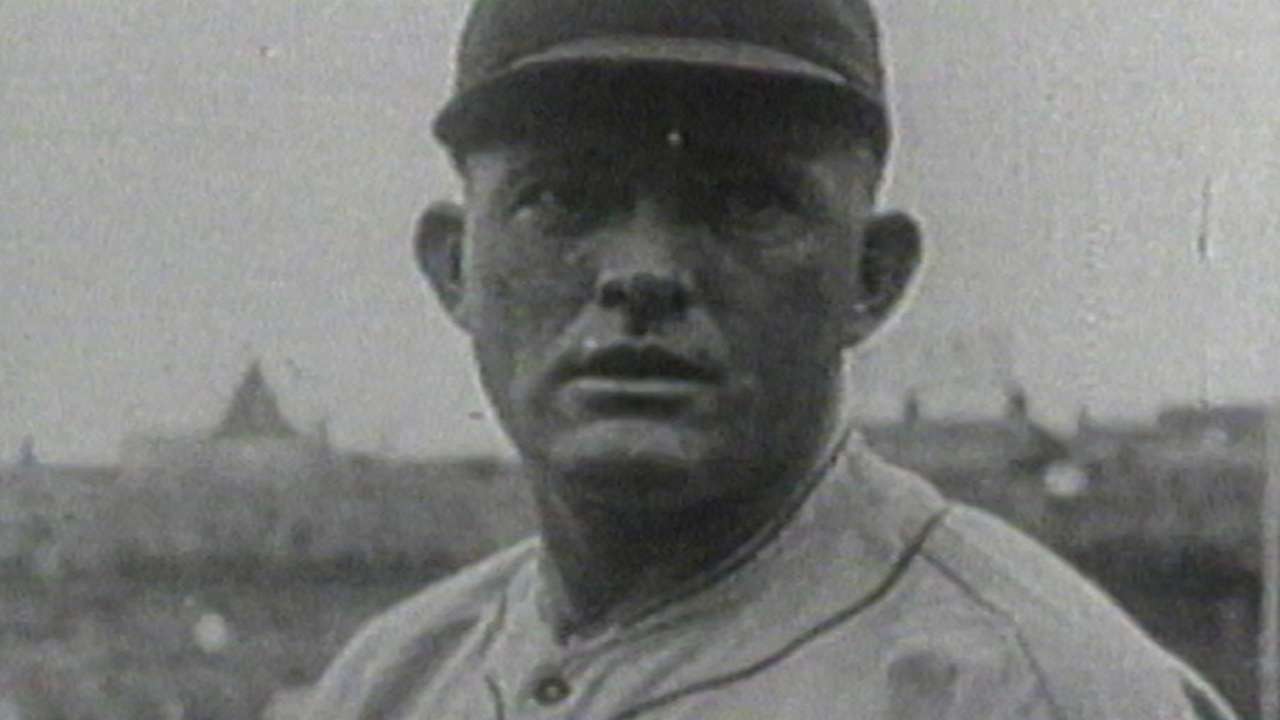 1909 -- Ty Cobb, Detroit Tigers (AL): .377, nine homers, 115 RBIs*
1901 -- Nap Lajoie, Philadelphia Athletics (AL): .422, 14 homers, 125 RBIs*
1894 -- Hugh Duffy, Boston Beaneaters (NL): .438, 18 homers, 145 RBIs*
1878 -- Paul Hines, Providence Grays (NL): .358, four homers, 50 RBIs*
*RBIs were not an official statistic before 1920
Andrew Simon is a reporter for MLB.com. Follow him on Twitter @AndrewSimonMLB. This story was not subject to the approval of Major League Baseball or its clubs.