Matheny hasn't told Cards not to draft son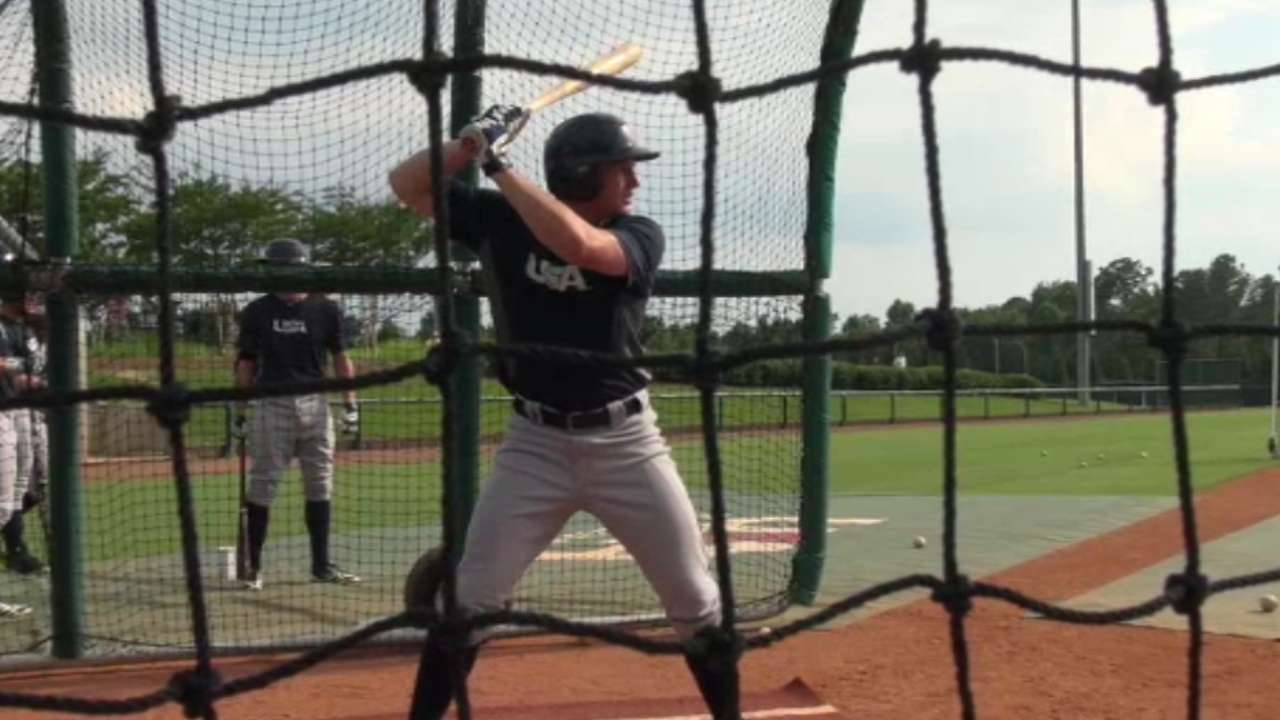 LOS ANGELES -- For about two hours early Saturday afternoon, Cardinals manager Mike Matheny pedaled along on the stationary bike inside the team's workout room while watching his oldest son, Tate, compete in a Super Regional game for Missouri State University.
Tate finished 1-for-4 and scored a run in the team's 3-1 win, which sets up a winner-take-all game against Arkansas on Sunday. A day later, the Matheny family will then tune in with interest as the three-day 2015 Draft begins.
Tate, a junior center fielder at Missouri State, ranks 103rd on MLB.com's Draft prospect list, a placement that suggests he'll likely be selected early on the Draft's second day. Matheny has been quoted previously as stating that he did not want the Cardinals to draft his son because of the added pressure that could put on Tate.
On Saturday, Matheny clarified the assumption that he has given the Cardinals an ultimatum not to select Tate.
"Maybe it gets understood as those being my wishes. But it's absolutely the opposite," Matheny said. "For me, personally, the best thing for me would be for him to be with us. Absolutely. They keep scouting him, and the ball is in his court. We've talked with him, too, that if you get to that point where you're the best on the Draft board for the Cardinals and they want to take you, what do you think? He's not ruling that out.
"He's ready for this. He's ready for an opportunity and ready for the decision. It will be fun to watch how it plays out."
In preparing Tate for the process, Matheny surveyed others who have played in organizations that employed their father as a coach. One of those expressed to him that if he could do it all over, he would have played for another team.
Matheny took that information back to Tate and encouraged him to speak candidly with members of the Cardinals' scouting department about how he felt about the possibility of being drafted by the team for a second time -- he didn't sign as a 23rd-round pick in 2012. Matheny hinted that Tate's stance on the topic might not be as black-and-white as it once was.
"He obviously has a love for this organization, too," Matheny said. "And his thought was, 'What if I am the guy that they really want? Why wouldn't I want to be part of the organization?'"
While Matheny and his wife, Kristin, have left Tate to decide his professional future, they have requested that he makes it a priority to finish his degree in hospitality administration.
"Any kind of fall instructional league or anything would be something we would like to take off the table, so he can go back and get closer to finishing his degree," Matheny said. "He's gone too far already to back out now."
While Tate has made it no secret that he plans to sign this summer, Matheny's second-oldest son, Luke, remains committed to pitching for Oklahoma State University next season. Luke will report to OSU on Monday to begin freshman orientation.
Said his proud father: "I think [Luke is] going to develop into a pretty good player, where he could be in these conversations in a few years."
Jenifer Langosch is a reporter for MLB.com. Read her blog, By Gosh, It's Langosch, follow her on Twitter @LangoschMLB and like her Facebook page Jenifer Langosch for Cardinals.com. This story was not subject to the approval of Major League Baseball or its clubs.