Verlander encouraged by solid rehab outing
Right-hander strikes out nine, allows one run in 5 2/3 innings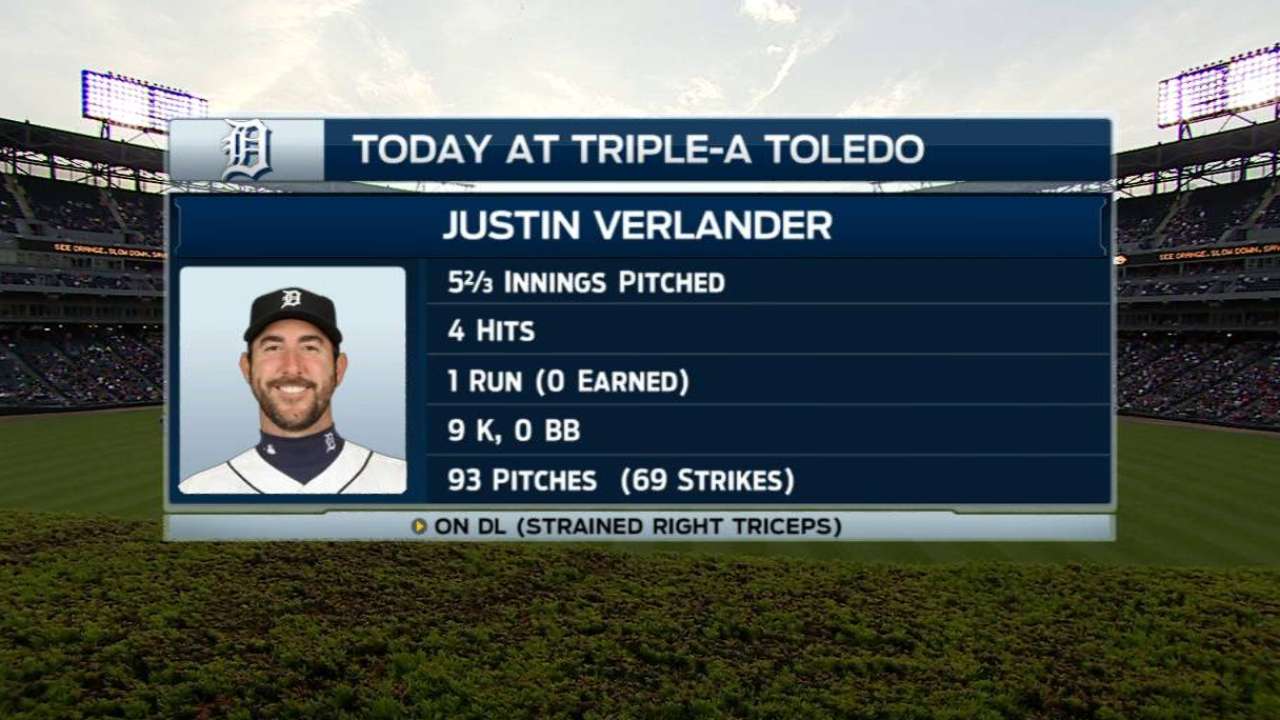 TOLEDO -- Justin Verlander never pitched in this city on his way up to Major League stardom. He had a Triple-A moment before he threw his first pitch on Saturday night, his second rehab start for Mud Hens, when he had to wait for a dinosaur to deliver the game ball to him.
It was a Jurassic World promotional night at Fifth Third Field, which Verlander didn't know until the home-plate umpire he had tossed him a ball. Verlander played along, patting the dinosaur costume on its head as he took another ball. It was one of his few interruptions of the night.
After striking out nine batters over 5 2/3 innings with an unearned run on four hits, Verlander looked ready to return to the Majors. He stopped short of saying his next stop was Detroit, but his improvement from his previous rehab start made his statement.
"I feel like today was the step I wanted to see," said Verlander, who is recovering from a right triceps strain. "The biggest thing was getting my pitch count up and also getting some innings, not just three innings, but getting up and down a few times."
While Verlander's top velocity registered a tick down on the Fifth Third Field radar gun compared to his first rehab start last Sunday at Indianapolis, topping out at 94 mph, his command and his secondary pitches were markedly better. He retired 10 consecutive batters after Indians prospect Francisco Lindor's single leading off the game, and sent a Columbus lineup swinging and missing at 17 of his 93 total pitches. He threw first-pitch strikes to 18 of 21 batters.
"I feel like everything was much better today than last time out," Verlander said. "I think the most improved was fastball control, but the offspeed stuff I had a decent feel for it. Slider early wasn't great, but I started to get a better feel for it as the game went on."
After lasting just 2 2/3 innings over 79 pitches last Sunday at Indianapolis, Verlander churned through innings after ending his opening frame with a 10-pitch battle and a strikeout-throwout double play. He had an eight-pitch, eight-strike third inning that featured an even split of fastballs and offspeed pitches.
"He looked like he was searching for it a little bit in the first," Mud Hens manager Larry Parrish said, "and then he dropped a 3-2 breaking ball in there for strike three, [catcher Miguel Gonzalez] threw the guy out, and then after that, he was spot-on."
Verlander showed his Major League form when he bargained Parrish into letting him face an extra hitter after 87 pitches.
"He asked if I can get [Jesus Aguilar] out in three pitches, and I said yeah," Verlander said. "I threw four or five and then told [Gonzalez] we have to go right down the middle."
Aguilar hit a fastball to the fence in left-center for a double on Verlander's 93rd pitch. Neither Verlander nor Parrish sweated it.
"It's not my call, but he looked like he was ready today," Parrish said. "Indy, no. Today, yeah."
Jason Beck is a reporter for MLB.com. Read Beck's Blog, follow him on Twitter @beckjason and listen to his podcast. This story was not subject to the approval of Major League Baseball or its clubs.