White Sox make final preparations for Draft
Laumann leads scouting team as staff ponders over No. 8 pick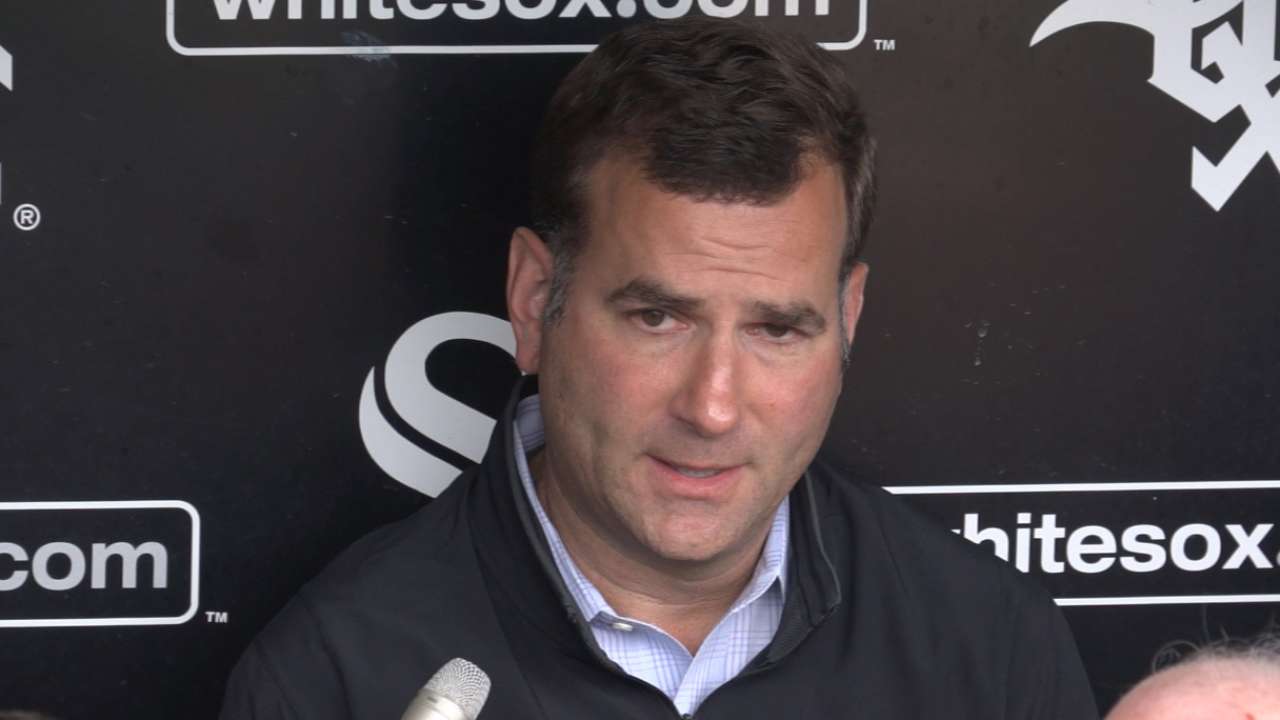 CHICAGO -- The White Sox aren't exactly sure who will be available when they select eighth overall in the first round of the 2015 MLB Draft on Monday night. But they certainly will be prepared for any twist or turn.
Doug Laumann, the team's director of amateur scouting, mentioned pregame on Saturday that his scouting staff has been doing its own mock draft of sorts over the past week or so, with each individual in the White Sox meeting assigned a specific team ahead of No. 8.
"[Assistant scouting director] Nick Hostetler had mentioned to me that maybe every day we should do like a mock," Laumann said. "So we get in every morning, everybody kind of puts their heads together as far as what they maybe heard the day before and we go through a scenario and we try to make guys ... . We assign each guy a certain organization.
"Dig as much information as he can from that and then each day we try to have them put up a different scenario than the one from the day before. We've gone through a bunch of them. Probably 20, 25 of them and ultimately it keeps coming back to about two or three guys and more likely it will be one of those two or three guys."
Those two or three guys come from a group that includes Tyler Jay, the standout southpaw from the University of Illinois and Lemont High School, Missouri St. right-hander Jon Harris and Vanderbilt right-hander Carson Fulmer. There could be a Chris Sale sort of surprise that falls to the White Sox, with Laumann mentioning high school catcher Tyler Stephenson as someone on their board and someone he and Hostetler have seen in person.
Ultimately, though, the White Sox most likely will move in the college pitcher direction.
"It looks like it," Laumann said. "The strength in the Draft right now is that. There's only a few premium college position players in the Draft and I think we completely anticipate that they're going to be probably gone before we pick at eight. Ultimately, I think our player is probably going to end up being a college pitcher, but again we're prepared in case one of those guys falls to us. But ultimately, I think that's the way it's leaning right now."
Taking a college pitcher such as Carlos Rodon at No. 3 is enhanced by the player's individual makeup and the development plan in placed spearheaded by pitching coach Don Cooper.
"Obviously, we take the guys that have the plus stuff, we take the guys that can succeed getting people out," Laumann said. "[White Sox assistant general manager] Buddy [Bell] once told me that in the Minor Leagues, we're not really able to change a lot, we're not able to create a lot, but we are able to refine a lot.
"We have guys that have certain talents. We have guys that have certain truths, and a pitcher that maybe needs refinement on a changeup or maybe the command needs to be improved a little bit. We're able to do that and that certainly is helpful for us."
Scott Merkin is a reporter for MLB.com. Read his blog, Merk's Works, follow him on Twitter @scottmerkin and listen to his podcast. This story was not subject to the approval of Major League Baseball or its clubs.