Garza, Gomez play hero vs. former club
Ex-Twins lead Brewers as righty goes seven strong, center fielder gets four hits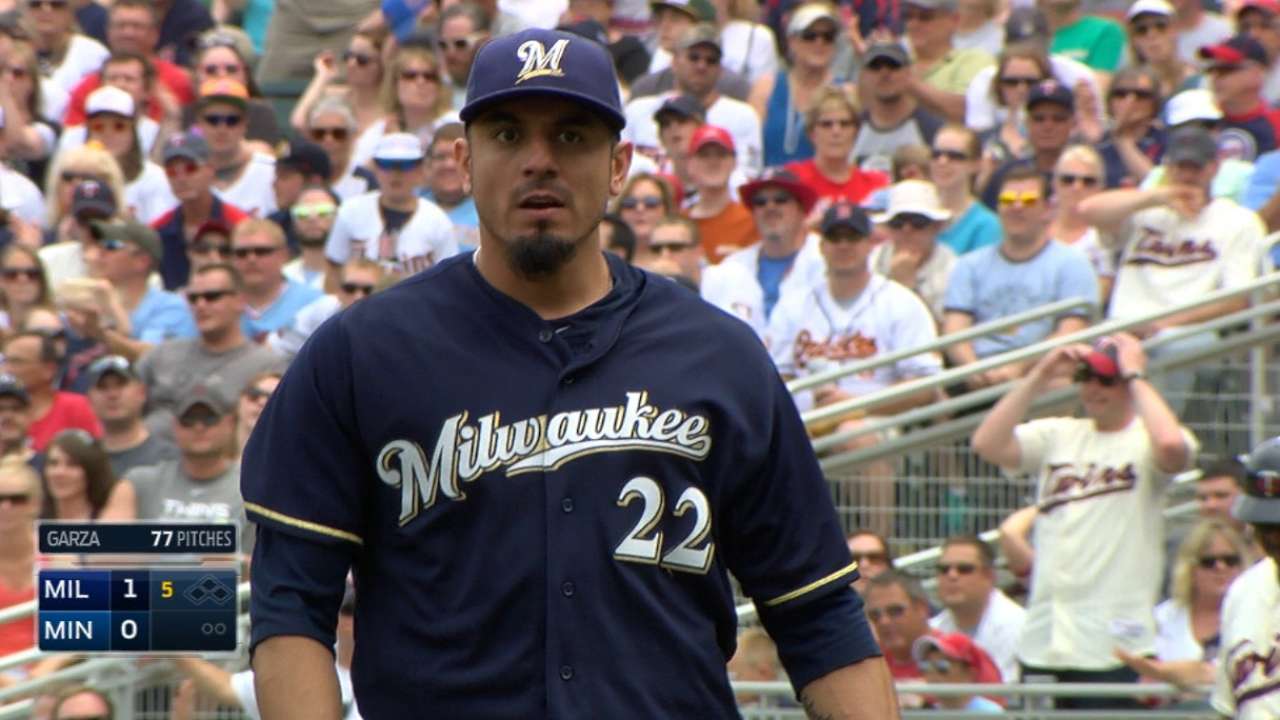 MINNEAPOLIS -- Familiar faces came back to haunt the Twins on Saturday as Carlos Gomez and Matt Garza played hero in the Brewers' 4-2 victory.
Gomez went 4-for-4 at the plate with a walk and three RBIs, and Garza pitched seven innings of one-run ball.
Gomez started the day with a bunt single and had a standout performance against the Twins, aside from a baserunning mistake in the third.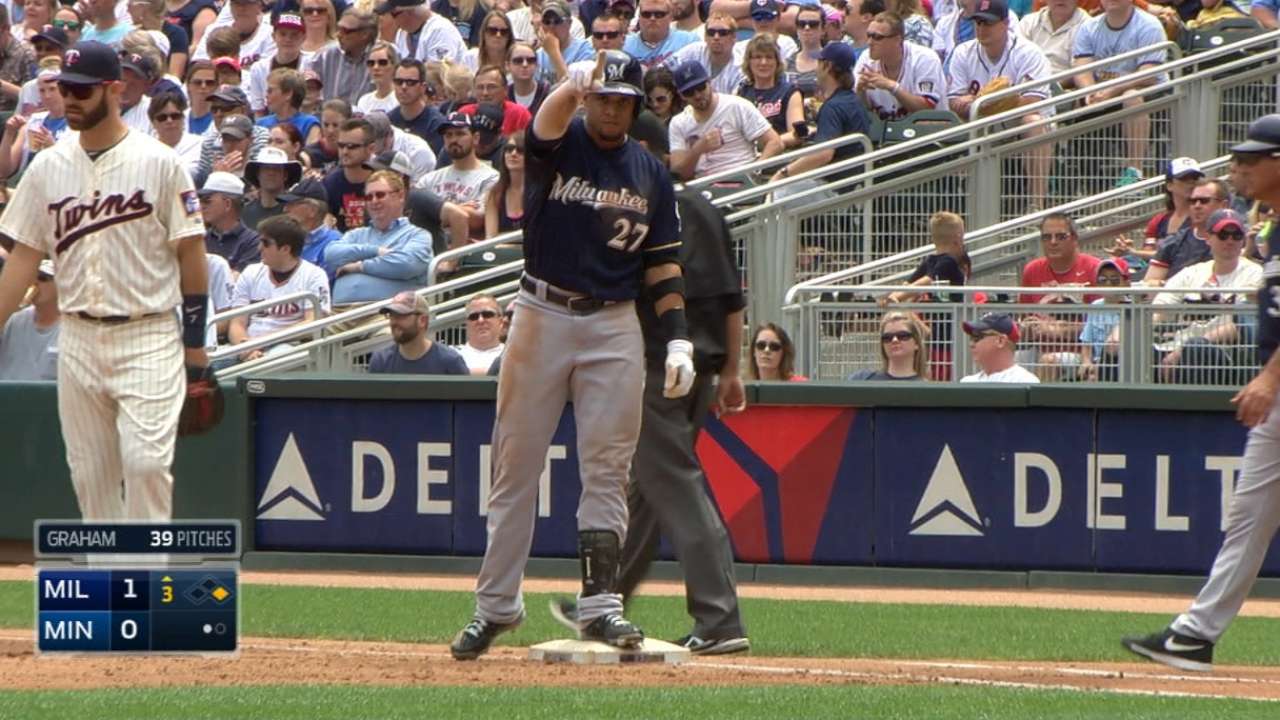 "We're trying to get Carlos to just let his talent come out, and it did today for sure," manager Craig Counsell said.
Gomez entered the day hitting .338 against his former club.
"They have bad luck because every time I come here, I feel really good at the plate," Gomez said. "It's nothing personal. I just play my game."
He welcomed Twins reliever Blaine Boyer to the game in the seventh inning by lacing a slider -- the first pitch Boyer threw -- into left field for a two-run single. He said he wasn't looking for a slider -- and never looks for any pitch.
"I see the white thing come to the plate, I swing it," Gomez said. "That's my approach."
And it's an approach that certainly worked Saturday. His single broke a 1-1 tie and gave the Brewers a permanent lead.
"He had one hell of a game, didn't he? He played his butt off. It was fun to see, and him getting back his swing and being active, I think it gets us going," Garza said. "Just the energy he puts out, just him being him and playing the way he plays, it's exciting."
Garza, coming off a five-inning relief appearance in a 17-inning game against Arizona on Sunday, said he was getting back to being himself. Before the game, Counsell said the righty had been pitching to hitters' weaknesses instead of his own strengths.
But Garza has been getting away from that. He said he liked the way he threw today and would keep building off of it.
That included the fifth inning, when he got himself out of a bases-loaded, no-out jam by getting Aaron Hicks to pop up and Danny Santana to bounce into a double play.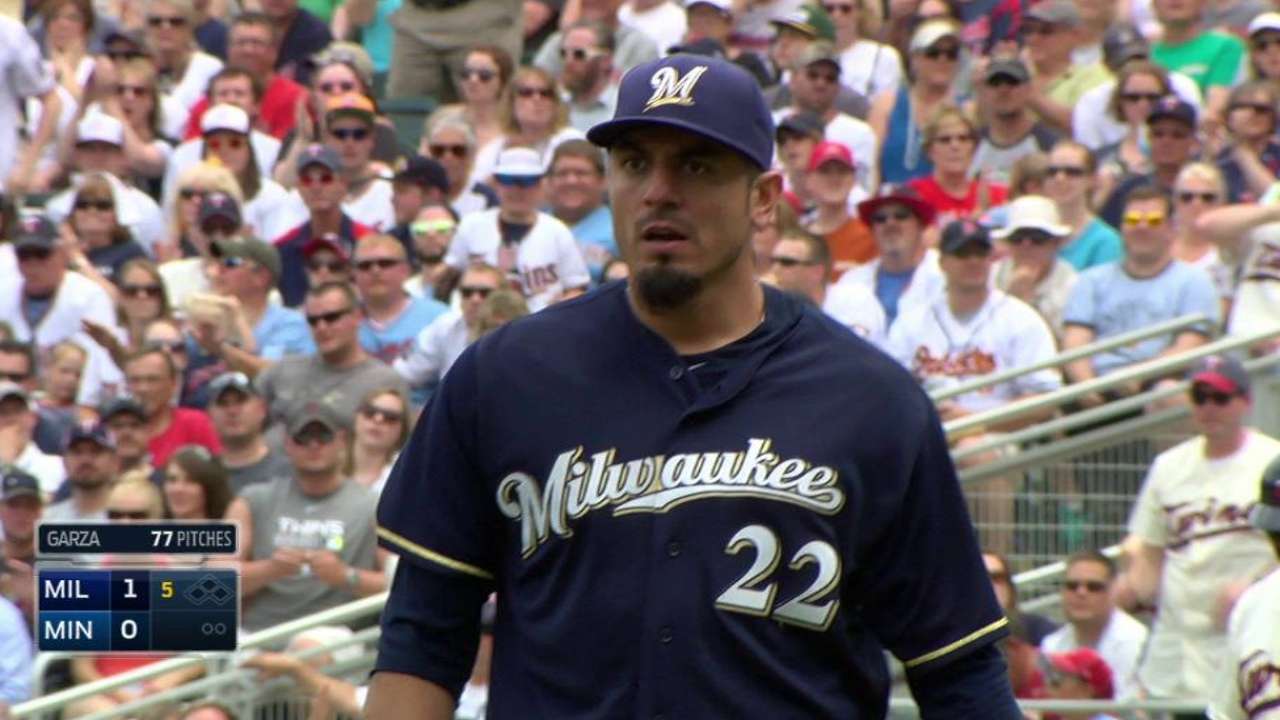 Garza said two or three outings ago, he decided he needed to change something up.
On May 16, Garza surrendered 10 runs to the Mets in 3 1/3 innings pitched, his worst outing of the season.
"I got away from me and the way I like to pitch," Garza said. "It was harder and harder not only to look at myself, but to sleep at night. You can't do this game without having fun and being who you are, and I was definitely not having any fun."
On Saturday, it was more fun for Garza and the Brewers.
"When I needed to make big pitches, I did and I didn't think twice about them," Garza said. "I went with what I wanted to throw and it turned out to be successful."
Betsy Helfand is an associate reporter for MLB.com. This story was not subject to the approval of Major League Baseball or its clubs.