Tigers' bats look to break out with V-Mart hurt
Detroit hopes to get offense going as Martinez works way back from injury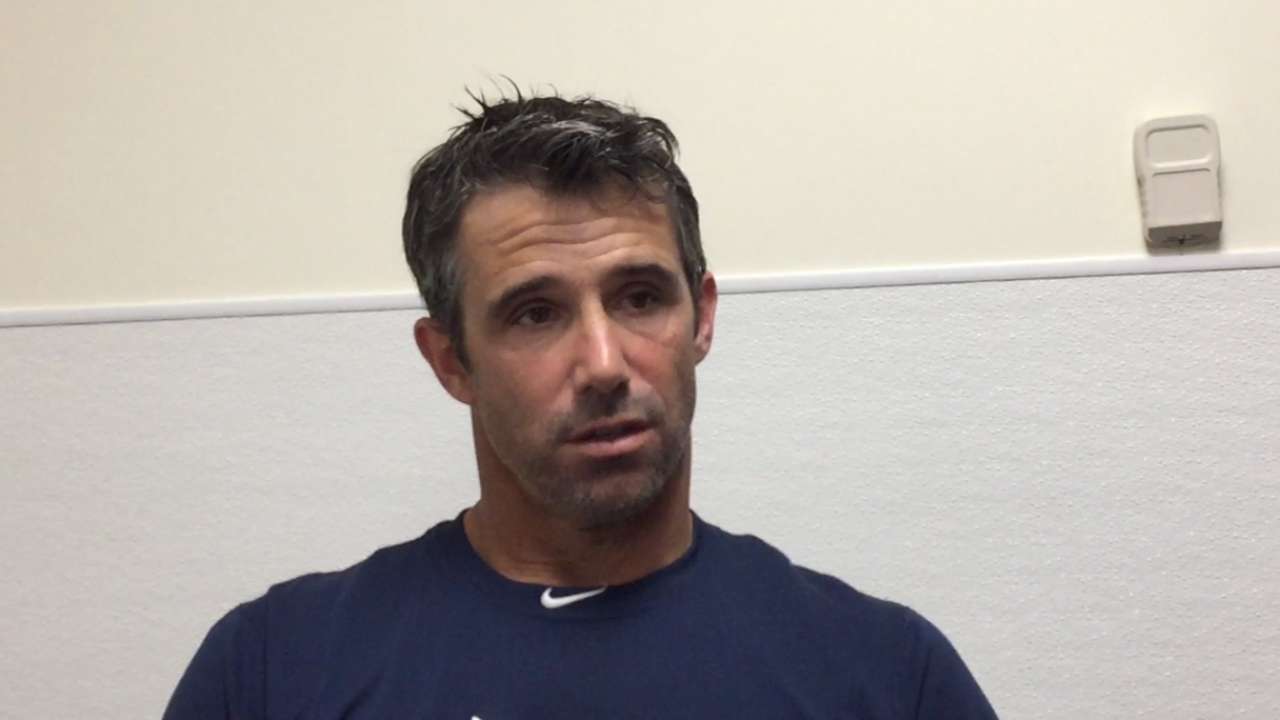 CHICAGO -- Victor Martinez was batting just .216 with one home run and 15 RBIs before being placed on the disabled list on May 19 with inflammation in his left knee. But despite his modest numbers, the switch-hitter's presence in the lineup has been sorely missed and is one reason the Tigers' offense was struggling heading into Saturday night's game with the White Sox at U.S. Cellular Field.
"The name itself makes you wary, even if he's not 100 percent," manager Brad Ausmus said.
The player most affected is slugger Miguel Cabrera, who hasn't gotten much to hit with Martinez not batting behind him. Pitchers have been reluctant to pitch to Cabrera and aren't afraid of walking him -- even with slugger Yoenis Cespedes batting behind him.
"Victor is the one guy that can protect Miggy," Ausmus said, "and force teams to think about pitching to Miggy."
Martinez is a more versatile hitter than Cespedes and it certainly helps that he bats left-handed against right-handers.
Before Saturday, the Tigers were 5-12 since Martinez went on the disabled list and have a minus-30 run differential in those games. The offense is averaging just 3.1 runs per game during that span.
While acknowledging Martinez's importance, Ausmus doesn't want anyone to believe -- especially his players -- that all of the team's offensive woes of late are because the cleanup hitter is on the DL.
"This is no one-person issue," the manager said. "It's more surprising that we haven't just kind of busted out and scored 10 one night. That's one where you think that just by complete random odds it would happen."
When Martinez will be ready to return still is up in the air. He is working out at extended spring training in Florida this weekend and will rejoin the team in Detroit on Tuesday, at which time his situation will be assessed. If everything is fine, it's possible he could begin a rehab assignment next weekend.
Worth noting
• Reliever Bruce Rondon (right biceps tendinitis) was scheduled to follow Justin Verlander (right triceps strain) on the mound for Triple-A Toledo Saturday night in his final rehab appearance. The next step for Rondon will be to return to the active roster, but that likely won't happen until Tuesday because Rondon was supposed to throw two innings.
• Left-hander Kyle Lobstein (shoulder) did some light tossing on Friday, throwing about 20 times. It's the first time Lobstein has thrown since being placed on the DL on May 24.
John Jackson is a contributor to MLB.com This story was not subject to the approval of Major League Baseball or its clubs.