Green, Cron still trying to carve out roles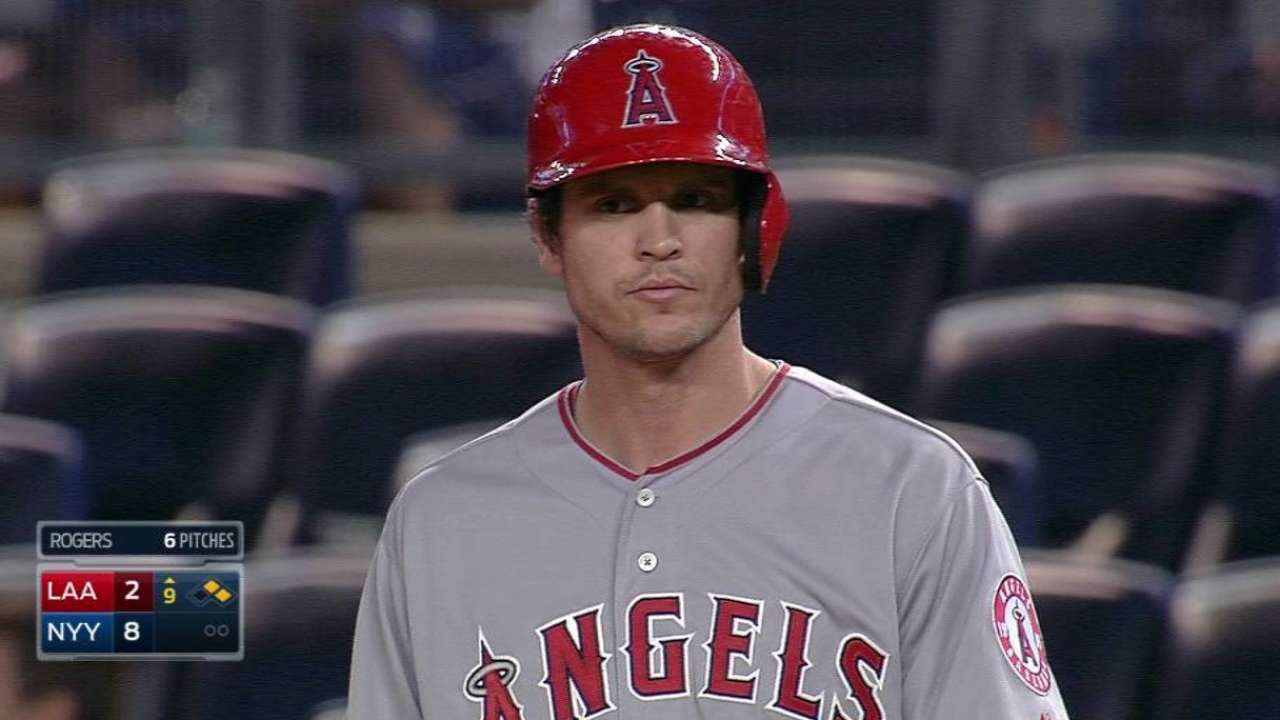 NEW YORK -- C.J. Cron returned to the Angels on Saturday, 11 days after being sent to Triple-A because he was hardly producing and hardly playing. The Angels created room for him on the roster by optioning lefty reliever Edgar Ibarra, giving them a five-man bench, but it didn't last very long. After requiring 7 1/3 innings from their bullpen in an ensuing 8-2 loss to the Yankees, they optioned fellow right-handed hitter Grant Green back to Triple-A Salt Lake in anticipation of calling up another pitcher for Sunday's game.
Cron and Green -- two former first-round picks in their mid-20s, two guys still struggling to find a role.
"I'm definitely still waiting," Green said prior to Saturday's game. "I don't know how many times I have to prove that I can play here and play in Triple-A and do the job. But again, it comes down to the same thing as usual. It's not my choice, but I don't make those decisions."
Cron, drafted 17th overall in 2011, has a .292/.337/.498 career slash line in the Minors. He accumulated 253 plate appearances in two stints with the Angels last season, during which he batted .256/.289/.450. With Josh Hamilton's situation so uncertain entering 2015, it looked as though the 25-year-old would be the everyday designated hitter, but he finished April batting .238/.273/.349, eventually only started against lefties and was sent down on May 26 to get more consistent at-bats.
Cron started against Yankees righty Adam Warren on Saturday and will undoubtedly start against lefty CC Sabathia on Sunday. The Angels will give him another chance to get consistent at-bats.
"If C.J. plays well," manager Mike Scioscia said, "he'll earn at-bats."
"You just have to do what you can to get better while you're down there," said Cron, who went 13-for-39 in his brief stint in Triple-A. "I'm definitely glad to be back up."
Green, 27, was the 13th overall pick by the A's in 2009, the same year Mike Trout was drafted 25th by the Angels. Green is a career .310/.356/.472 hitter in the Minor Leagues, but the A's were never able to find a position for him, and the Angels haven't found a concrete role for him since acquiring him in July 2013.
Green can play up to five positions -- all four in the infield, along with left field -- but he's batted just .259/.292/.340 in 277 scattered plate appearances in the Majors the last three seasons.
"It's tough when you get a small snapshot of playing time to first show what you can do and second, stay where you need to be to be productive," Scioscia said. "Grant is caught in that right now. He definitely has a role for us, but it might not be the one where he's getting the at-bats that I know he needs to prove where he is offensively."
Alden Gonzalez is a reporter for MLB.com. Read his blog, Gonzo and "The Show", follow him on Twitter @Alden_Gonzalez and listen to his podcast. This story was not subject to the approval of Major League Baseball or its clubs.