Bumgarner wants wins no matter how he gets them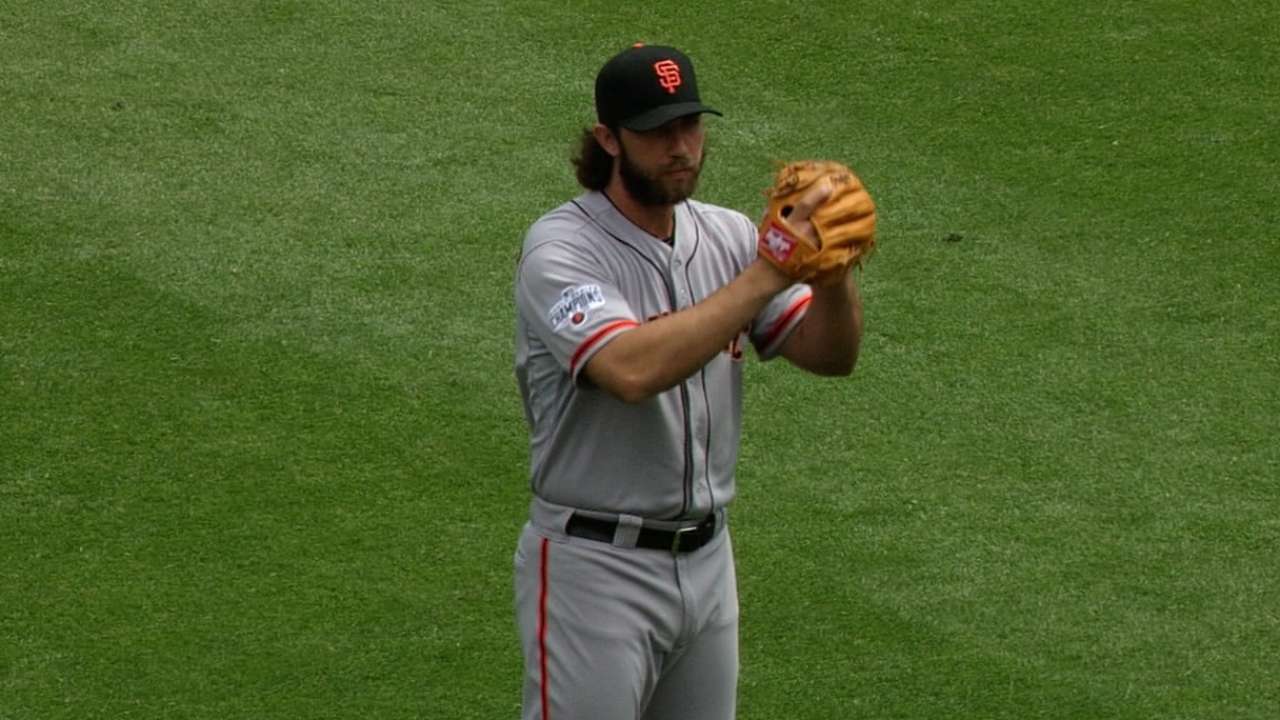 PHILADELPHIA -- To Madison Bumgarner, statistics might as well be hieroglyphics. He reinforced this belief Saturday with his multifaceted performance in the Giants' 7-5 victory over the Philadelphia Phillies.
Bumgarner felt strong and, as usual, looked it. He struck out 11 and walked none in eight innings, delivering the type of performance observers have come to expect from last year's World Series and National League Championship Series Most Valuable Player. Moreover, he contributed a pair of key singles to the Giants' lively offense.
Bumgarner also yielded five runs, matching a season high and ending an eight-start streak in which he allowed three earned runs or fewer. Jeff Francoeur's fourth-inning grand slam and Andres Blanco's pinch-hit homer in the eighth inflated Bumgarner's ERA from 3.12 to 3.38.
All that meant nothing to Bumgarner (7-2), who embraces one solitary stat: Wins.
"If we were able to win 7-5 every time I go out there, I'd dang sure take it," Bumgarner said after the Giants secured their 10th triumph in their last 12 road games and clinched their fifth consecutive series victory at Citizens Bank Park. "The numbers might not be too sexy. But it's about winning games, not putting up numbers."
Typically, Bumgarner does both. This time, he won his fourth decision in a row by bringing his characteristic accuracy to greater heights. He threw 78 strikes in 98 pitches, including 19 successive strikes at one juncture spanning the first through third innings.
Bumgarner believed he met his own lofty standards. "My delivery was good. My command was there. I was able to put the ball where I wanted to," he said.
That's why it was almost mystifying that Bumgarner surrendered as many runs as he did. When he's this sharp, he typically flirts with a shutout or even a no-hitter. But the 1-0 fastball that Francoeur clobbered veered back over the plate, and Bumgarner mistakenly guessed that he had Blanco set up for an inside pitch.
"It shows how this game is. It's a crazy game," Bumgarner said. "I'd take throwing the ball like that any day."
He certainly felt the same way about his hitting. Bumgarner's third-inning hit set up Nori Aoki's RBI single that capped a four-run outburst against Phillies starter Severino Gonzalez (2-2). Bumgarner's second single drove in Matt Duffy with two outs in the seventh inning to conclude the Giants' scoring and offset Blanco's subsequent homer.
Aside from Bumgarner, the only Giants with multiple hits were Duffy, who went 2-for-5, and Aoki, who went 3-for-3.
"I didn't want to lose to him at hitting," Aoki jokingly said through his interpreter, Kosuke Inaji.
Chris Haft is a reporter for MLB.com. Read his blog, Haft-Baked Ideas, follow him on Twitter at @sfgiantsbeat and listen to his podcast. This story was not subject to the approval of Major League Baseball or its clubs.