McGowan steps up after Gonzalez's start ends early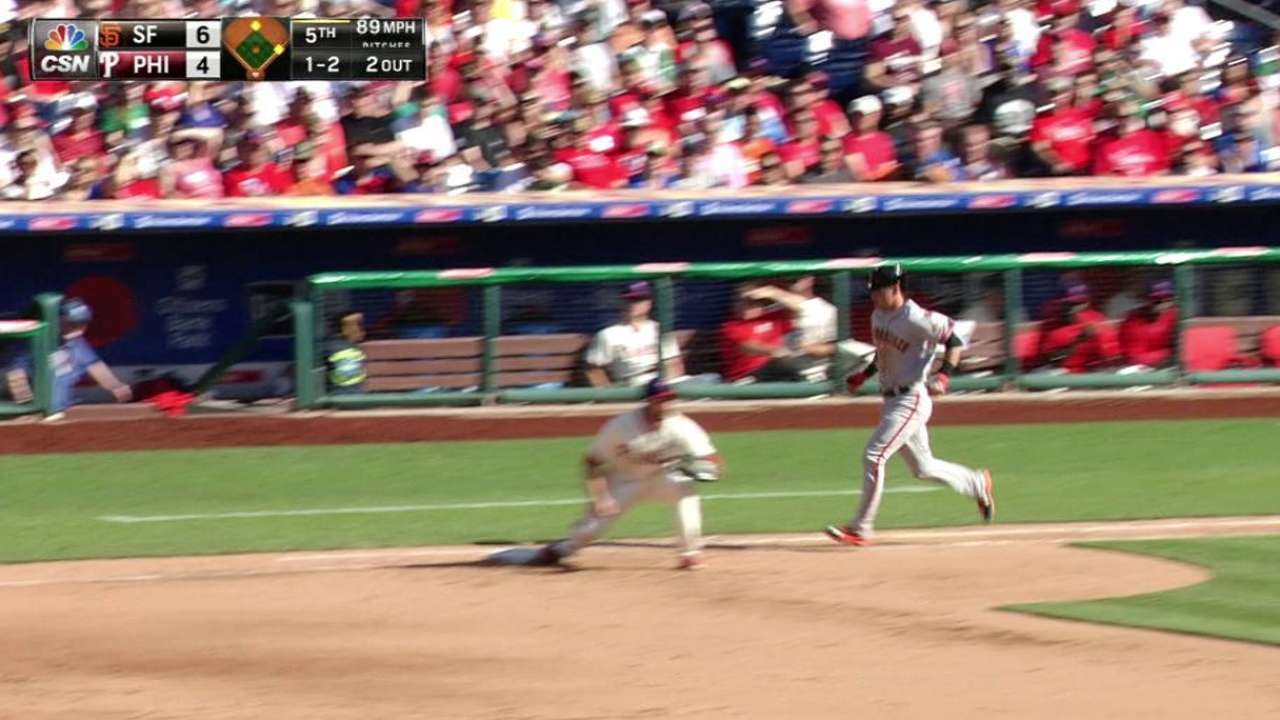 PHILADELPHIA -- There was a time not too long ago when a starting pitcher for the Phillies getting taken out early was an anomaly, but the rotation is hitting hard times of late.
Case in point: Starting pitcher Severino Gonzalez lasted just 2 2/3 innings Saturday, allowing six runs on seven hits and a walk in the Phillies' 7-5 loss to the Giants. Gonzalez left the game in the third inning with the bases loaded and Dustin McGowan inherited the not-so-enviable position of limiting the damage. And though McGowan was just two days removed from being a Triple-A pitcher, he came in and did what he needed to do.
"When you go out there, you've just got to pitch," McGowan said. "Try not to think about the things I need to do. I want to focus on pitching."
Though McGowan did allow two of the three inherited runners to score via a Nori Aoki single, the right-handed veteran settled down and delivered 3 1/3 innings of shutout relief. He surrendered just two hits and two walks and struck out three in a long, 49-pitch outing.
After McGowan was called up Friday, Phillies manager Ryne Sandberg said he envisioned the reliever to be the kind of pitcher who can throw two-to-three innings of relief. That being said, Sandberg wasn't surprised to see that McGowan went longer than that.
"He's our long guy," Sandberg said. "Early on in the season he had a spot start and went 75 pitches and he built up to about two or three innings at that point. But he has that kind of an arm and he bounces back real well. So he was the guy to go in there and give us some length."
That sort of length is something that the Phillies have been sorely in need of over the past few weeks. Dating back to May 19, the day after the Phillies' season-high six-game winning streak, all Phillies starters not named Cole Hamels have on average lasted less than 5 1/3 innings per start. If Aaron Harang's starts are removed from the group, that average drops below five innings.
Though Saturday was just the third time Gonzalez had started over this stretch, a stretch over which the Phillies are 5-11, he is the worst offender when it comes to short starts, now having thrown a 4 1/3-inning outing and a 2 2/3-inning outing. But despite the expectation some may have on Gonzalez not to last long, McGowan didn't come into Saturday thinking it was going to be his day to prove himself.
"Honestly, you don't think about it like that," McGowan said. "You always hope they go as long as they can and then when that phone rings and it's your turn you just go."
McGowan's turn impressed Sandberg, as the manager said he thought his pitcher looked stronger with every pitch. And though McGowan conceded it may have appeared that way, he didn't necessarily feel like it.
"I hadn't been that long in a while," McGowan said. "It may have looked like I was getting stronger but I was getting a little tired too."
Nick Suss is an associate reporter for MLB.com This story was not subject to the approval of Major League Baseball or its clubs.