MLB.com Columnist
Bill Ladson
Poised Ross gets to share big day with family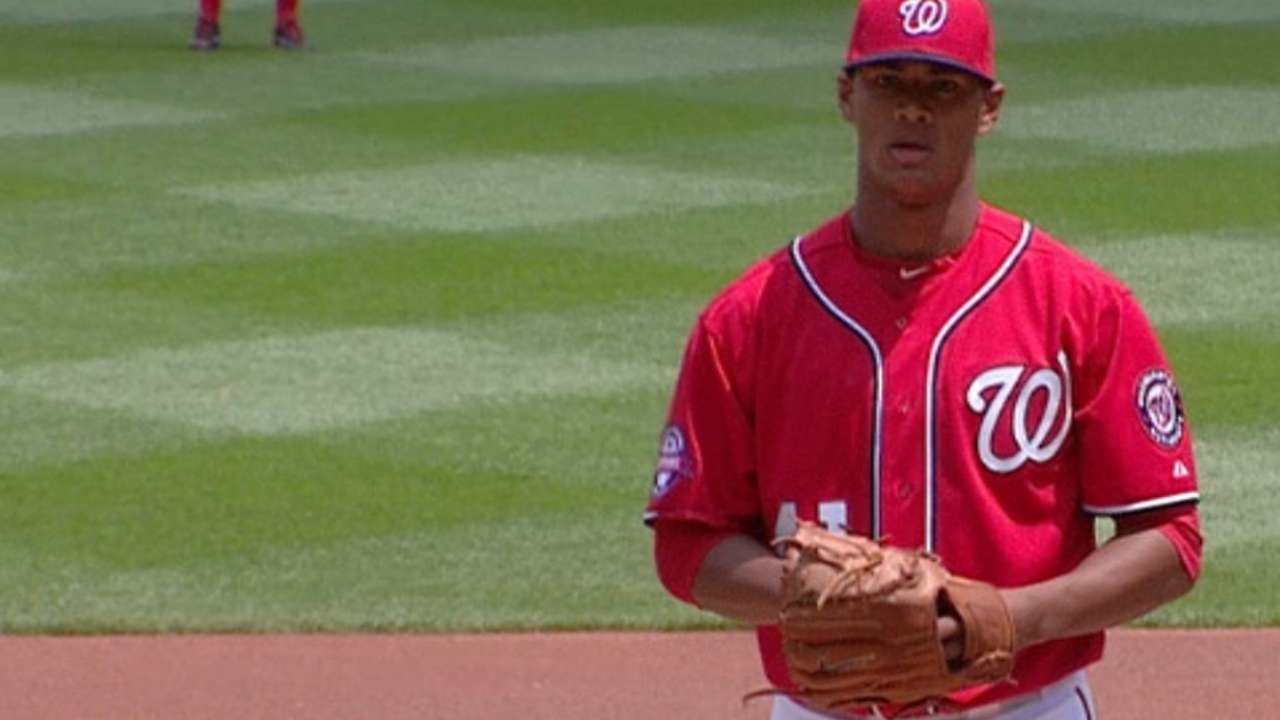 WASHINGTON -- Right-hander Joe Ross became the sixth Nationals pitcher to make his big league debut this year. It wasn't a bad outing, but he picked up the loss as the Cubs won the game, 4-2, at Nationals Park on Saturday afternoon.
Ross lasted five innings, allowed three runs on six hits and struck out four batters. Ross admitted that he was nervous when the game started, but he showed poise and didn't allow a hit until the fourth inning, when he allowed a single to Dexter Fowler.
"I was a little nervous, but it's the same game when you go out there and pitch," Ross said. "I had great defense behind me. There were a lot of balls hit hard that got picked up or caught -- and that was a little comforting, knowing the guys were behind me like that."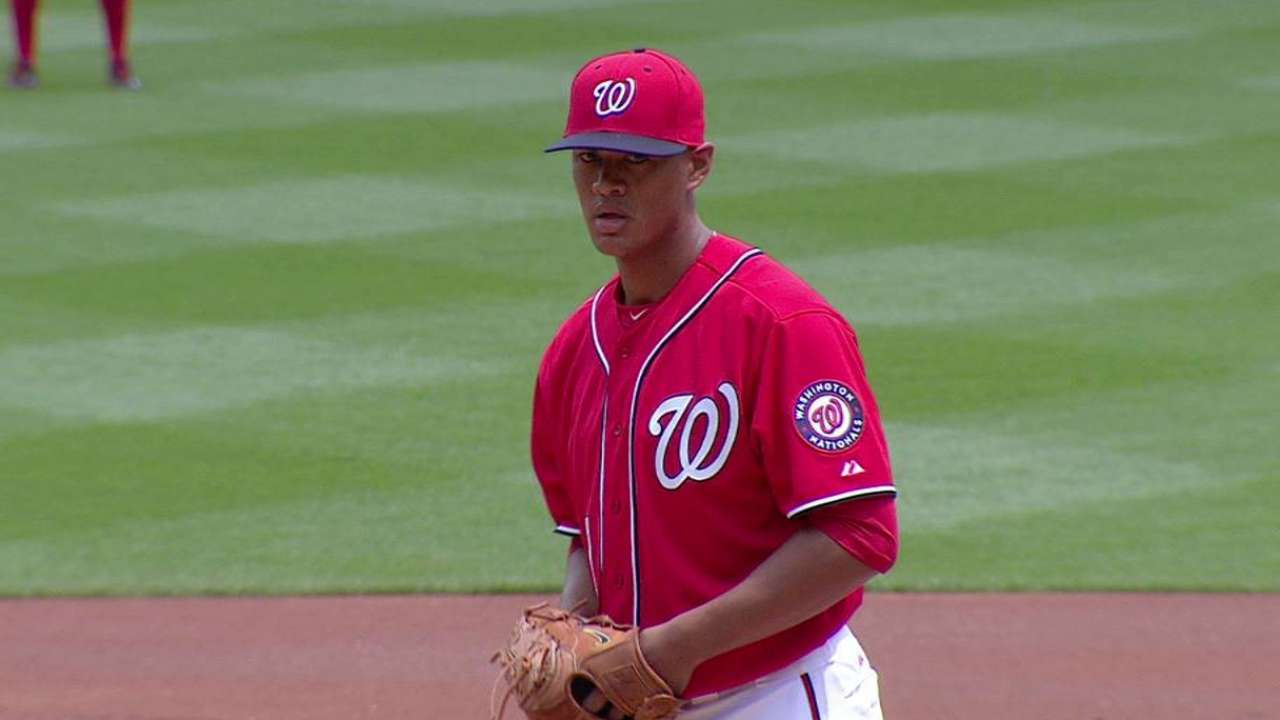 Ross was shocked when he learned he was going to the big leagues. At first, he thought he did something wrong when Double-A Harrisburg pitching coach Chris Michalak and manager Brian Daubach called him into the office.
"Michalak and Daubach let me know what was going on. I was in shock for a good while," Ross said. "I was happy, but I didn't smile. After I called my parents, it really set in."
In attendance to watch Ross make his debut were his parents, Willie and Jean Ross, his older brother, Padres right-hander Tyson, who came from Cincinnati, and a bunch of high school friends from California. Joe didn't know that Tyson was going to attend the game until he read it on Twitter. During the game, Joe noticed Tyson in the stands.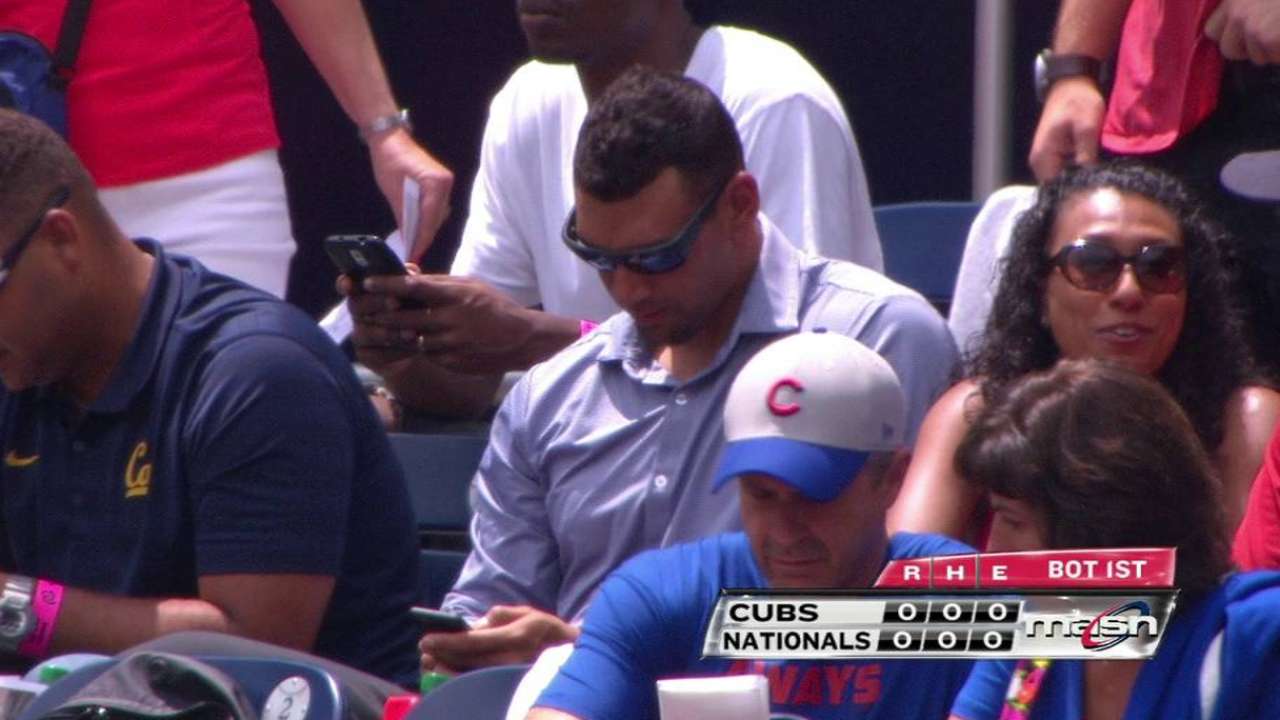 "It was pretty special," Tyson said. "It's been a long time since I've seen him pitch an actual game. The last time I saw him pitch was 2011. Gio [Gonzalez] and I were playing in Oakland together. We went on an off-day and caught one of his high school games. It's been a long time. It was pretty cool to see him on this Major League stage. It's good."
Willie said he was overwhelmed. He now has two sons playing in the big leagues.
"I thank the Nationals for arranging everything for us -- to have tickets available, to take care of the difficult situation within 24 hours," Willie said. "It's a great experience -- win, lose or draw. Joe did wonderfully. We are blessed as a family and we are enjoying every moment."
Said Jean, "We look at ourselves and are incredibly surprised, happy for both Joe and Tyson. They have accomplished their dreams. My husband coached them when they were little."
Bill Ladson is a reporter for MLB.com and writes an MLBlog, All Nats All the Time. He also can be found on Twitter @WashingNats. This story was not subject to the approval of Major League Baseball or its clubs.