Kemp keys Padres' rally vs. Reds with 5 RBIs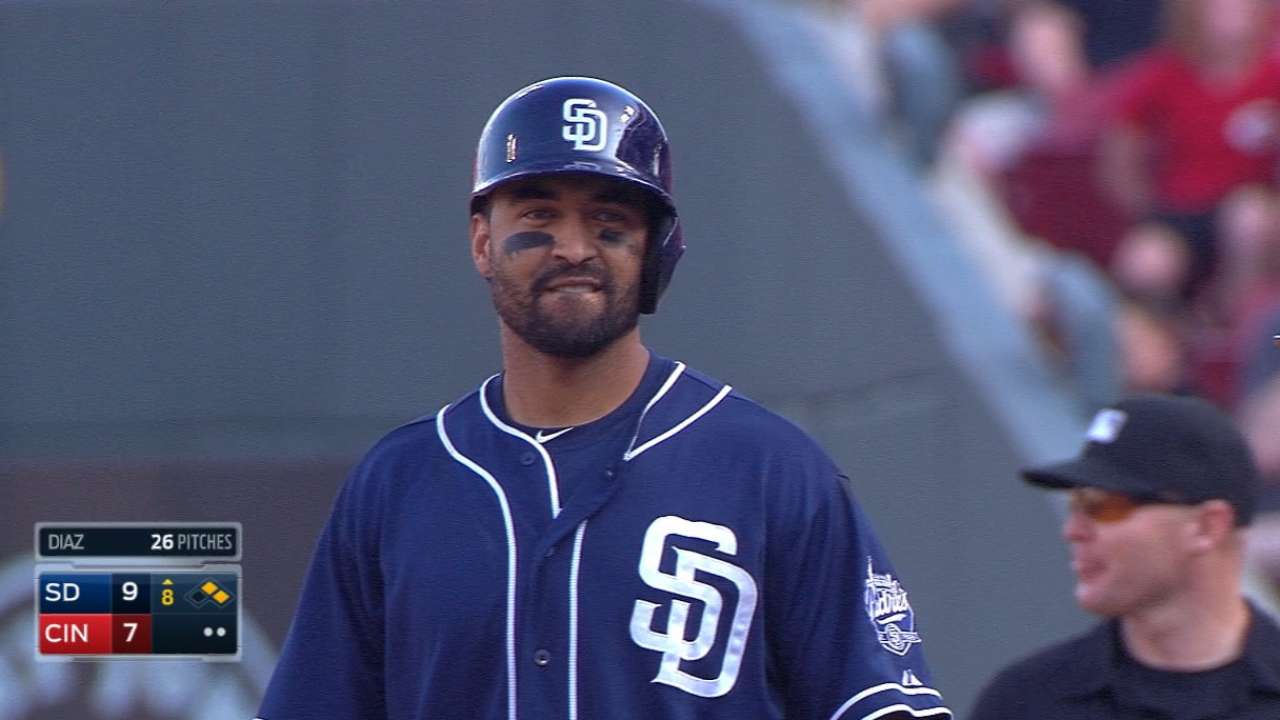 CINCINNATI -- Matt Kemp had three hits with a home run and five RBIs as the Padres stormed their way to a 9-7 come-from-behind win over the Reds on Saturday to take the first two games of a three-game series.
"This is a good one, no doubt," said Padres manager Bud Black of his team, which overcame deficits of 4-0, 6-1 and 7-3. "We had good at-bats. That's something we talk about all the time. These [Reds] were good pitchers with good velocities and our guys were patient."
Cincinnati's bullpen blew a lead in the later innings for the fourth time in six games, with it being the second time it has given up a four-run advantage. In relief of starter Michael Lorenzen with a 7-3 lead, Ryan Mattheus gave up an infield hit and two walks to load the bases in the seventh. Lefty Tony Cingrani took over and allowed Yonder Alonso's game-tying grand slam.
In the eighth, Reds reliever Jumbo Diaz gave up a leadoff double and a pair of two-out walks before Kemp's single through the left side scored the game-winning runs. Padres reliever Brandon Maurer got the victory with a perfect bottom of the seventh inning. In the ninth, closer Craig Kimbrel allowed the potential go-ahead run to reach the plate but struck out Zack Cozart for his 13th save.
"It hurts, it does, no other way of putting it," Todd Frazier said. "We got to put two and two together, can't have one day the pitching staff doing well and then the hitters not doing well, and vice versa. It's just that we haven't really established, other than those three games against the Nationals … us as a team coming together and having a whole game. We can't say, 'It's one of those games,' because it's been happening a lot, so we just got to keep working and come back and try to get another win tomorrow."
MOMENTS THAT MATTERED
Frazier has three-RBI day: Frazier had three hits and three RBIs in the losing effort. His RBI double to the wall in center field in the bottom of the first inning off Andrew Cashner gave the Reds a 2-0 lead. His second double to center field came in the fourth inning and scored another run to make it a 6-1 game. Frazier, who was the National League Player of the Week last week, took a 1-for-19 funk into Saturday.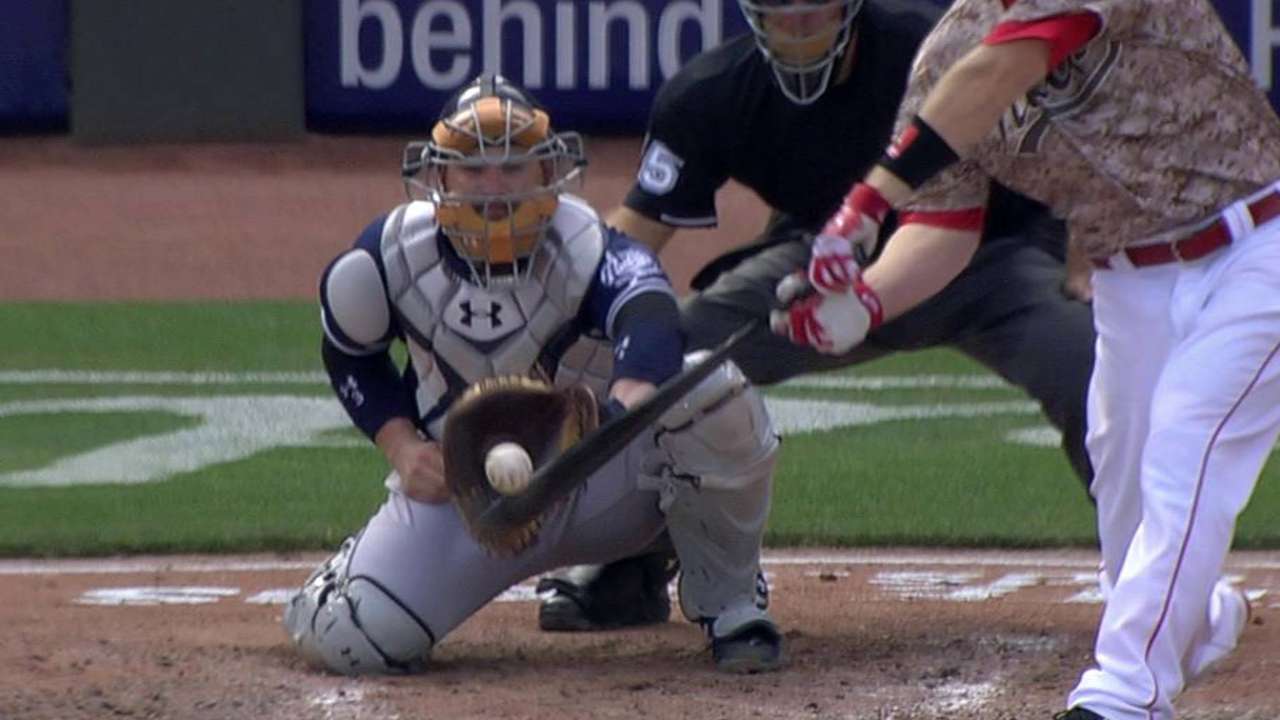 Kemp goes deep: It had been a while -- 174 at-bats, to be exact -- but Kemp hit a home run on Saturday, his second of the season and his first since April 18, when he connected for a solo shot off Lorenzen in the fourth inning. The ball actually hit off the top of the right-field wall, giving the Padres their first run. Kemp later added a two-run double in the fifth inning and the go-ahead two-run single in the eighth inning. More >
"What bothered me the most is not winning games. I could care less about home runs," Kemp said. "I feel if I'm driving in runs that's just as good as home runs."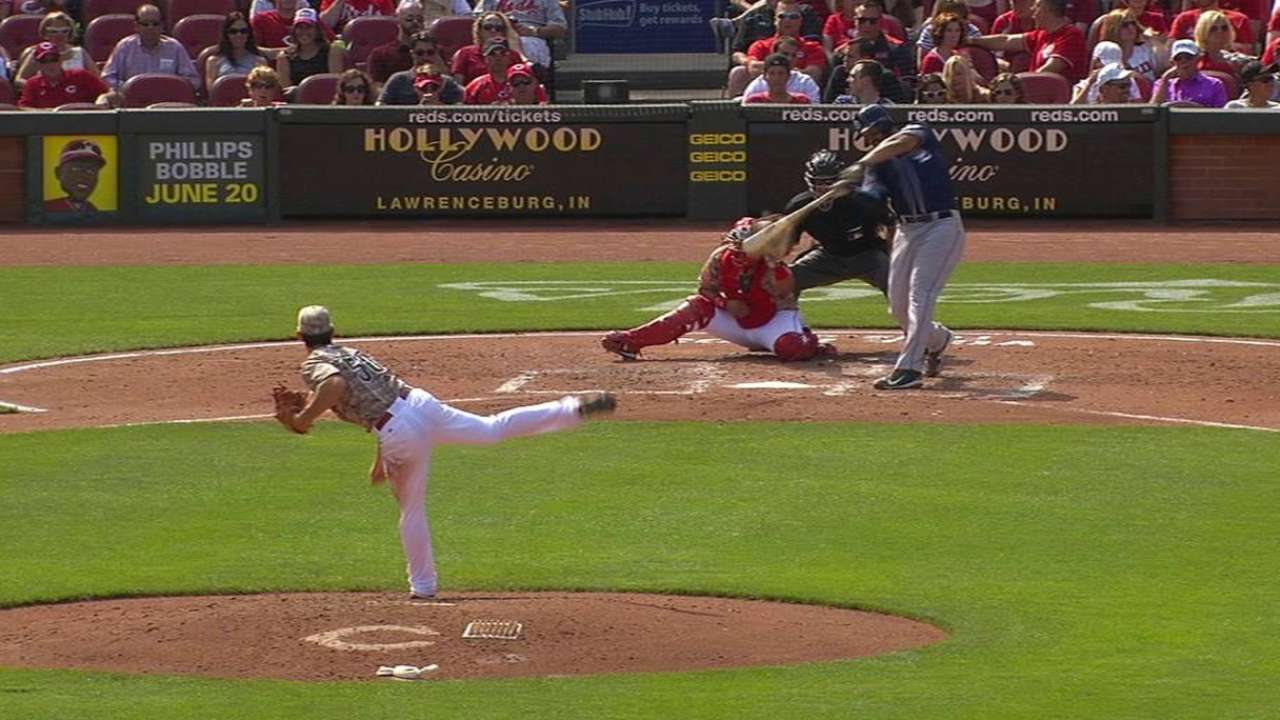 Lorenzen gets no-decision: For a second straight start, Lorenzen settled for a no-decision after leaving with a lead. The rookie right-hander allowed three earned runs and six hits over six innings with three walks and five strikeouts, and he now has a 3.29 ERA.
"I competed. I gave the team everything that I had and I thought I just made a couple of mistakes," Lorenzen said. "One that I can't make to Kemp leaving the ball up, and I know where my safe zones are with him. I left the ball up and he made me pay for it. I thought I threw the ball OK and we battled our butts off today."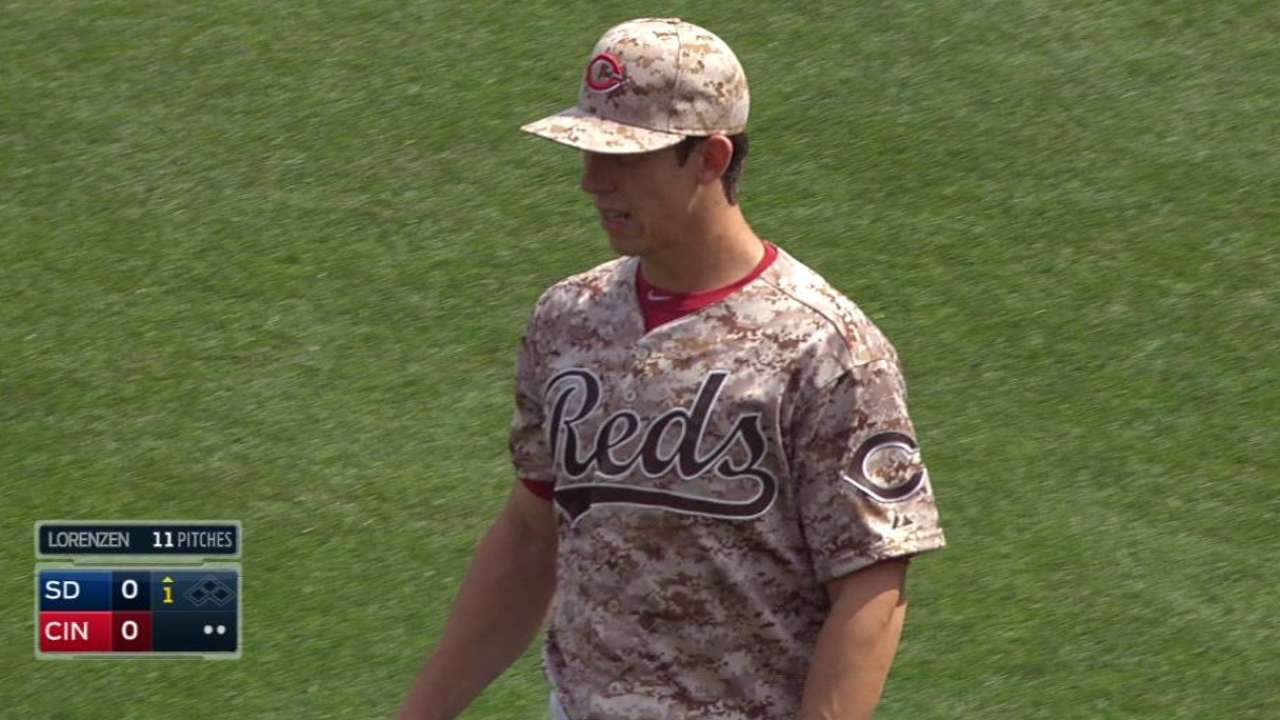 A grand time: The Padres missed Alonso's bat when he was out for 23 games with a right shoulder bruise. But he's been contributing since returning from the disabled list on June 2 -- no more so than Saturday, as his seventh-inning grand slam was the biggest of his three hits in the game. He has eight hits in 15 at-bats since returning from the DL. More >
"I was just trying to get a strike and swing at strikes. That's a tough left-hander. My whole approach was just trying not to expand [the strike zone]," Alonso said.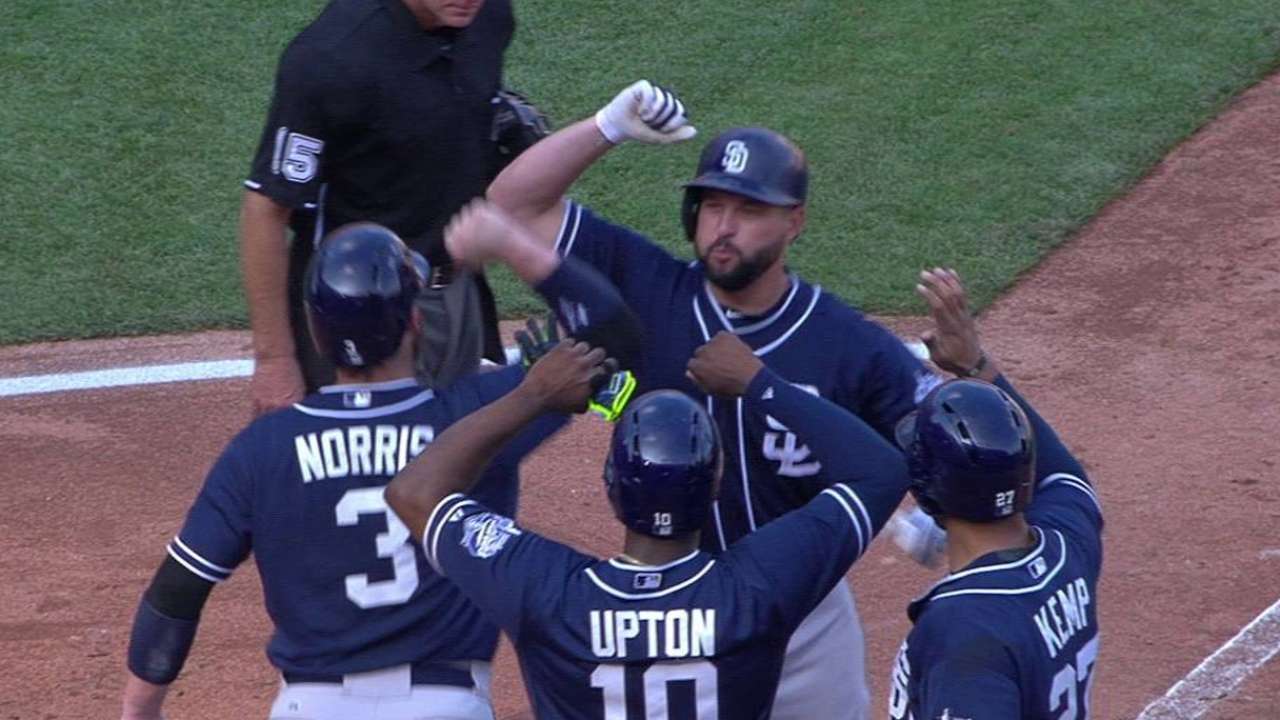 QUOTABLE
"We just got to keep scoring, keep shutting guys down. It's never enough, especially in baseball. A wise man told me that if you're still in grand slam range then there's still a chance, and it came back to bite us a little bit. Yonder put a good swing on it, that's all you can really ask." -- Frazier, on the Reds not adding on and letting the Padres come back.
"This might be one of the best games I've been here for as a Padre" -- Cashner, who got a no-decision after allowing seven runs in 5 2/3 innings.
PRICE ANGRY ON BENCH
Reds manager Bryan Price showed some anger at his players, including Cingrani when he walked a batter after the grand slam, and in the dugout after the top of the seventh. Price was irritated at how his team performed after having big leads. More >
"There were things today where we could have taken advantage of things and we didn't," Price said. "We let up. We let off the gas and it cost us the ballgame. That will never be acceptable."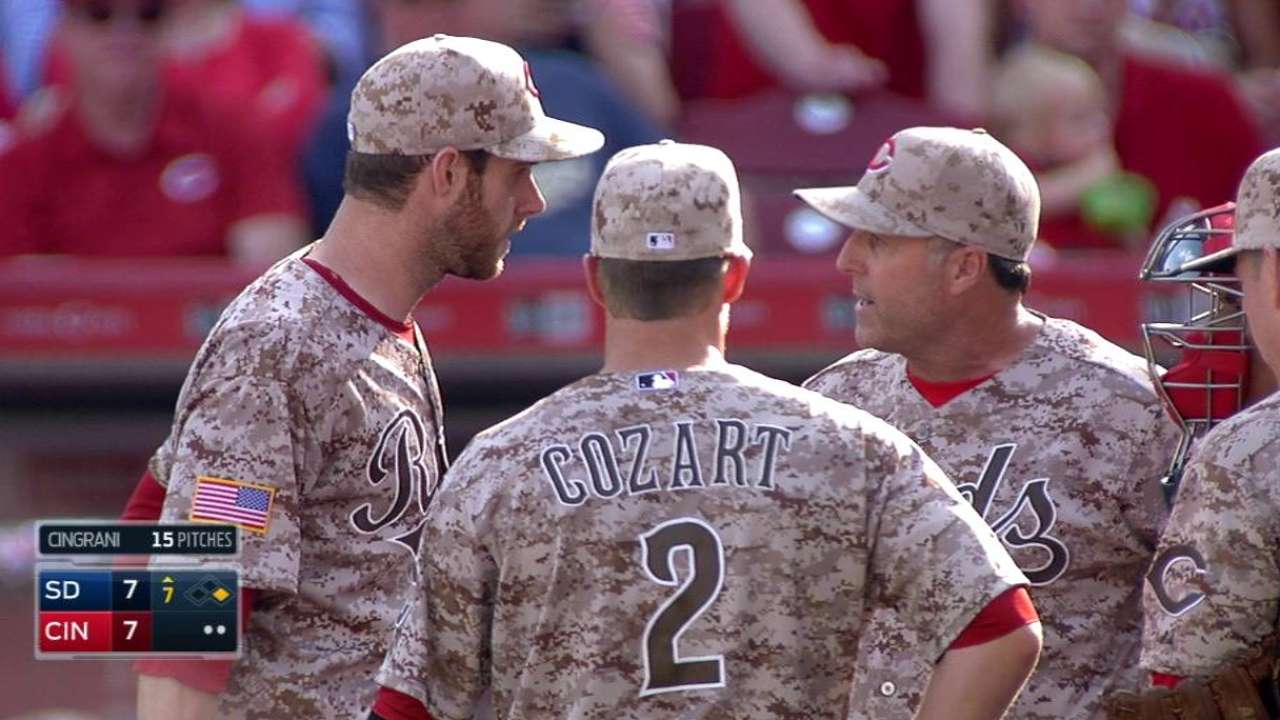 WHAT'S NEXT
Padres: Odrisamer Despaigne will pitch for the first time in a week on Sunday. He went eight innings the last time out against the Pirates, the longest outing by a Padres starting pitcher this season, and got two extra days off, one from the off-day Thursday and then an additional day when Black flipped his day to start with Cashner.
Reds: Ace Johnny Cueto will make the start, his second since he missed a turn in the rotation with right elbow stiffness. Cueto made a solid return to the mound on Tuesday in Philadelphia with 93 pitches over six innings while allowing two runs (one earned) and five hits.
Watch every out-of-market regular season game live on MLB.TV.
Corey Brock is a reporter for MLB.com. Keep track of @FollowThePadres on Twitter and listen to his podcast. Mark Sheldon is a reporter for MLB.com. Read his blog, Mark My Word, follow him on Twitter @m_sheldon and Facebook and listen to his podcast. This story was not subject to the approval of Major League Baseball or its clubs.