Tulo's approach paying off in hot streak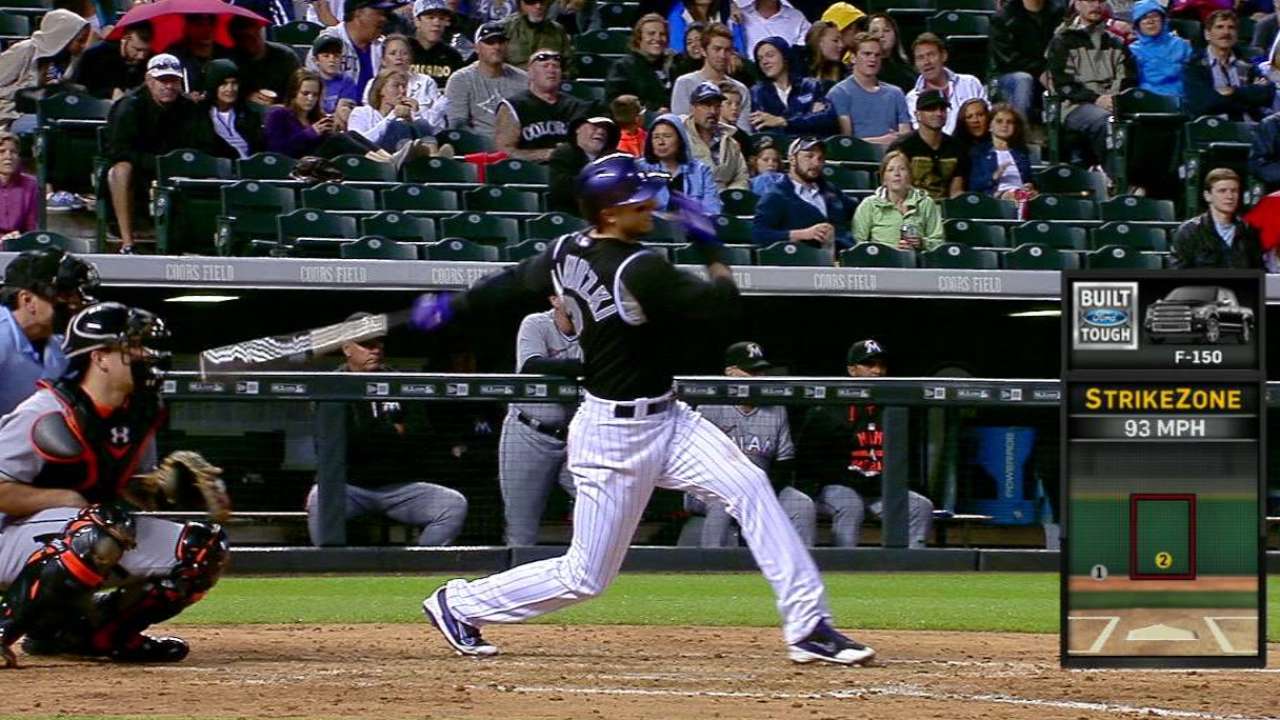 DENVER -- Shortstop Troy Tulowitzki illustrates the odd zone the Rockies occupy.
Tulowitzki is surging, with a six-game hit streak and a .404 batting average and 1.159 OPS in his last 12 games going into Saturday afternoon's contest against the Marlins, and the Rockies had won nine of their last 14 contests and were a manageable six games behind the National League West-leading Dodgers.
But after Friday's loss dropped them to 2-3 halfway through a 10-game homestand, the Rockies are in last place.
It's either the start of bright times or the continuation of gloomy ones.
"We've been playing some good baseball, getting some good pitching and some of our guys are getting hot in the lineup; if we can continue that, there's no reason we can't win," Tulowitzki said. "But it's how baseball goes, whether you're a player or a fan, there are a lot of ups and downs. As a fan you have to remind yourself, and as a player you have to remind yourself, that it's a long season.
"It would be real nice to really get into the race. We've cut down already on how far back we are in the division, so hopefully we can continue to make that number lower and make this thing interesting."
In addition to Tulowitzki's surge, Carlos Gonzalez is gradually finding his swing, with a .326 batting average from May 22 through Friday and a 16-game streak of reaching base (.406 OBP). While Gonzalez is swinging more selectively and confidently, he entered Saturday with one home run and five RBIs at home and still was more on the upswing than truly hot.
Tulowitzki is in a better zone, but manager Walt Weiss said Tulowitzki is capable of being even hotter. In the last 14 games, he has four home runs and 14 RBIs. During the hot streak, a "spray chart" shows that all of his singles have been to the middle or opposite way, which partly signals he is swinging at the correct pitches. Three of his four homers have been fastballs crushed to the pull side, but one homer was to dead center and his lone double was to the opposite gap -- more good signs.
"He's swinging the bat well right now, but what's 'there' for him?" Weiss said. "He had a month where he hit 15 home runs, so the sky is the limit."
Last year, when he was on an MVP-type pace before suffering a season-ending left hip labrum injury and through this year's struggles, Tulowitzki has been dedicated to day-to-day effort and actively tries to avoid assessing himself.
"I come to work, have the same routine and trust it," Tulowitzki said. "You hope your hard work in the offseason and the things you do during the season pay off when the game starts. At the beginning, I wasn't getting too many results, and lately I've been getting results, but the work and preparation have been constant.
"I've had one focus this whole year: be healthy. All that other stuff doesn't matter. It's not my average, how many home runs or winning this many games, since some of the stuff I can't control. If I prepare myself every day and stay healthy, hopefully that will pay off."
Thomas Harding is a reporter for MLB.com. Follow him on Twitter @harding_at_mlb, and like his Facebook page. This story was not subject to the approval of Major League Baseball or its clubs.