Tough 'who-plays-where' questions facing Padres in next two weeks
Notes on Middlebrooks, Ross, Norris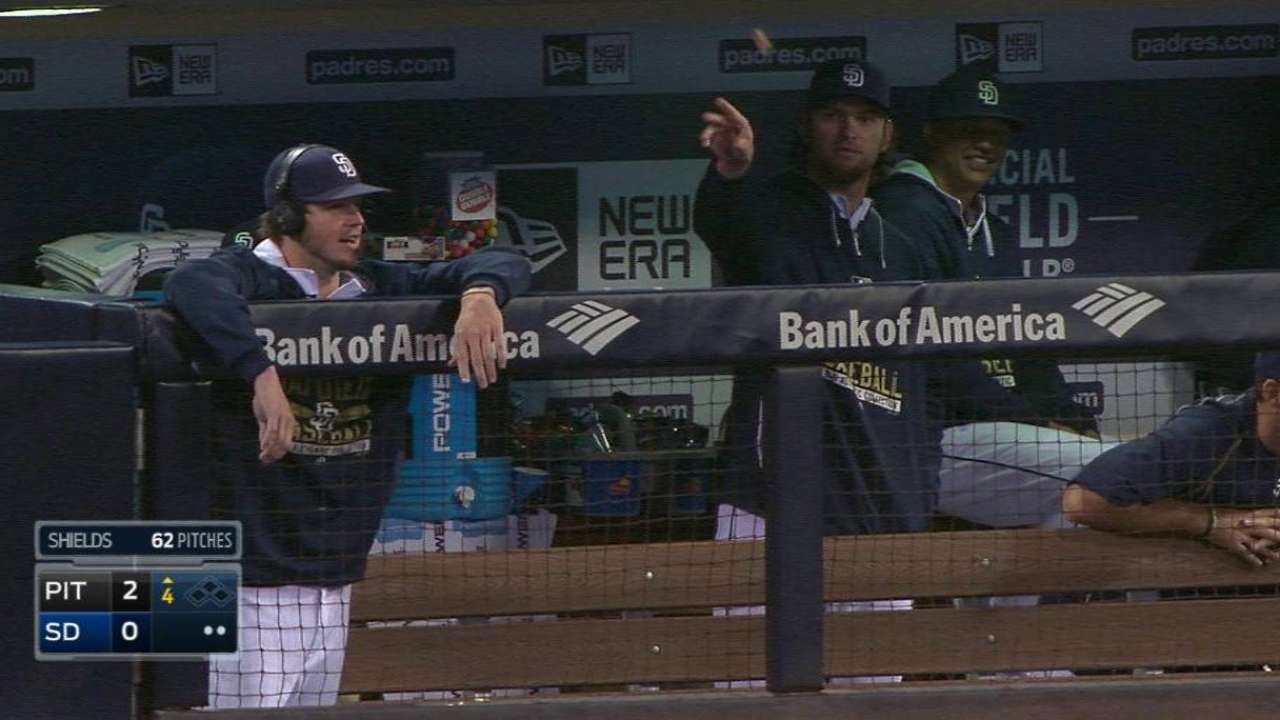 Bill Center, longtime sportswriter for U-T San Diego, is an employee of the Padres.
Manager Bud Black and General Manager A.J. Preller face some tough decisions over the next week to 10 days if Wil Myers, Brandon Morrow and Melvin Upton Jr. come off the disabled list as expected.
Morrow makes his second rehab start for Double-A San Antonio Sunday. If he successfully completes that assignment, he could return to the Padres the following Friday (June 12) when the Padres return to Petco Park to face the Dodgers. Morrow has been on the disabled list since May 3 with right shoulder inflammation.
Myers is scheduled to start his rehab assignment with Triple-A El Paso Sunday at Las Vegas. He could spend as few as three games on his rehab assignment, rejoining the Padres as soon as early next week in Atlanta. And Upton Jr. has no more than eight games to go on his 20-game rehab assignment with Triple-A. When he completes that the Padres must add him to the 25-man roster or move him.
What happens when Morrow returns is pretty simple. Either he, Odrisamer Despaigne or Ian Kennedy will be in the bullpen. Because Despaigne opened the season in the bullpen and returned there once before when Kennedy came off the disabled list, the durable Cuban will likely return to the bullpen where he will work long and short relief until again needed again in the rotation.
The decisions become more difficult when Myers and Upton Jr. come off the disabled list. They will give the Padres six outfielders.
Myers started the season in center and moved to first when Yonder Alonso went on the disabled list. Will Venable has been in center since Myers moved to first and has hit .303 (27-for-89) with two doubles, two triples, two homers, 11 RBIs and 13 runs scored since May 5. But with Alonso back at first and hitting better than .350 with a .400-plus on-base percentage, it would be hard to take Alonso -- who is also the only left-handed offensive threat in the lineup -- off the field.
So where does Myers play? And where does Upton Jr. play? Might Myers move to another infield position. He has played almost everywhere on the field. Or might the Padres trade an outfielder in search of a shortstop? Stay tuned.
From the scorebook
• The Padres won a third straight game Friday night in Cincinnati. It is their fifth, three-game winning streak of the season. They have yet to mount a four-game winning streak going into Saturday's game in Cincinnati. Not only would a win Saturday give the Padres their first, four-game winning streak of the season, it would put them above .500 for the first time since May 15 when the Padres were 19-18.
• Although Tyson Ross has a 3.32 earned run average on the road this season and has allowed three or fewer wins in every one of his seven road starts, Friday's win over the Reds was his first win on the road this season. Friday also marked a seventh straight start in which Ross did not allow a home run, tying the longest streak by a National League starter this season. He is 4-0 lifetime against the Reds with a 1.20 ERA with 31 strikeouts over 30 innings in five games (four starts). He is 3-0 with a 1.89 ERA in three starts at Great American Ball Park.
• Third baseman Will Middlebrooks has a five-game hitting streak (5-for-17) with two homers and eight RBIs. He has three, three-RBI games in his last nine games. He is hitting .333 (15-for-45) with two doubles, four homers, 13 RBIs and seven runs scored in his last 12 games. He is hitting .308 (24-for-78) with three doubles, five homers and 14 RBIs in his last 21 games dating back to May 12.
• Catcher Derek Norris threw out his 18th runner and hit his sixth homer Friday night. Three of his homers have come in the last six games (7-for-26 with seven RBIs). His 18 caught-stealing throws leads all Major League catchers.