Rangers expect strikeouts as Gallo matures
Banister understands power prospect still learning at big league level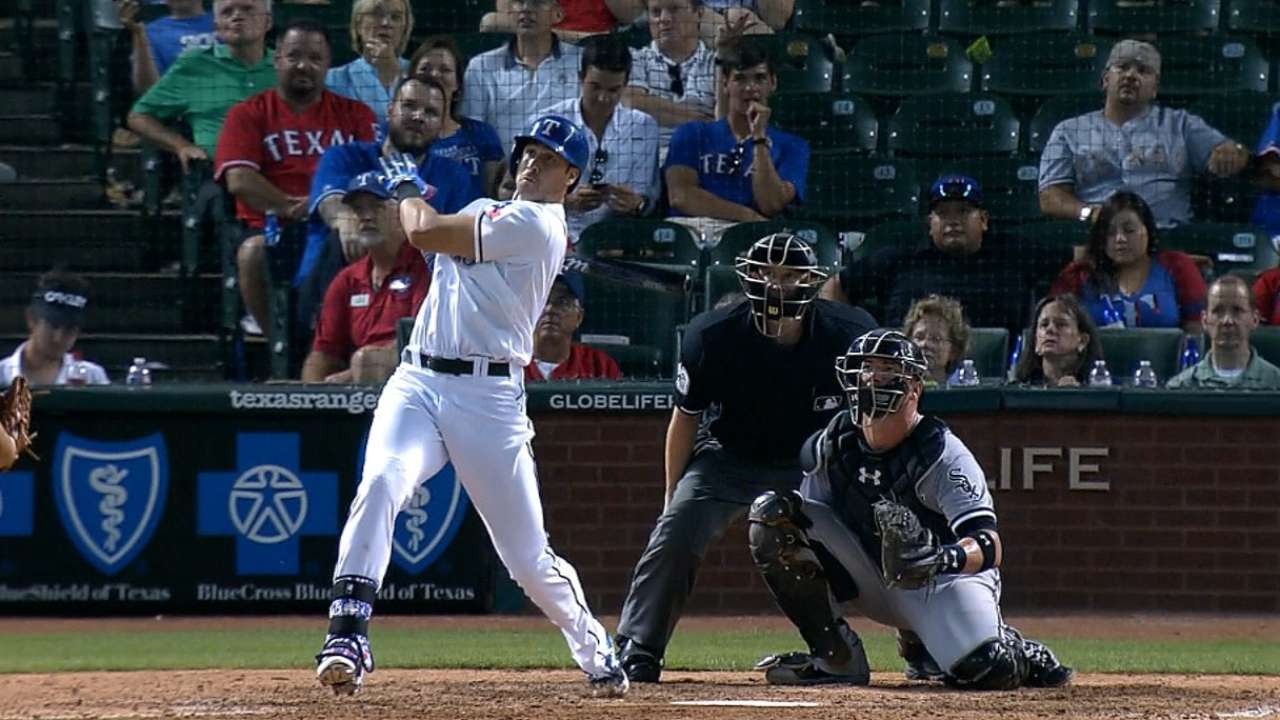 KANSAS CITY -- Rangers rookie Joey Gallo struck out all four times he came to bat in Friday's 4-0 victory over the Royals. Manager Jeff Banister isn't going to make a big deal out of it.
"It's a learning experience for Joey," Banister said. "Every experience for him is a new experience. He is logging information and the pitchers he has seen. That's what happens when you get off to a special start. They pay attention to you and they work at it.
"If you've got power, they know you can hurt them, so they are really going to pay attention. It's a learning experience. He'll be fine. He'll swing the bat and he'll drive the ball."
The Rangers know that with Gallo's prodigious power also comes a high strikeout ratio. The third baseman -- who is ranked as the No. 8 overall prospect -- has 10 strikeouts along with two home runs through his first 16 at-bats. Gallo, 21, struck out 33.9 percent of the time in the Minor Leagues.
"If you look at Joey's track record, he does have strikeouts with his power," Banister said. "You want the guy to swing the bat with authority. It's not about cutting down the swing. It's about recognizing pitches and putting a good swing on a pitch you can hit. I'm not concerned. He has been in the big leagues for four days."
Banister said the Rangers monitor all their players' confidence level, not just the rookies.
"If you remember there was a certain right fielder [Shin-Soo Choo] who wasn't the most confident hitter out of Spring Training," Banister said. "He struggled in April and we unplugged him for a few days. We monitor everybody's confidence level and psyche. It's part of the game and the nature of the game.
"We'll pay attention to where he is at. We'll watch his body language and hear what he is saying. We'll pay attention to what we see and hear and continue to build his mental toughness and his confidence. That carries you a long way even with your talent.
"The maturation of Joey will come from what he retains, what kind of adjustments he makes from pitch to pitch and at-bat to at-bat. I have seen some of those adjustments. Every experience will be beneficial down the road to making him a complete player."
T.R. Sullivan is a reporter for MLB.com. Read his blog, Postcards from Elysian Fields, follow him on Twitter @Sullivan_Ranger and listen to his podcast. This story was not subject to the approval of Major League Baseball or its clubs.