MLB.com Columnist
Bill Ladson
Big things ahead for Nationals' Dream Foundation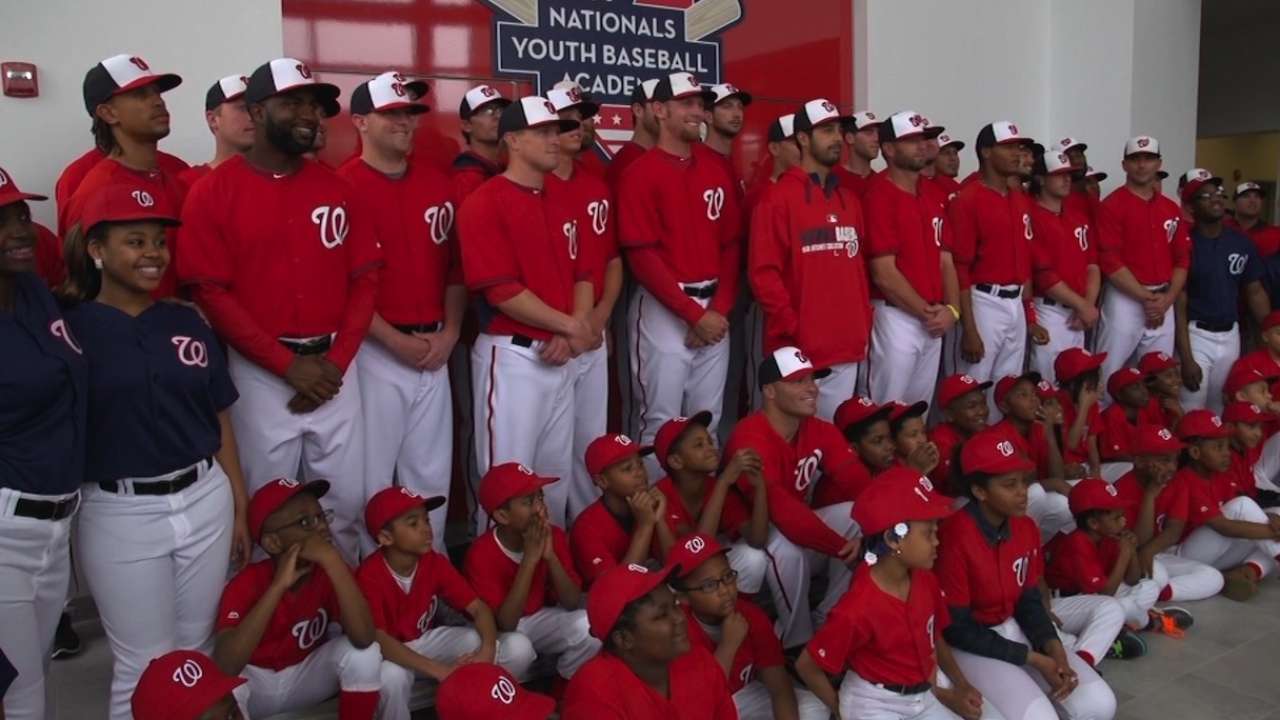 WASHINGTON -- The Nationals' Dream Foundation will have its annual Dream Gala on Saturday evening at the Marriott Marquis in downtown Washington.
It's more than just an evening of food and drinks and mingling with ballplayers. There's the live auction, where one can purchase special prizes.
The Dream Foundation is committed to community partnerships that improve the lives of children and families in the D.C. area. The foundation has put together three cornerstone programs: The Nationals Youth Baseball Academy, the Nationals Diabetes Care Complex and the Neighborhood Initiative. The academy and complex were built last year.
MLB.com caught up with Marla Lerner Tanenbaum, the chairperson of the Dream Foundation, and talked to her about the success of the gala and the foundation.
MLB.com: This has been your baby since Day 1. What makes this year's gala different than in past years?
Lerner Tanenbaum: It's our 10-year anniversary, so I think that makes everything special. We decided to change it up. Because Matt and Erica Williams were so interested in the foundation, I turned it around on them and asked, "How would you like to host this gala?" They were the hosts during the pre-event in February. Erica is such a dynamo. She brought a lot of new people.
MLB.com: What do you look to accomplish this year, compared to other years?
Lerner Tanenbaum: I feel with the Baseball Academy and the opening of the Nationals Diabetes Complex, our two big goals from Day 1 were accomplished. Although our support of both of these facilities are ongoing, I thought it was time to come up with another cornerstone program. We are going to talk about that Saturday night, as well. I want to get people excited about the work ahead. We are not going to rest on our laurels.
I think the fans have responded so positively to these two initiatives. But you have to change things up. We have to stay relevant. I'm looking forward to this initiative.
MLB.com: What is the new initiative?
Lerner Tanenbaum: We are going to redevelop baseball fields in D.C. This is a big initiative that Matt was involved with while he was with the D-backs, and we were waiting to open our Academy before we started this great work in D.C.
MLB.com: We have heard a lot about the Baseball Academy. How successful has it been?
Lerner Tanenbaum: I would have to say beyond my wildest dreams. We have an incredible staff, and I absolutely give them all the credit for developing the program. They have put a lot of meat on the program. Between February and October of this year, we'll play 350 baseball games on those three fields. The classrooms and fields are humming with activity seven days a week with our scholar athletes, and we are getting tremendous feedback from parents, school principals and teachers.
MLB.com: How many people are you expecting at the gala this time?
Lerner Tanenbaum: Around 800. That is a good bit more than we have had before. I have to say that Matt and Erica Williams went out in the community and talked us up. Somehow, they have made a ton of friends since they got here, and all of them will be there at the gala.
We just started working on it earlier. We started working on it since last October, really developing a plan on how we are going to make it bigger.
Bill Ladson is a reporter for MLB.com and writes an MLBlog, All Nats All the Time. He also can be found on Twitter @WashingNats. This story was not subject to the approval of Major League Baseball or its clubs.