D-backs turn focus to No. 1 overall pick
After thorough evaluation of likely later-round players, Arizona locking in on top spot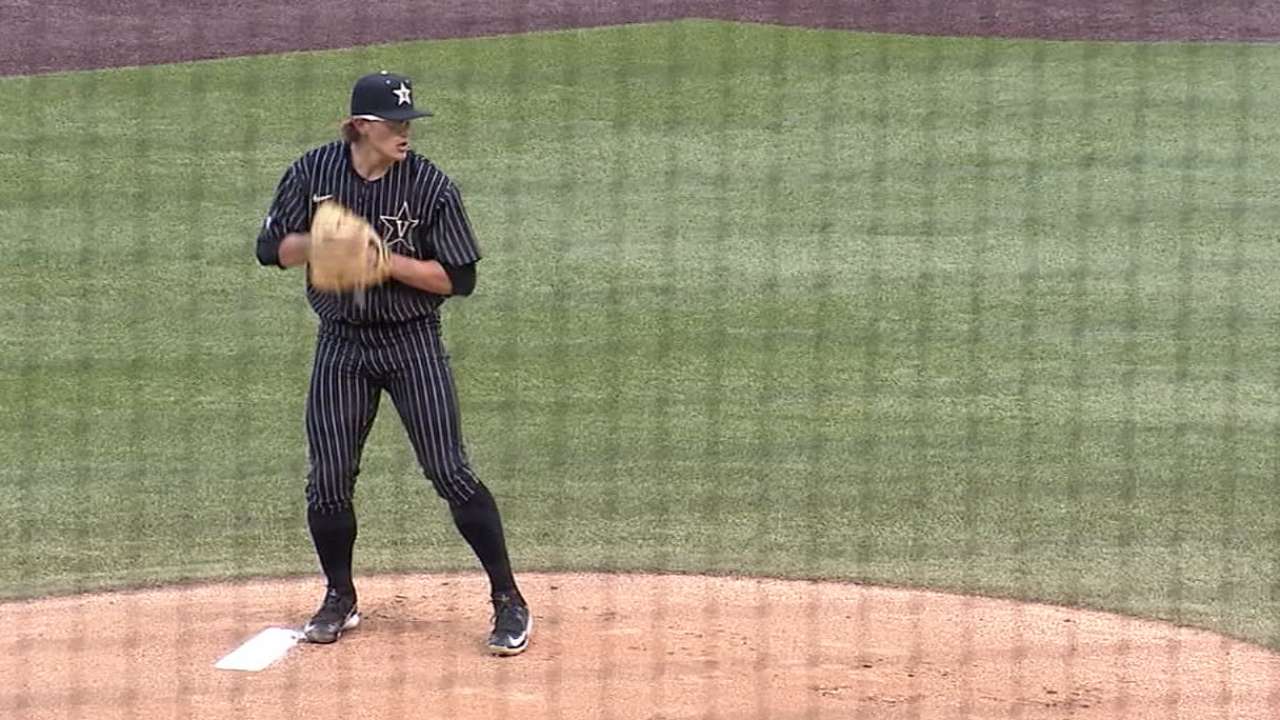 PHOENIX -- With the 2015 First-Year Player Draft set to begin Monday evening, discussions in the D-backs' Draft room at Salt River Fields shifted Friday to the No. 1 overall pick.
The team's scouts and baseball operations department has spent the better part of the past week dissecting players who will be available in the lower rounds of the Draft.
"There are going to be some outstanding big league players that get picked after the 10th round," D-backs general manager Dave Stewart said. "I challenged our guys to make sure we turned over every stone when it came to guys we're going to pick lower in the Draft."
When it comes to the first overall pick, which belongs to the D-backs for the second time in franchise history, Stewart is not tipping his hand.
Names like Vanderbilt shortstop Dansby Swanson, UC Santa Barbara right-hander Dillon Tate, Vandy righty Carson Fullmer, Illinois lefty Tyler Jay and high school catcher Tyler Stephenson have been among those most linked to the D-backs in mock drafts.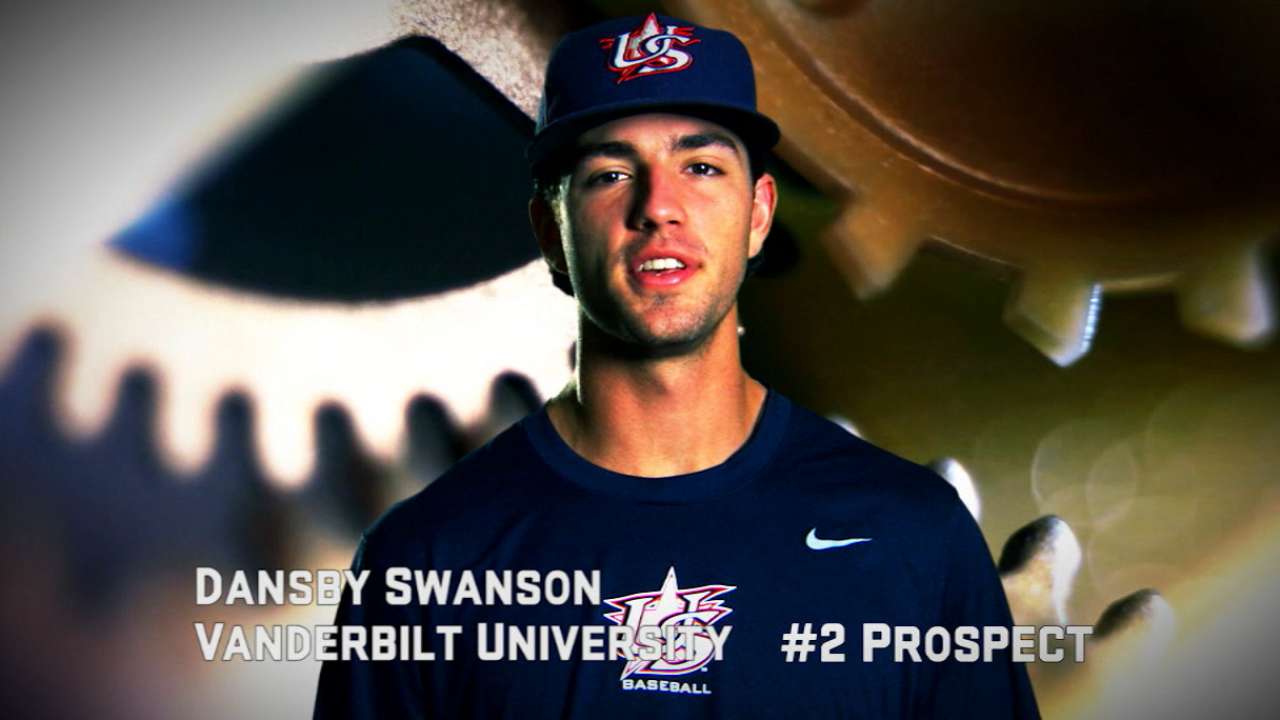 Most of the time, a general manager will watch in person a player they plan to select that high, so perhaps it is telling that Stewart has seen all of the above players other than Jay. It could also simply be a case of Jay being a reliever, and so his pitching schedule was not as easy to sync up with as it was with Tate and Fullmer.
It's all speculation at this point, but what fun would the lead up to the Draft be without it?
For instance, if you think that Stewart not seeing Jay shows the D-backs are not going to take him, then you look at whether the D-backs would prefer to take a college player rather than high school player. If you believe that, then you end up with the decision coming down to Swanson, Fullmer and Tate.
The quality of Tate's stuff has dropped off a bit lately, which some think is a result of his workload, so a team picking him might want to shut him down for the rest of this year.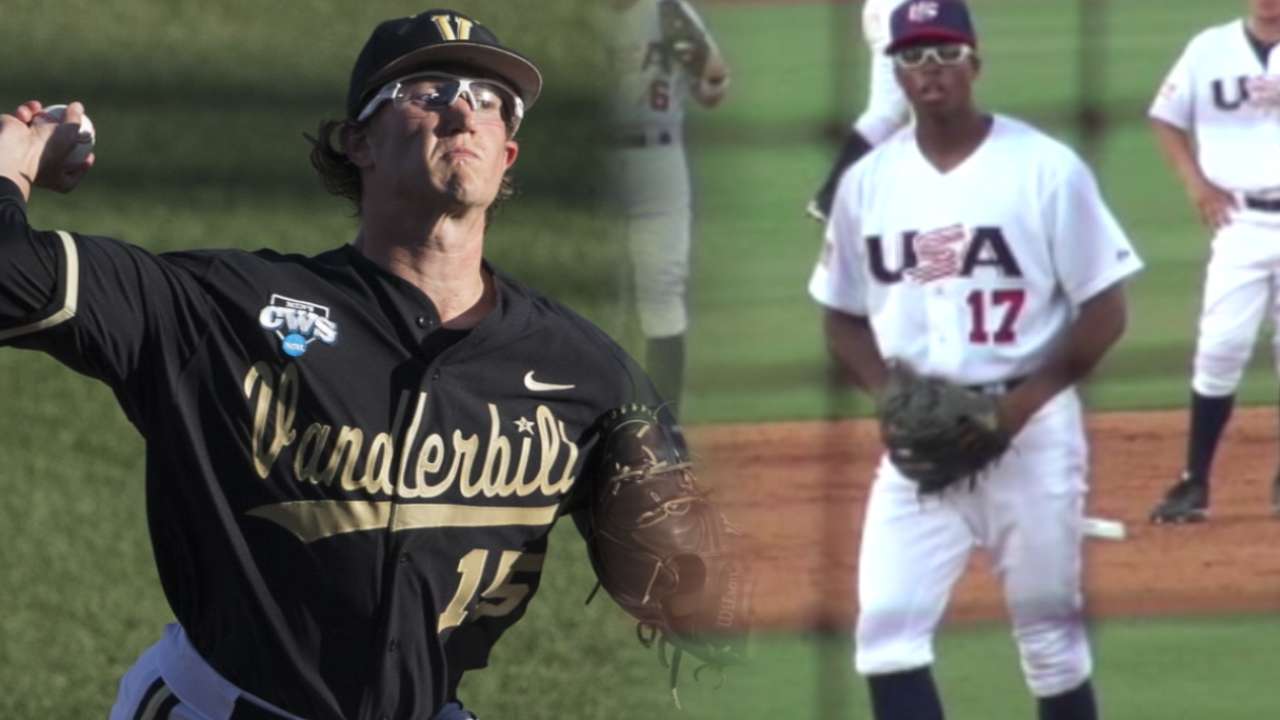 Whether that would factor into the D-backs' decision is unknown, but there are some who think Fullmer could help in the bullpen in September if needed, and that Swanson could be ready to contribute in 2016.
In a year without a slam-dunk No. 1 pick, people are looking for clues, but no one outside of those in the D-backs' hierarchy will know for sure until just after 4 p.m. MST on Monday.
The 2015 Draft will take place from Monday through Wednesday, beginning with the Draft preview show on MLB.com and MLB Network on Monday at 6 p.m. ET. Live Draft coverage from MLB Network's Studio 42 begins at 7 p.m., with the top 75 picks being streamed on MLB.com and broadcast on MLB Network. MLB.com's exclusive coverage of Day 2 begins with a live Draft show at 12:30 p.m. on Tuesday, with exclusive coverage of Day 3 beginning at 1 p.m. on Wednesday.
MLB.com's coverage includes Draft Central, the Top 200 Draft Prospects list and Draft Tracker, a live interactive application that includes a searchable database of over 1,700 Draft-eligible players. Every selection will be tweeted live from @MLBDraftTracker, and you can also keep up to date by following @MLBDraft. And get into the Draft conversation by tagging your tweets with #mlbdraft.
Steve Gilbert is a reporter for MLB.com. Read his blog, Inside the D-backs, and follow him on Twitter @SteveGilbertMLB. This story was not subject to the approval of Major League Baseball or its clubs.