MLB.com Columnist
Tracy Ringolsby
ASG debate: Bautista, Reddick battling tough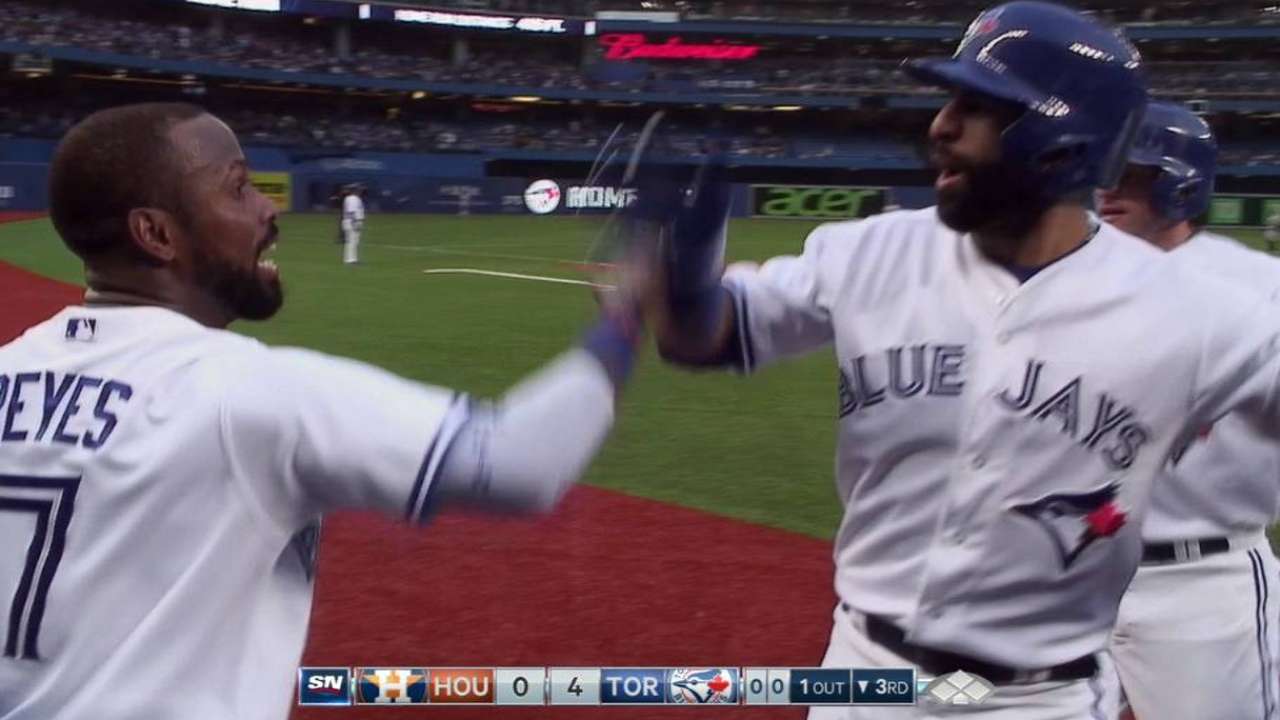 *** We will be doing daily ASG debates until voting on the 2015 Esurance MLB All-Star Game Ballot ends on July 2. We will frequently be pitting one player against another and have a writer make a case for one of them, but that doesn't mean there aren't other great candidates for that position. In fact, your comments could spark a new debate for us to tackle. So let us know what you think! ***
Jose Bautista of the Blue Jays and Josh Reddick of the A's are battling not only the other outfielders in the American League in their bids for berths on the American League All-Star team, but also tough starts to the season by their teams, which can lead to voters overlooking them on the ballot.
• VOTE NOW: Cast your All-Star ballot
Check out the latest results. Three of the top five AL outfield vote getters are Kansas City Royals -- leader Lorenzo Cain, No. 3 Alex Gordon and No. 5 Alex Rios. Mike Trout of the Angels is second, and the Orioles' Adam Jones is fourth.
Bautista and Reddick? They rank ninth and 10th. Their teams? Bautista's Blue Jays are tied for third place in the AL East, and Reddick's A's, who have advanced to the postseason the past three seasons, have an AL-worst 23-34 record.
They have solid track records. Bautista has been an All-Star the past five years, and a top six finisher in AL MVP voting three of the past five. Reddick was an AL Gold Glove Award winner in 2012.
Reddick, however, has an edge this year. He entered Saturday hitting .293 with eight home runs and 32 RBIs. Bautista is hitting only .248, but on Friday night he homered for the second game in a row and extended his hitting streak to nine games.
What's more, Bautista was in right field for the fourth game in a row. He had been the victim of right shoulder inflammation, which limited him to DH duties from April 21 until starting both games in a Tuesday doubleheader in right field.
Reddick, meanwhile, has been the regular right fielder for the A's, even moving to center field once as a defensive replacement.
Both players will need a late surge of fan support to claim an All-Star starting spot. Given the struggles of their teams, it isn't likely that multiple players will be chosen to fill out the All-Star squads.
While Bautista does have an All-Star history, his Toronto teammate, Josh Donaldson (who acquired in the off-season from the A's) is hitting .311 with 15 home runs, 39 RBIs and has scored an AL-leading 46 runs.
Donaldson also is second in the AL voting at third base, behind Mike Moustakas of the Royals, who had 2,385,024 votes in the latest announcement compared to Donaldson's 1,496,065. They are the only third basemen with as many as 500,000 votes. Donaldson also was an All-Star a year ago with the A's, and he has been a top 10 finisher in the AL MVP Award voting the past two years.
Reddick meanwhile, has two other teammates with solid numbers. Catcher Stephen Vogt, who also can play first base and the corner outfield spots, is hitting .306 with 11 home runs and 39 RBI, and he is second in the voting at catcher behind Salvador Perez of the Royals.
Right-hander Sonny Gray, meanwhile, is 7-2 with a 1.65 ERA and nine quality starts. He leads the Major Leagues in ERA, and he is one win and one quality start shy of the MLB lead.
It will be a challenge for either Bautista or Reddick to earn a spot in the All-Star Game this year. Reddick, however, would have to be given the edge between the two of them right now in light of the struggles Bautista has faced in battling through his shoulder problems.
You can vote for starters at MLB.com and all 30 club sites -- on computers, tablets and smartphones -- until Thursday, July 2, at 11:59 p.m. ET. For the first time, voting is exclusively online.
Fans may also receive the ballot by texting VOTE to 89269 (USA) or 101010 (Canada). Or text VOTA for a ballot in Spanish. Message and data rates may apply. Up to five messages. No purchase required. Reply STOP to cancel. Reply HELP for info.
Following the announcement of the 2015 All-Stars, be sure to return to MLB.com and cast your 2015 Esurance MLB All-Star Game Final Vote for the final player for each league's All-Star roster. On Tuesday, July 14, watch the 2015 All-Star Game live on FOX, and during the game visit MLB.com to submit your choice for the Ted Williams Most Valuable Player Award presented by Chevrolet via the 2015 MLB All-Star Game MVP Vote.
MLB.com will provide extensive online coverage of All-Star Week festivities.
The 86th All-Star Game will be televised nationally by FOX, in Canada by Rogers Sportsnet and RDS, and worldwide by partners in more than 200 countries via MLB International's independent feed. ESPN Radio and ESPN Radio Deportes will provide national radio coverage of the All-Star Game. MLB Network and SiriusXM will also provide comprehensive All-Star Week coverage. For more information, please visit allstargame.com.
Tracy Ringolsby is a columnist for MLB.com. This story was not subject to the approval of Major League Baseball or its clubs.