MLB.com Columnist
Jonathan Mayo
Handicapping No. 1 Draft pick candidates
Vandy shortstop Swanson has competition as D-backs consider options at top spot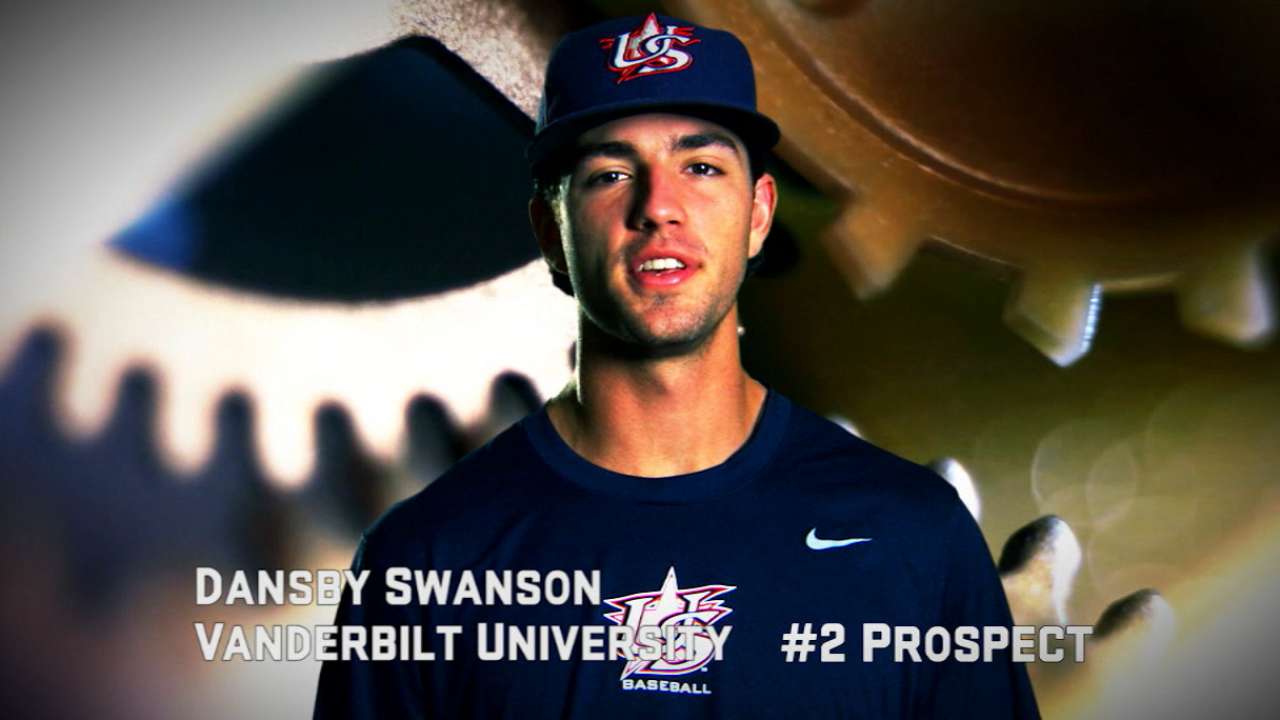 With just a couple of days before the start of the 2015 MLB Draft, it would be nice to report with certainty what the top of the first round is going to look like. Alas, that still isn't feasible, though we -- Jim Callis and myself -- will do due diligence in trying to project the entire first round as accurately as possible late Sunday night and into Monday morning.
While there is nothing set in stone, it does seem that there is a small handful of names -- three, to be precise -- that the D-backs are considering with the first overall selection. Arizona last picked No. 1 in 2005, and selected Justin Upton, who turned out to be pretty good. Obviously, this is a different regime in the front office, but D-backs chief baseball office Tony LaRussa, general manager Dave Stewart and scouting director Deric Ladnier hope to get this one right as well.
There's also much more to the Draft than just what Arizona does at 1-1, and fans can take in all 1,200-plus picks from Monday through Wednesday. It all begins with the Draft preview show on MLB.com and MLB Network on Monday at 6 p.m. ET. Live Draft coverage from MLB Network's Studio 42 begins at 7 p.m., with the top 75 picks being streamed on MLB.com and broadcast on MLB Network. MLB.com's exclusive coverage of Day 2 begins with a live Draft show at 12:30 p.m. on Tuesday, with exclusive coverage of Day 3 beginning at noon on Wednesday.
MLB.com's coverage includes Draft Central, the Top 200 Draft Prospects list and Draft Tracker, a live interactive application that includes a searchable database of over 1,800 Draft-eligible players. Every selection will be tweeted live from @MLBDraftTracker, and you can also keep up to date by following @MLBDraft. And get into the Draft conversation by tagging your tweets with #mlbdraft.
There's no question, though, that everyone is waiting to hear what Arizona is going to do to get the whole party started. Here's how MLB.com is handicapping the candidates.
The favorite:
Dansby Swanson, SS, Vanderbilt
Swanson's name is the one that has been associated the most with Arizona for the last couple of weeks. Jim Callis had him in at No. 1 in his most recent mock Draft. In fact, he's been in the top spot for each of the last three mock drafts on MLB.com. Swanson has performed as well as anyone, especially down the stretch, hitting four home runs during the SEC Tournament. For the year, the Vandy star has hit .348/.443/.656 with 14 home runs, 61 RBIs and 15 stolen bases. Swanson is also the most likely of the three top shortstops to stay at the premium position. There may not be full consensus in the D-backs' Draft room, though, with perhaps some favoring an arm over a bat or wanting to cut a deal and be more aggressive later in the Draft.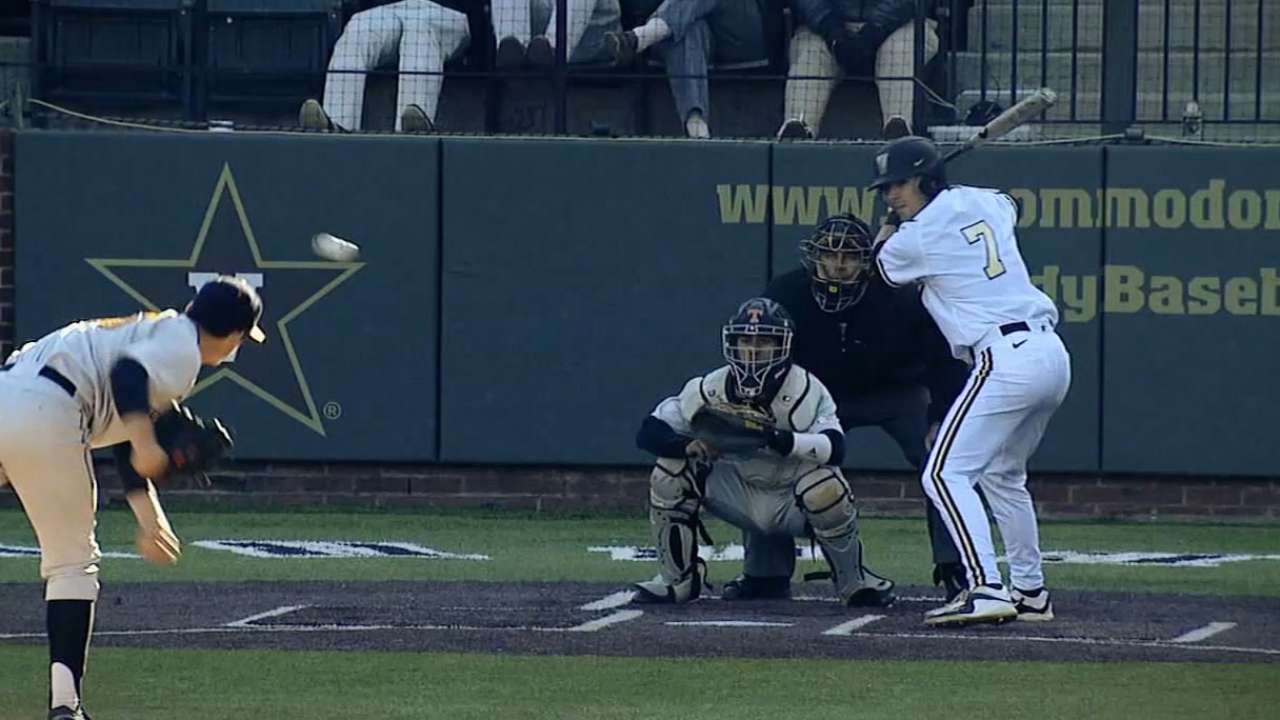 The dark horses:
Tyler Stephenson, C, Kennesaw Mountain HS (Ga.)
This is the rumor that simply won't go away, the one that says the D-backs will cut a deal with Stephenson, save a large chunk of the $8.6-plus million pick value for the No. 1 pick, and use it to aggressively pursue talent in later rounds. Stephenson is considered to be the best all-around catcher in the class and has moved his name up to top 10 consideration, albeit in the latter stages it. He has impressed in private workouts for a number of teams and Arizona did bring him in for one. If he wowed the decision-makers, that could lead to even more serious conversations about going this route. That said, Stephenson isn't the best player in the country and there's sure to be sentiment in the D-backs' Draft room that when picking at the top of the Draft, a team should go with the best player on the board.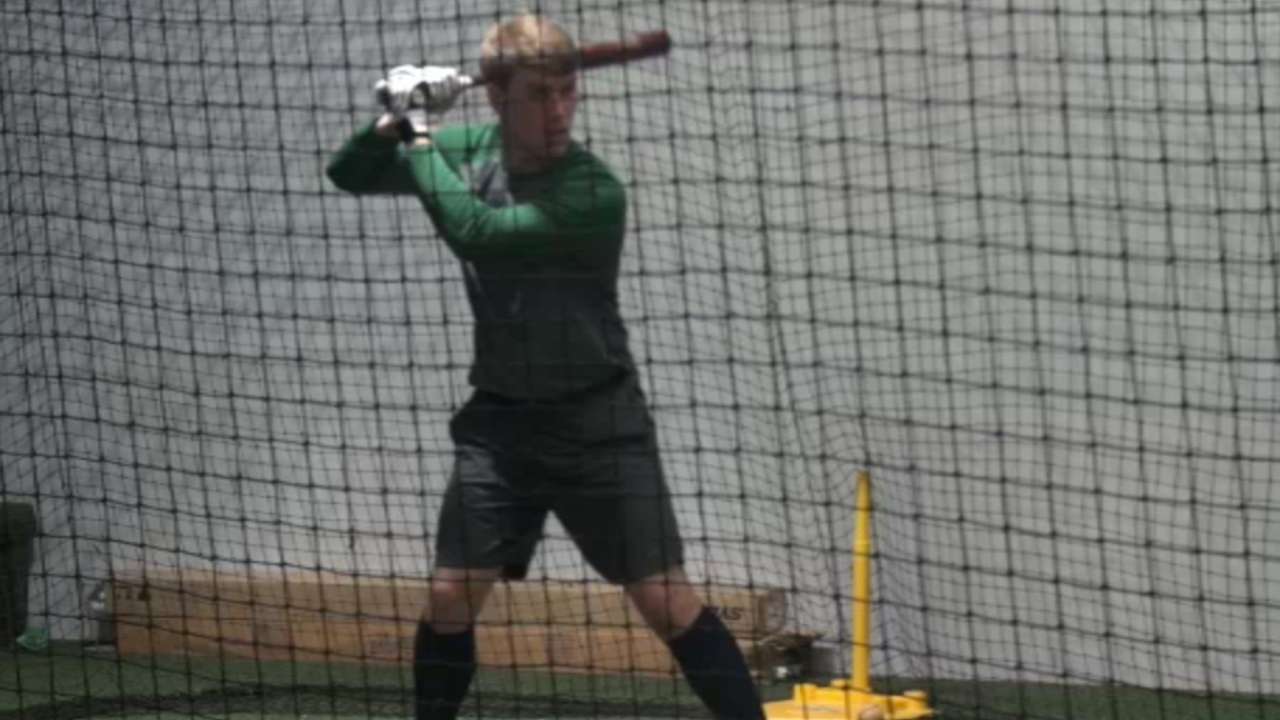 Tyler Jay, LHP, Illinois
This is the "Let's Make a Deal," pitcher version. Jay has been absolutely dominant, allowing just four earned runs in 60 1/3 innings for Illinois (0.60 ERA). He's allowed just 30 hits (.151 batting average against) and seven walks while striking out 70. An argument can certainly be made that Jay is the best pitcher in the class, and he's certainly the top lefty, with his name being mentioned all over the top 10. But of the 70 appearances the 6-foot-1 southpaw has made, all but one have been in relief. Teams considering Jay at the top of the Draft clearly think he has the goods to start, but taking a reliever No. 1 overall would certainly take some guts.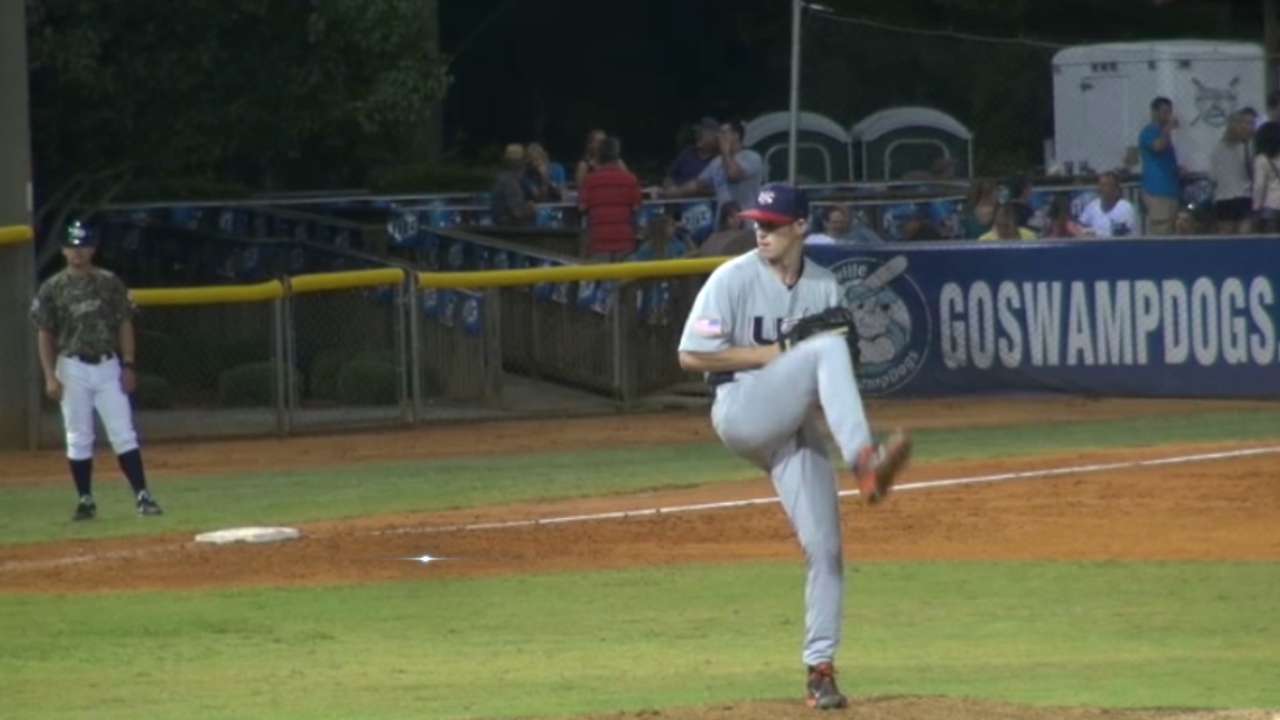 Carson Fulmer, RHP, Vanderbilt
It's "Let's Make a Deal," pitcher version Part 2. Or Part 1, based on what recent buzz is saying. Fulmer has arguably been the best pitcher in college baseball as Vanderbilt's Friday night starter. The Golden Spikes Award Finalist threw 6 1/3 shutout innings against Illinois in Super Regional action on Saturday to improve his record to 13-2 with a 1.82 ERA. He misses a ton of bats, with 152 strikeouts in 114 innings pitched while holding opposing hitters to a .186 batting average. There are those who don't like Fulmer's delivery and feel he might be a reliever long-term. If the D-backs take him, it will be because they feel they can get him to slow down his delivery and develop him as a starter.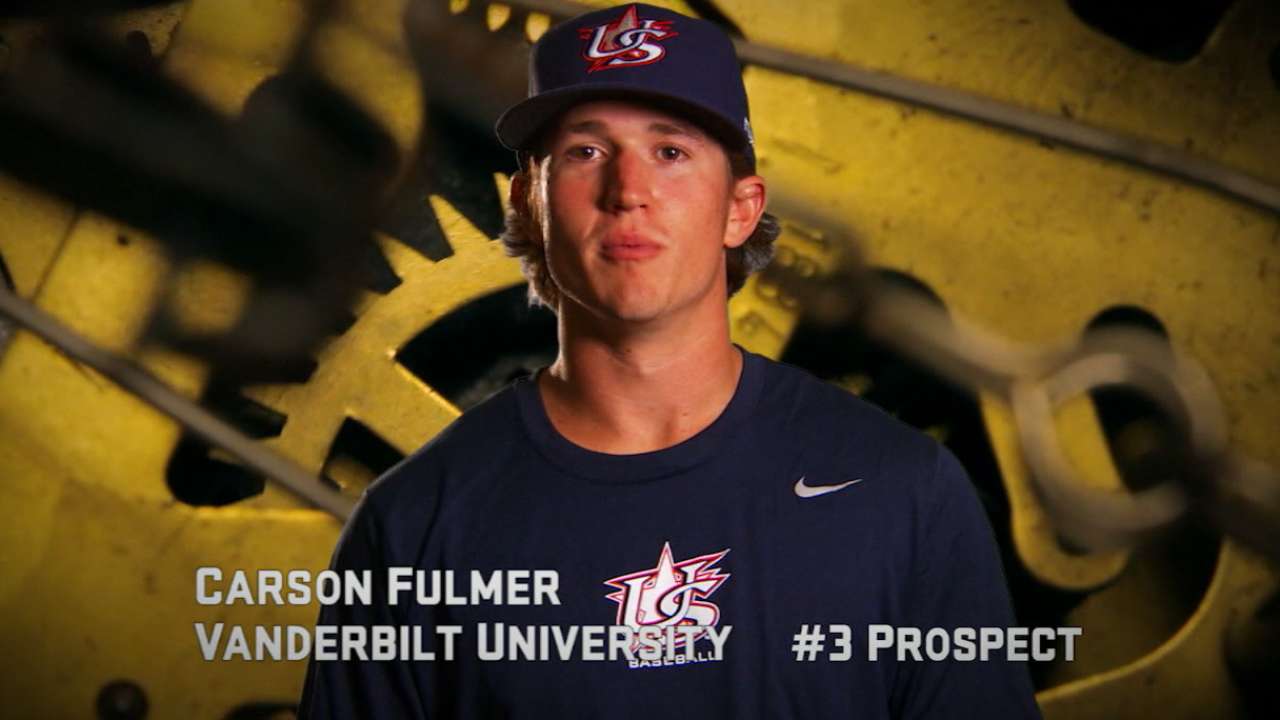 Jonathan Mayo is a reporter for MLBPipeline.com and writes a blog, B3. Follow @JonathanMayoB3 on Twitter. This story was not subject to the approval of Major League Baseball or its clubs.