Rockies' offense all wet at rainy Coors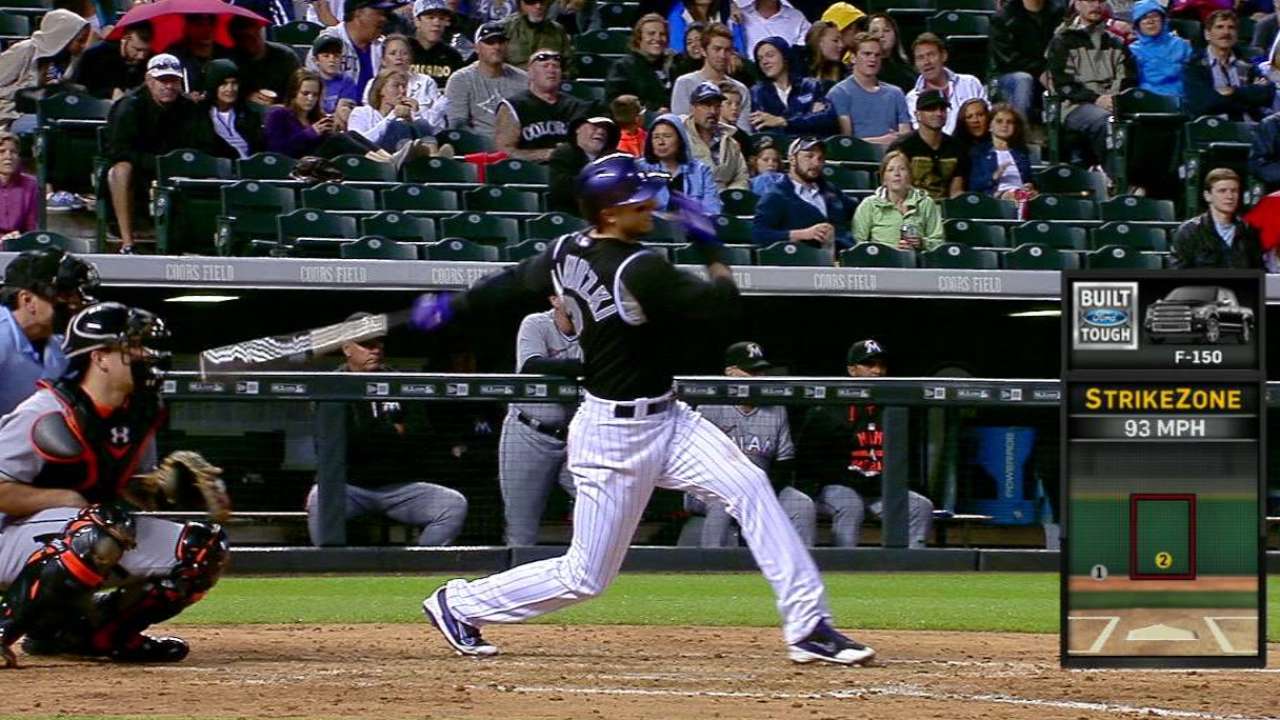 DENVER -- The Rockies haven't hit consistently and have lacked the clutch hit during games at Coors Field this season. Friday night's 6-2 loss to the Marlins was no different.
Something else about Friday's loss -- which dropped a normally home-dominant Rockies team to 10-16 at Coors -- was in line with this odd season at home: the rain delay.
With the Rockies down five runs in the eighth inning, rains that pelted the Denver area in the morning and afternoon returned with a vengeance, and the teams were forced into a one-hour, 55-minute recess. Eight Rockies home games have been delayed 14 hours and 29 minutes. That's not counting the delays involved in the four postponements.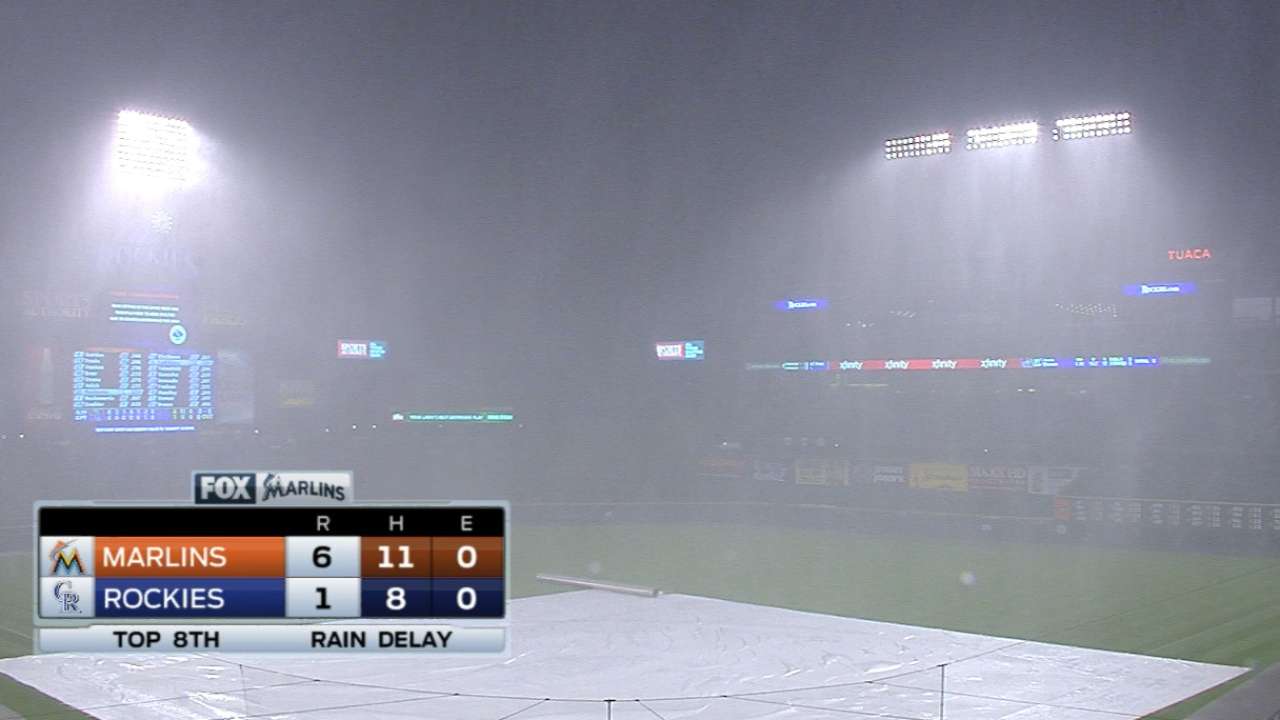 No one particularly wants to connect the lack of dependable production with not being able to depend on a) a game being played or b) a game being played without a tarp being rolled onto the field. Friday would have been a happier occasion had the Rockies converted chances in the fourth and seventh innings before the delay, and the eighth and ninth afterward.
"It probably hasn't helped, but the other team's having to deal with the same thing," Rockies manager Walt Weiss said. "It's been a weird month weather-wise. I've never seen anything like this here."
But other teams leave, while the Rockies play under the same pouring cloud.
What's galling the Rockies is they came off a 5-1 road trip at Cincinnati and Philadelphia and hoped this 10-game homestand would be a boost. But Friday dropped them to 2-3 halfway through.
On Friday, Marlins starter Tom Koehler (4-3), who always pitches well at Coors, worked Nolan Arenado into a foul pop with a 3-0 lead and runners at the corners in the fourth, and forced a bases-loaded grounder from Charlie Blackmon to end the seventh.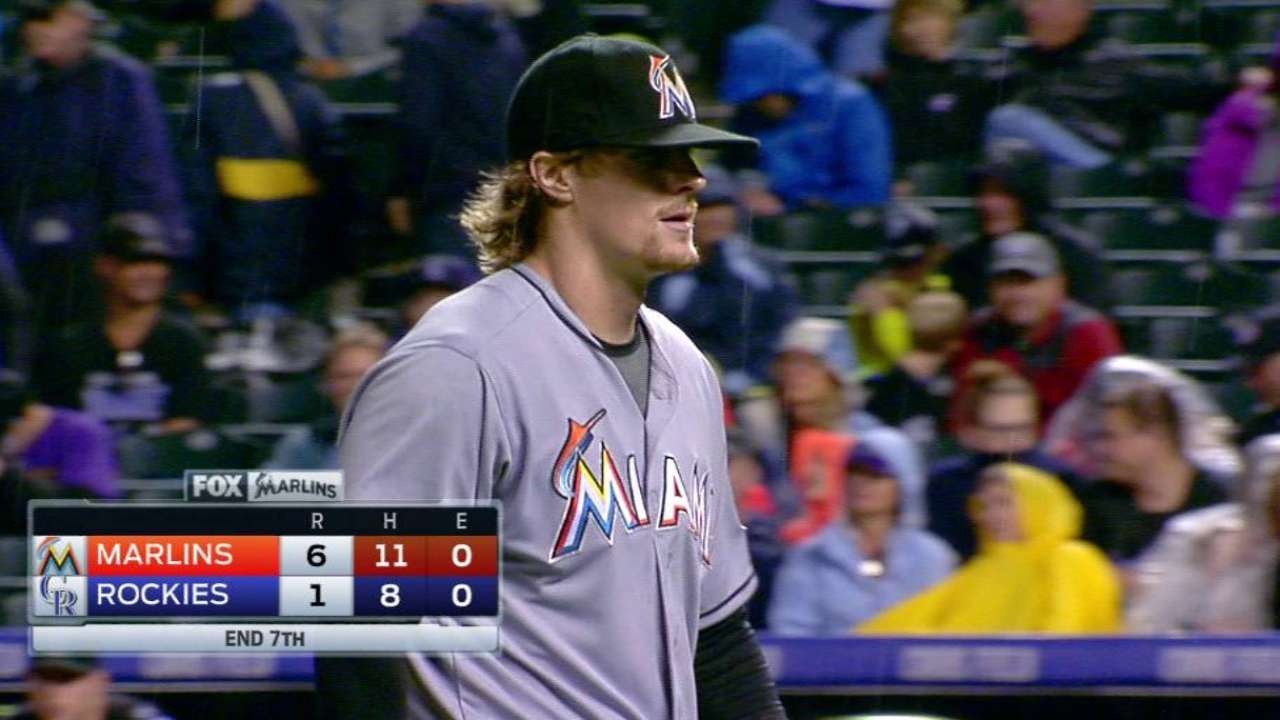 After play resumed, Troy Tulowitzki, who has a six-game hit streak and has gone from struggling to .303 and climbing, and Carlos Gonzalez, who has batted .333 in his last 10 games while gradually shaking a slump, each singled with one out in the eighth, but scored only on Arenado's sacrifice fly against reliever Vin Mazzaro.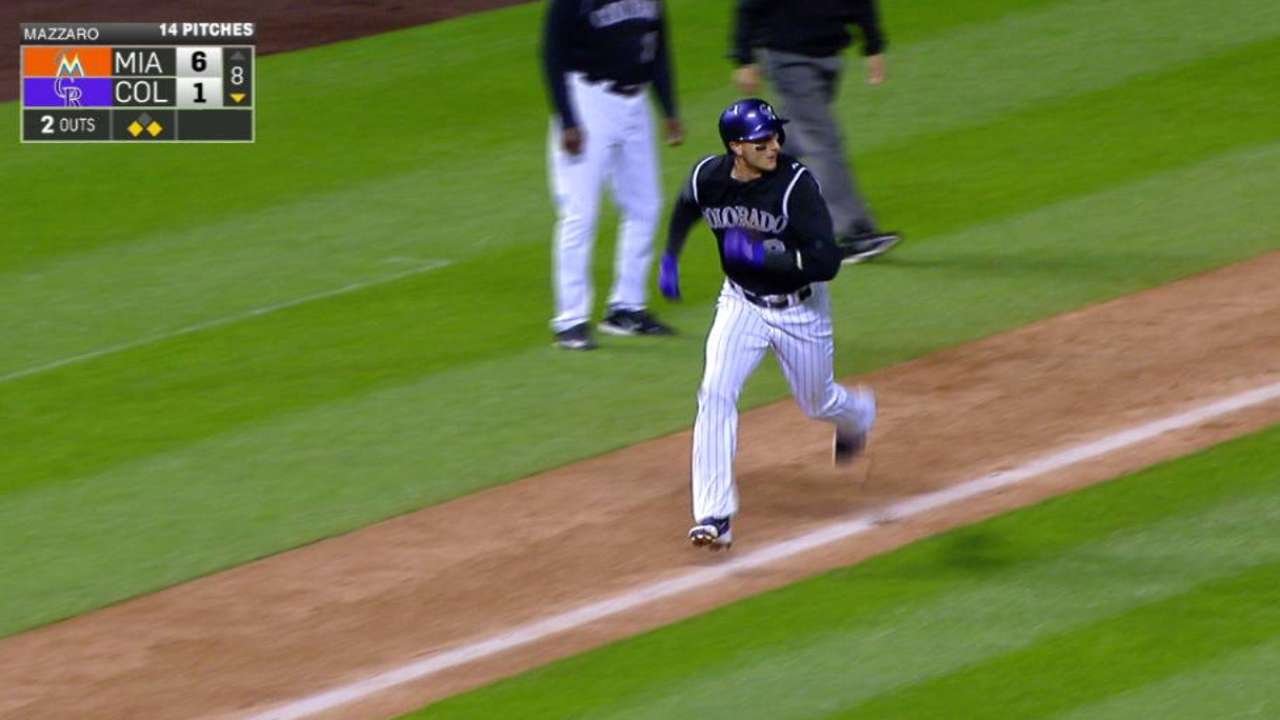 Nick Hundley and Brandon Barnes opened the ninth with singles, but A.J. Ramos fanned Michael McKenry and retired Blackmon on a popup and DJ LeMahieu on a line drive.
All wet, again.
"It's almost like every time we play at home, it's a disaster," Gonzalez said. "It's raining. We have to sit here for an hour every time. You lose your momentum. The fans leave. You feel like you're playing on your own.
"It's been hard. You either play two games or you play 'til 1 in the morning. It's hard on everybody. I hate looking for excuses. I don't expect anybody to say, 'Poor CarGo.' But it's been hard.
"I thought it was going to be different this homestand. I thought the rain was going to go away and the cold weather, whatever. But it's been the case the whole season. Hopefully it gets better."
Thomas Harding is a reporter for MLB.com. Follow him on Twitter @harding_at_mlb, and like his Facebook page. This story was not subject to the approval of Major League Baseball or its clubs.