Bats lack punch as Dodgers' pitchers deliver
Anderson, bullpen give strong effort, but Dodgers manage just four hits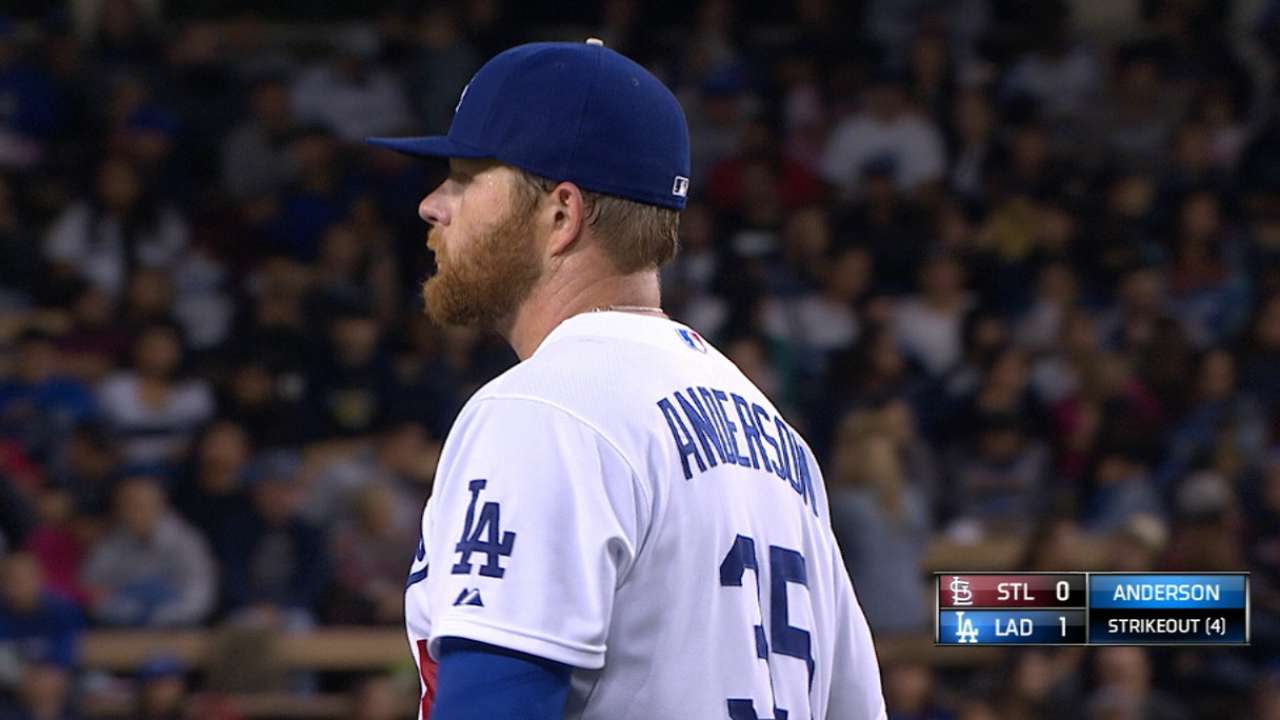 LOS ANGELES -- Yasiel Puig showed up in early June two years ago and ignited the Dodgers' offense. Maybe he can do it again.
He's expected to return from injury rehab on Saturday and he'll be the center of attention as usual after another weak loss to the Cardinals Friday night, 2-1, the only Dodgers run against Carlos Martinez scoring on a bases-loaded walk by Joc Pederson.
The Dodgers can't afford to waste starts like the one Brett Anderson gave them. Seven marvelous innings and a 1-0 lead were ruined when he took the mound for the eighth, walked Yadier Molina on four pitches leading off to set in motion a chain of mistakes that turned into a third consecutive loss.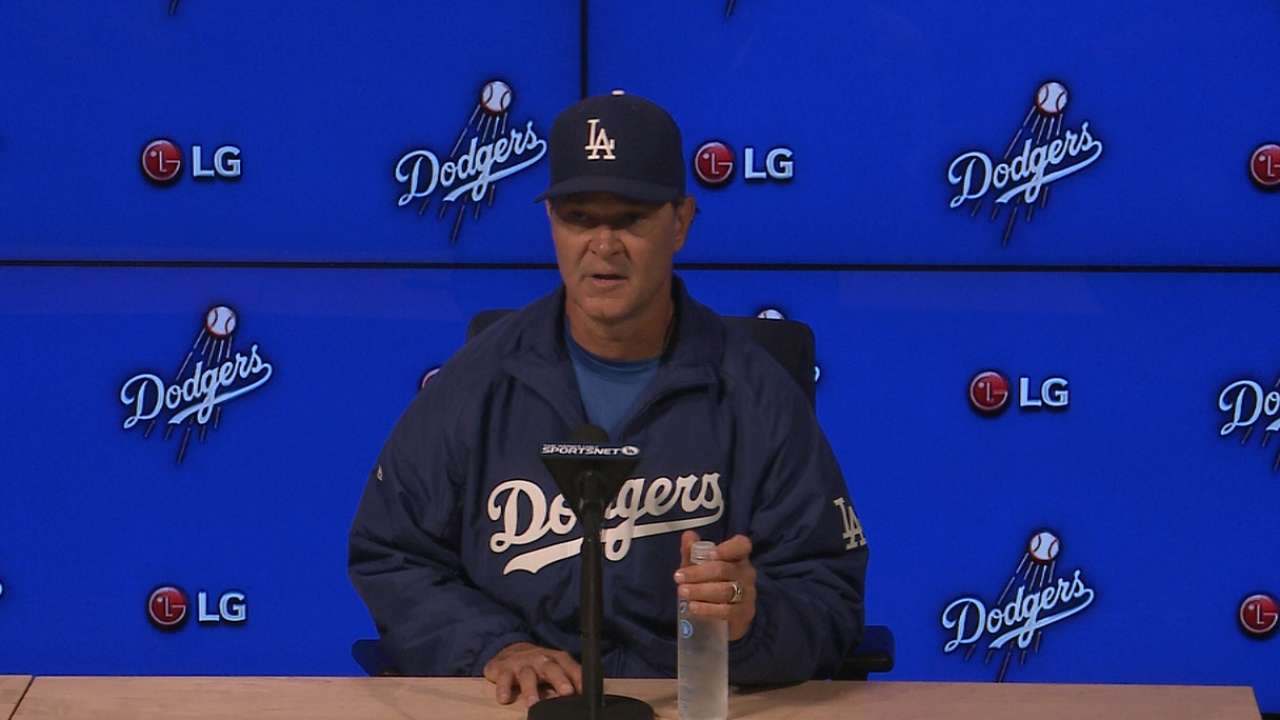 Since they built the largest lead of the year, 5 1/2 games on May 12, the Dodgers are 9-14 and the lead is down to a half-game over San Francisco. They've lost four of five games to the Cardinals in the last two weekends.
Manager Don Mattingly was more complimentary of Martinez (who allowed one hit in seven innings beating the Dodgers last Sunday) than he was critical of his offense (which had 14 strikeouts).
He particularly noted the "bullet" Jimmy Rollins hit after Pederson's second-inning RBI walk that St. Louis first baseman Mark Reynolds turned it into a slick inning-ending double play. The Dodgers didn't get another hit until the eighth inning.
"That one was kind of painful," said Mattingly. "There were people all over the place and we had a chance to do damage. That ball right there stopped our momentum."
Anderson called the Cardinals' winning two-run eighth inning "flukey," as neither of two hits left the infield, but he took the blame for the Molina walk. Rollins then ranged toward right field to glove Jason Heyward's bouncer, but his backhanded flip missed second baseman Kiké Hernandez trying for pinch-runner Pete Kozma. Tony Cruz bunted the runners over to bring up Kolten Wong for the game-changing at-bat.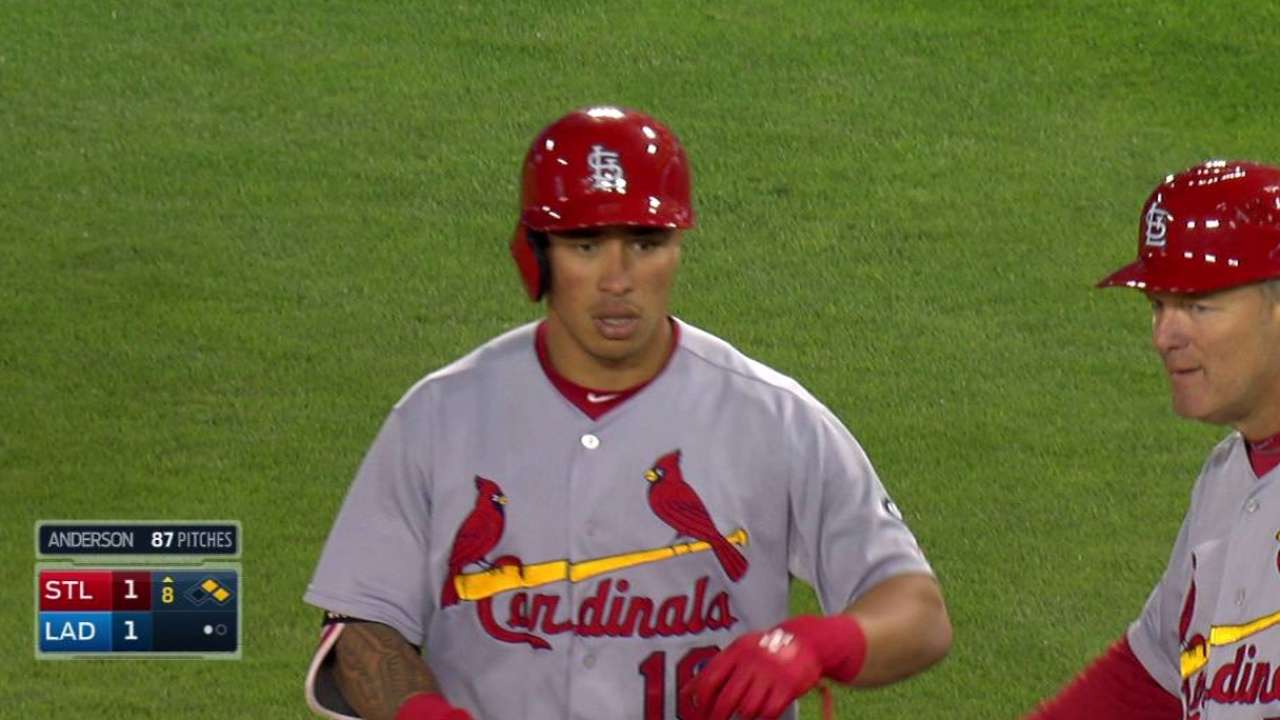 As Wong hit a slow bouncer to first baseman Adrian Gonzalez on the infield grass, Anderson slipped coming off the mound, which he admits isn't the strongest part of his game anyway. Kozma broke quickly from third and catcher Yasmani Grandal said the ball was hit too softly for a play at the plate. With that option gone and Anderson not covering first, Gonzalez held the ball assuming there was no play anywhere, not looking behind him to see that Hernandez had hustled over to cover first base.
So instead of two outs, it was one out with Heyward on third and Matt Carpenter's sacrifice fly broke the tie. Anderson was charged with both runs on only four hits, but fell to 2-4. He has a 2.30 ERA in his last seven starts.
There was one interesting bullpen development. Instead of Yimi Garcia or Chris Hatcher, Mattingly turned to Juan Nicasio to take over for Anderson with two outs in the eighth inning and Nicasio got the final four outs. That makes Nicasio, coming off his curious two-inning start in the unsuccessful bullpen game at Coors Field, the new late-inning setup option.
Ken Gurnick is a reporter for MLB.com. This story was not subject to the approval of Major League Baseball or its clubs.