MLB.com Columnist
Tracy Ringolsby
Stanton in swing of things at Coors Field
Slugger crushes 18th homer of season as Marlins rip Rockies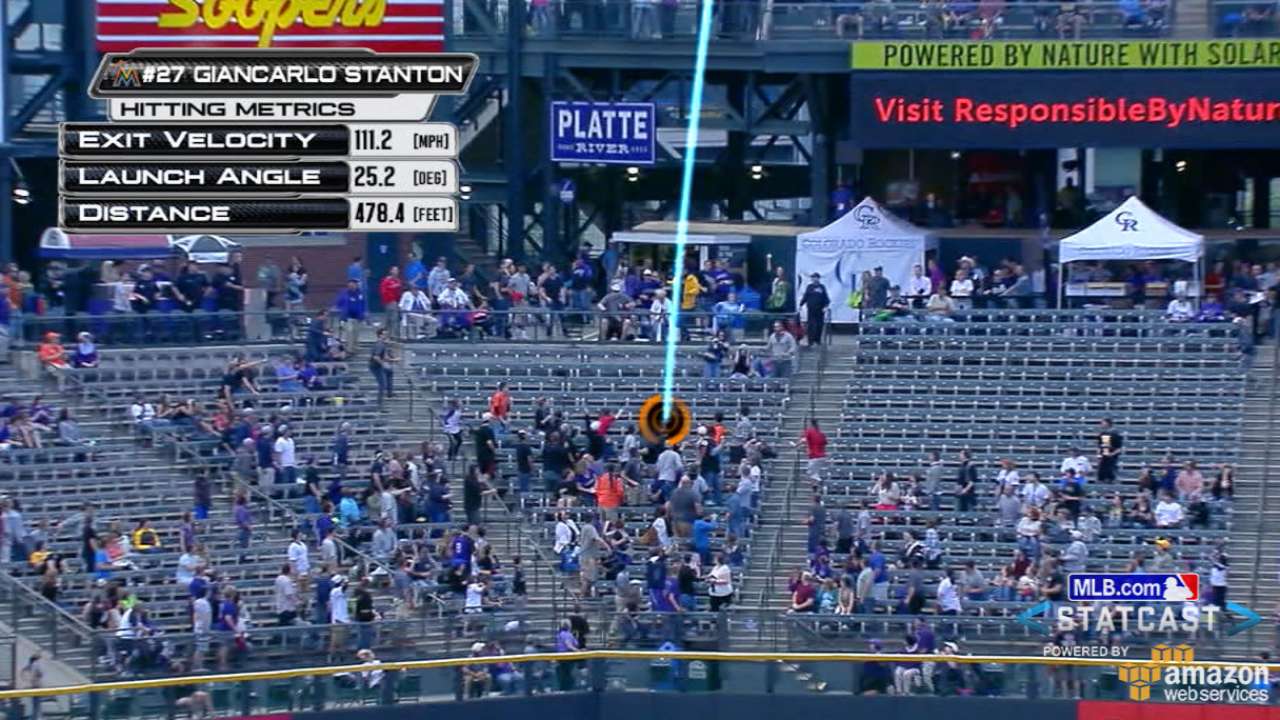 DENVER -- Giancarlo Stanton had the skeptics abuzz. It wasn't until the 10th game of the season that the defending National League home run champion finally went deep.
Stanton's name was being thrown in there with the likes of Tony Conigliaro and Dickie Thon, highly touted young players whose careers were detoured after they were hit in the face with a pitch.
The skeptics didn't know Stanton very well. He's not just big and physically strong. He has that football mentality. When Stanton opted to sign with the Marlins as a second-round pick out of high school, he was weighing an offer to play football at UCLA.
Stanton finally connected off the Mets' Dillon Gee on April 16 for his first home run of 2015. He has been on a roll ever since.
Stanton now shares the Major League home run lead with Bryce Harper of the Nationals and Nelson Cruz of the Mariners with 18, and he has become comfortable enough at the plate that he has quit using a special faceguard against left-handed pitchers and right-handers who drop down.
Stanton has made all that impact with his bat in the last seven weeks, and he hadn't even stepped foot in Coors Field for the first time this season until Friday night, when he unloaded that 18th home run in the Marlins' 6-2 win.
No surprise that Stanton would go deep in the Mile High City. Coors Field is his personal pinball machine.
With the Marlins in the NL East and the Rockies in the NL West, Stanton is limited to only three games a season in the Mile High City, but he makes the most of them. Friday night was only his 15th career game in Denver, but he has put together an impressive resume.
Stanton's .368 career average in Denver ranks fourth among active players, behind only Buster Posey of the Giants (.397), Adrian Beltre of the Rangers (.397) and David Wright of the Mets (.384). His 19 RBIs in Denver are more the most since 2001 of any player from outside the NL West, where the unbalanced schedule means as many as nine games a year for NL West players at Coors Field, compared to three games for players from outside the division.
Oh, and when Stanton hits home runs, they aren't fence-scrapers. They are no-brainers.
Friday night's effort was a 478-foot shot, the longest home run he has hit this season, and one foot longer than the previous season best at Coors Field, which Dodgers rookie Joc Pederson delivered earlier this week.
Stanton also has the second-longest home run ever hit at Coors Field, a 494-foot shot on Aug. 17, 2012, which came up two feet shy of the ballpark record Mike Piazza set on Sept. 26, 1997.
Remember all those eyebrows that were raised when the Marlins announced during the offseason that Stanton was signed to a 13-year, $325 million deal? Well he is only 25, and he already is the Marlins' all-time home runs leader.
The real debate is whether Stanton sold himself short, although he could opt out after 2020 and he would have made $107 million for six years with a chance to step out and test the free-agent market at the age of 30.
Hey, at 25, Stanton is creating quite a legacy. His 172 home runs are a Marlins franchise record.
They also tie Stanton with Harmon Killebrew for No. 5 on the list for players in their first 688 games. Ryan Howard is the all-time leader with 207 followed by Ralph Kiner (194), Eddie Mathews (178) and Albert Pujols (174).
Stanton has hit 115 home runs since the start of 2012, when the Marlins moved into Marlins Park.
Big deal?
Well 63 of those home runs have come at the pitcher-friendly ballpark. Stanton is No. 1 on the Marlins Park list. Marcell Ozuna, in his third big league season, ranks No. 2 with 12 Marlins Park home runs. Justin Ruggiano is third with seven.
And those numbers are going to grow.
Stanton, after all, has shown he's back in the swing of things, the incident of last September has been sent into orbit, like one of those hanging curves he unloads into bleacher seats.
Tracy Ringolsby is a columnist for MLB.com. This story was not subject to the approval of Major League Baseball or its clubs.