Moscot finishes Major League debut with a flourish
Rookie right-hander retires last seven batters he faces vs. Padres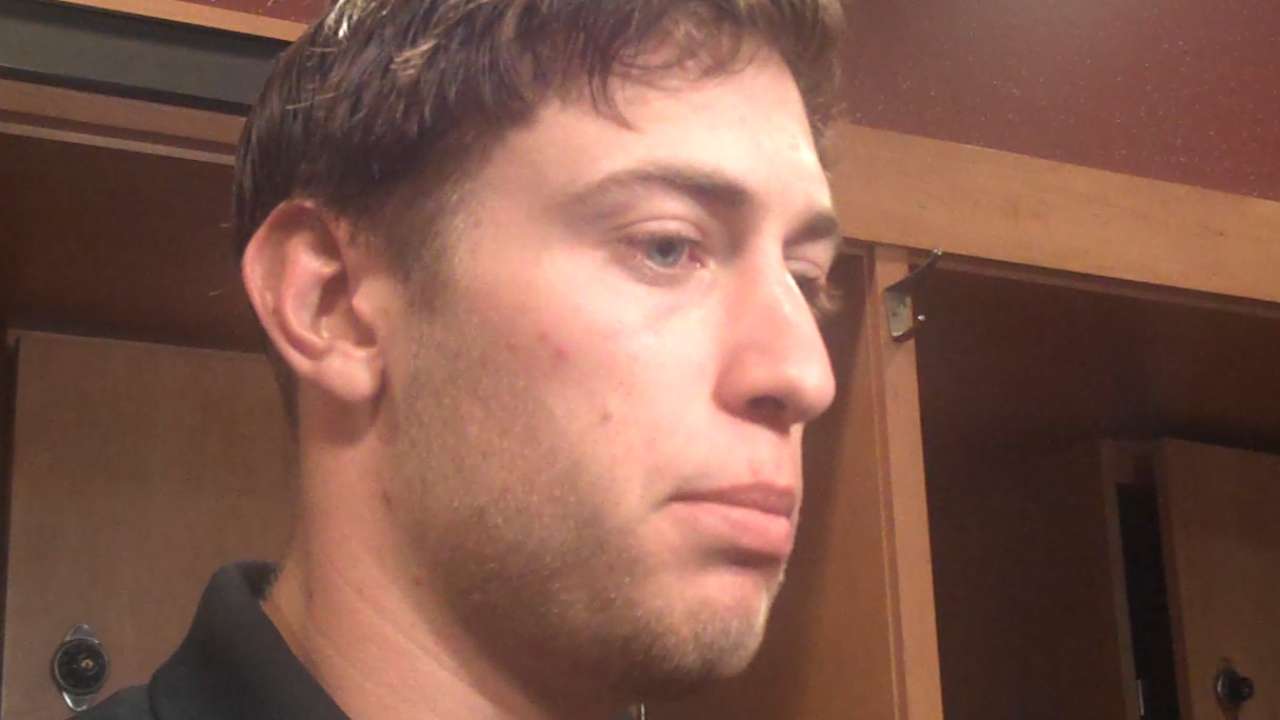 CINCINNATI -- Making the jump from Triple-A to the Majors is a challenge, and on Friday Jon Moscot experienced that fact head on early in his Major League debut for the Reds.
Moscot surrendered runs, including a pair of solo shots, in each of his first three innings en route to 6-2 loss to the Padres. Moscot gave up four earned runs on four hits and three walks in five innings pitched. He threw 83 pitches, 37 of which came in a rough first inning.
But Moscot retired the last seven batters he faced, and 11 of the final 12 to finish strong.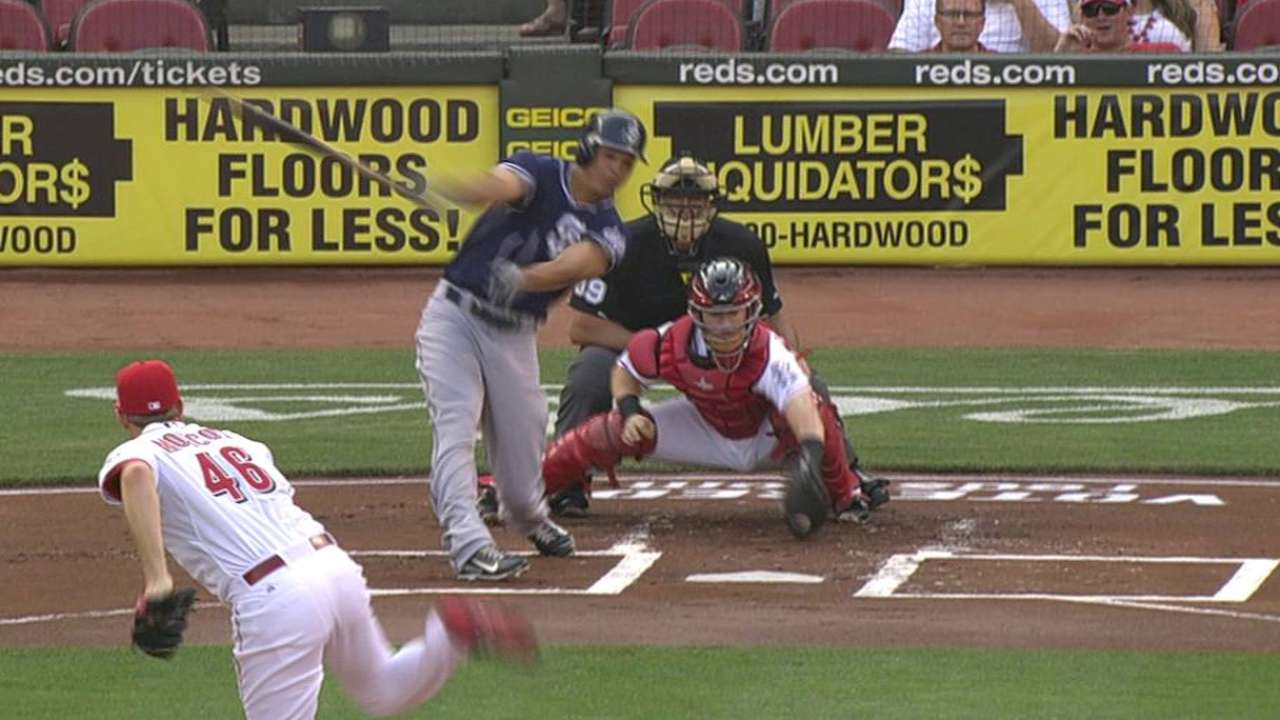 "When you get out on that mound and you have a third deck in the stadium, it takes over a little bit," Moscot said. "I wasn't pitching my game that first inning, I just normally attack hitters and I was trying to be too fine."
Moscot was called up on Friday to replace originally scheduled starter Raisel Iglesias, who was put on the 15-day disabled list with a strained left oblique. Moscot, at 23 years old, is the No. 14 ranked Reds' prospect and had proven himself in Triple-A Louisville this season with a 7-1 record and 3.15 ERA in nine starts.
Moscot gave up two singles and walked three batters, including one with the bases loaded, in the first inning, but escaped with the Padres holding only a 2-0 lead, but he surrendered solo shots to Will Venable and Will Middlebrooks in the second and third innings and departed after the fifth, down 4-0.
Despite Moscot racking up the pitches early on, manager Bryan Price said he wanted the rookie to work through the rough start so he could get something out of his debut.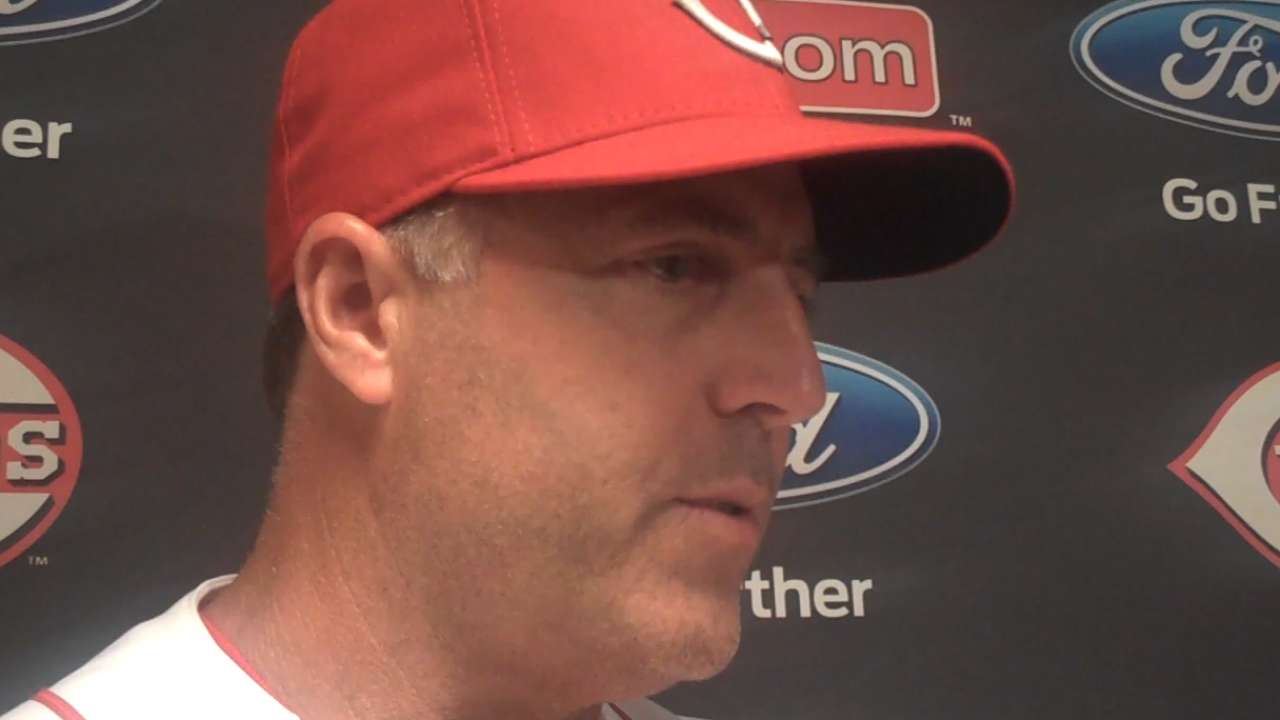 "He's not going to learn anything from the experience by pitching an inning or two innings in that game," Price said. "He needed to stay in the game, find a way to manage that lineup, make better pitches because our expectation here is, if you're going to be in the rotation, you're going to pitch the innings. We're not going to dump it all on the bullpen every time our guys get in trouble."
The bright spot for Moscot was back-to-back 1-2-3 innings in the fourth and fifth. Moscot, whose parents and two brothers flew in from California for the game, said he's still confident despite the up-and-down start and will learn from his first outing with the Reds.
"I belong here," Moscot said. "I think [if] I make my pitches I can get these guys out just like anybody else, and I'm excited to get back out on that mound. I know that I can do it and help this team win ball games."
With Iglesias on the DL and Jason Marquis being designated for assignment on Friday, Moscot is expected to get at least one more start for the Reds. Moscot's next scheduled start is on June 10 against the Phillies at Great American Ball Park.
Robert Bondy is an associate reporter for MLB.com. This story was not subject to the approval of Major League Baseball or its clubs.