Locked in: Lind finding June to be groovy
Milwaukee's slugger heating up after so-so May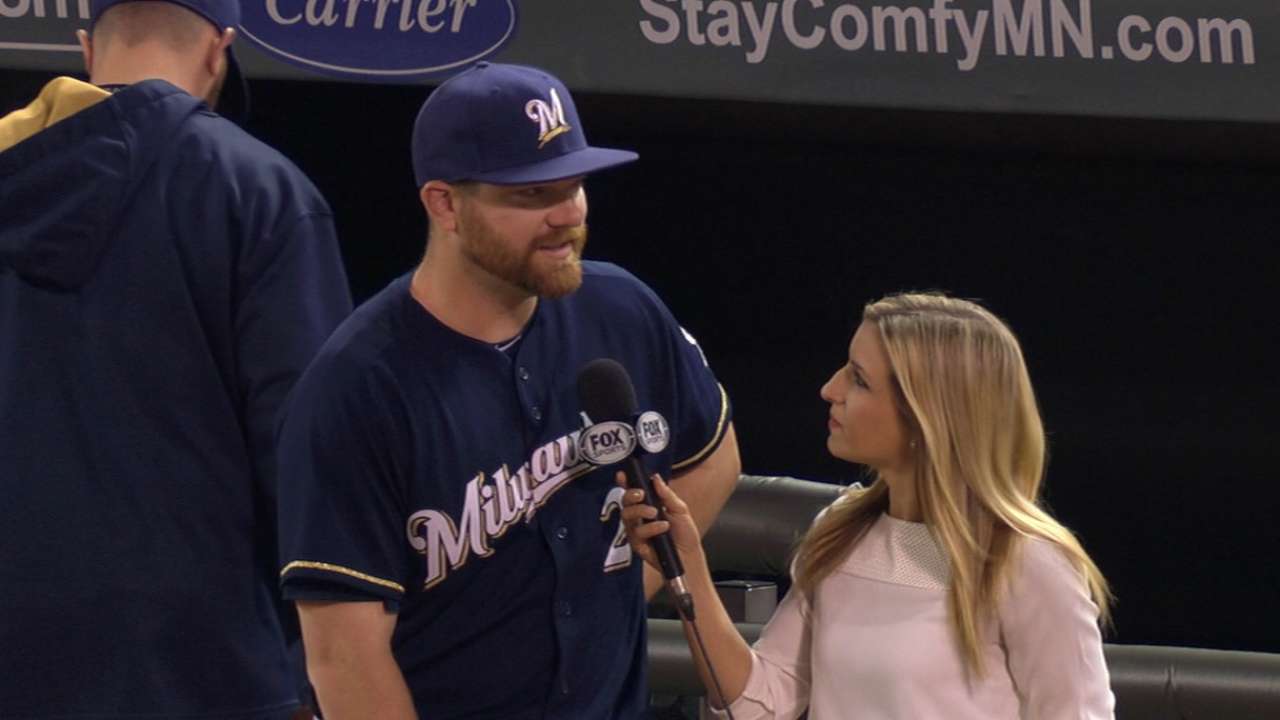 MINNEAPOLIS -- Adam Lind had a forgettable month of May at the plate, hitting just .217 with 10 RBIs. But his beginning of June has been anything but forgettable.
Lind drove in six runs in Friday's 10-5 victory over the Twins, including the go-ahead run in the eighth inning.
"He's going to kind of run into some streaks, and it looks like he's getting into a pretty good one right now," Brewers manager Craig Counsell said.
After going 3-for-5 on Friday, one game after picking up two hits and knocking in a pair of runs in the finale vs. St. Louis, Lind seems to have found his groove.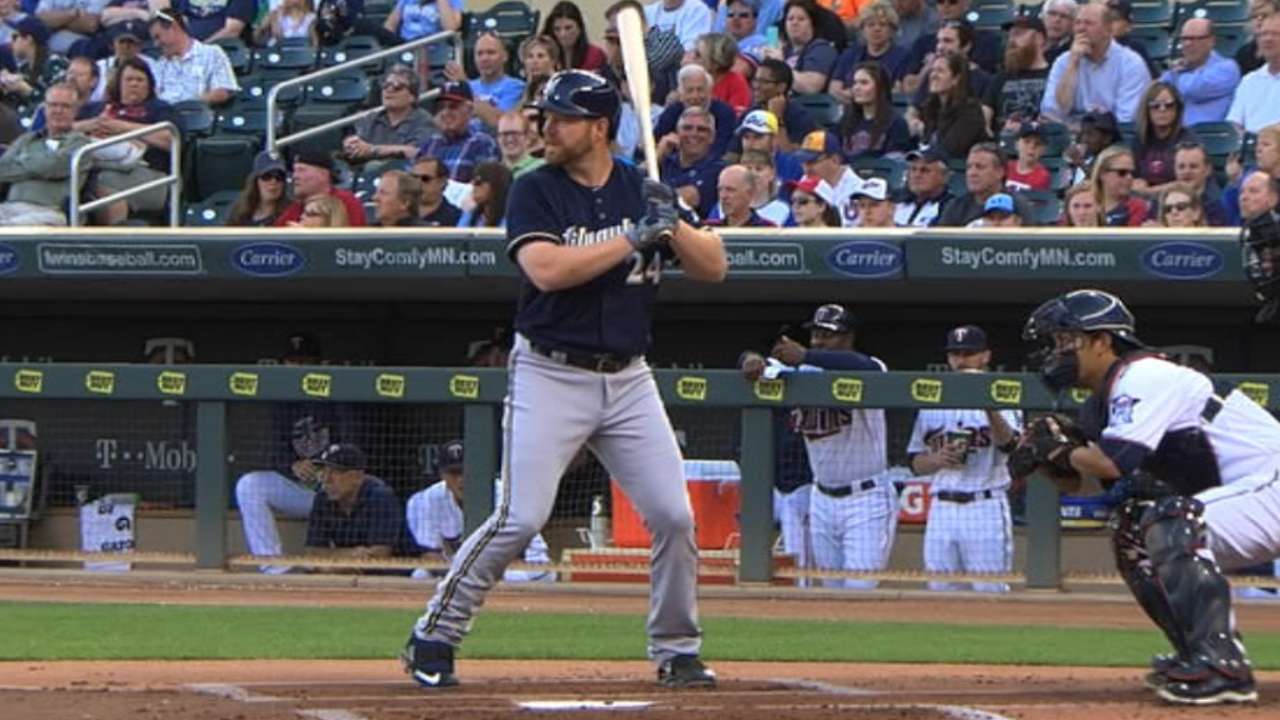 "I just think that's how baseball goes," Lind said. "It's hard to be always locked in, really. You just hope [and] take quality swings at pitches that are over the plate."
Lind crushed a 1-1 offering in the third inning for a three-run home run.
"I just wanted to have a good at-bat and he threw something that I thought I could handle and I put a good swing on it," he said.
After starting pitcher Kyle Lohse surrendered the Brewers' lead, Lind again delivered for his team.
In the eighth, with Carlos Gomez on second, he smacked a double over Twins right fielder Torii Hunter's head, which Hunter originally broke in on.
Twins manager Paul Molitor said he could have walked Lind to face Jonathan Lucroy , but he "wasn't excited about that process."
"Lind's numbers were obviously lopsided, and he got a breaking pitch in the zone and he smoked it," Molitor said. "It's a tough play for an outfielder because it freezes you and takes off."
After his eighth-inning double, Lind, not known for his speed, hustled home on a Lucroy popup that dropped in front of four Twins in front of the mound.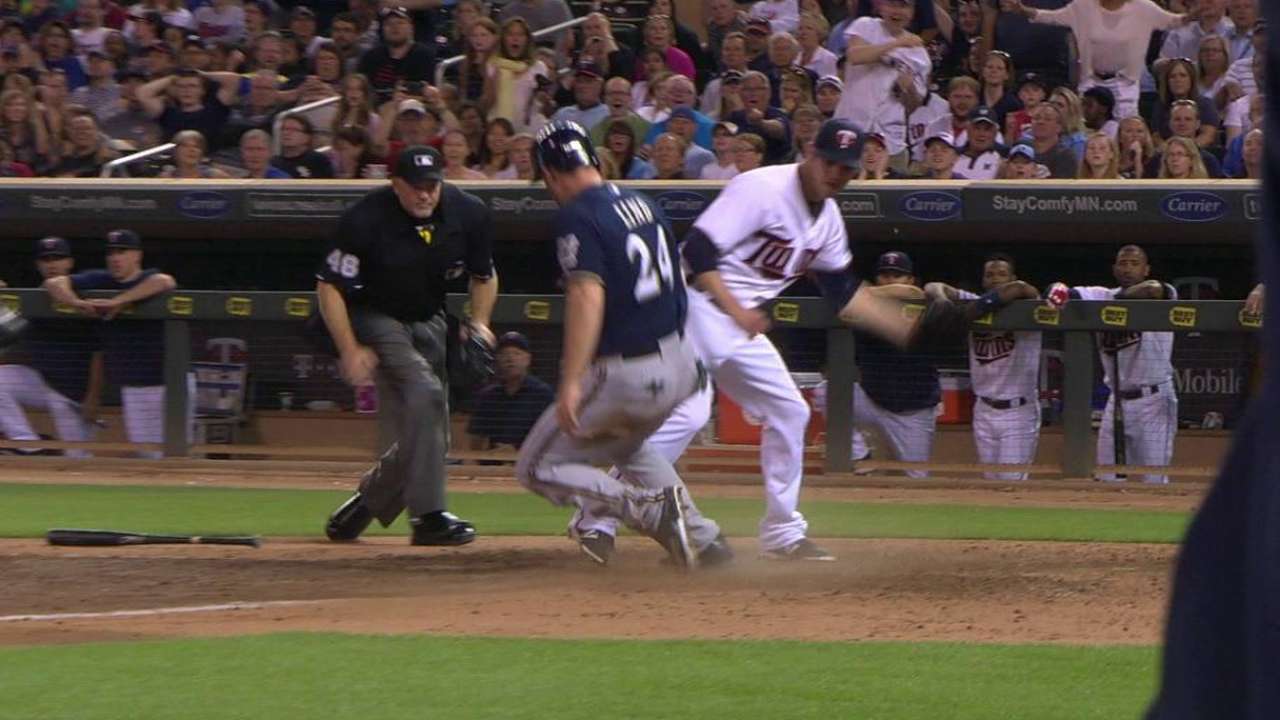 "I don't get that opportunity too much, but I take pride in that … if I can steal a run," Lind said. "I feel like being who I am, it's kind of a big momentum swinger."
At that point, the Brewers had a one-run lead and Counsell said they were considering pinch running for him.
"That's just two outs, you're going. It's kind of a crazy play, but you have to take advantage of mistakes," Counsell said.
Had Counsell pinch-ran for Lind, he would've missed out on his final two RBIs, which came in the ninth inning.
Lind's two-run single capped a productive night, but left him two short of his career-high eight RBIs.
"He was big tonight," Counsell said. "He came up in some spots with lots of runners on base. He delivered today and that's what we want. We want him hitting with men in scoring position."
Betsy Helfand is an associate reporter for MLB.com. This story was not subject to the approval of Major League Baseball or its clubs.