Female Negro Leagues legend set for signing
'Peanut' Johnson will provide autographs, talk baseball today in KC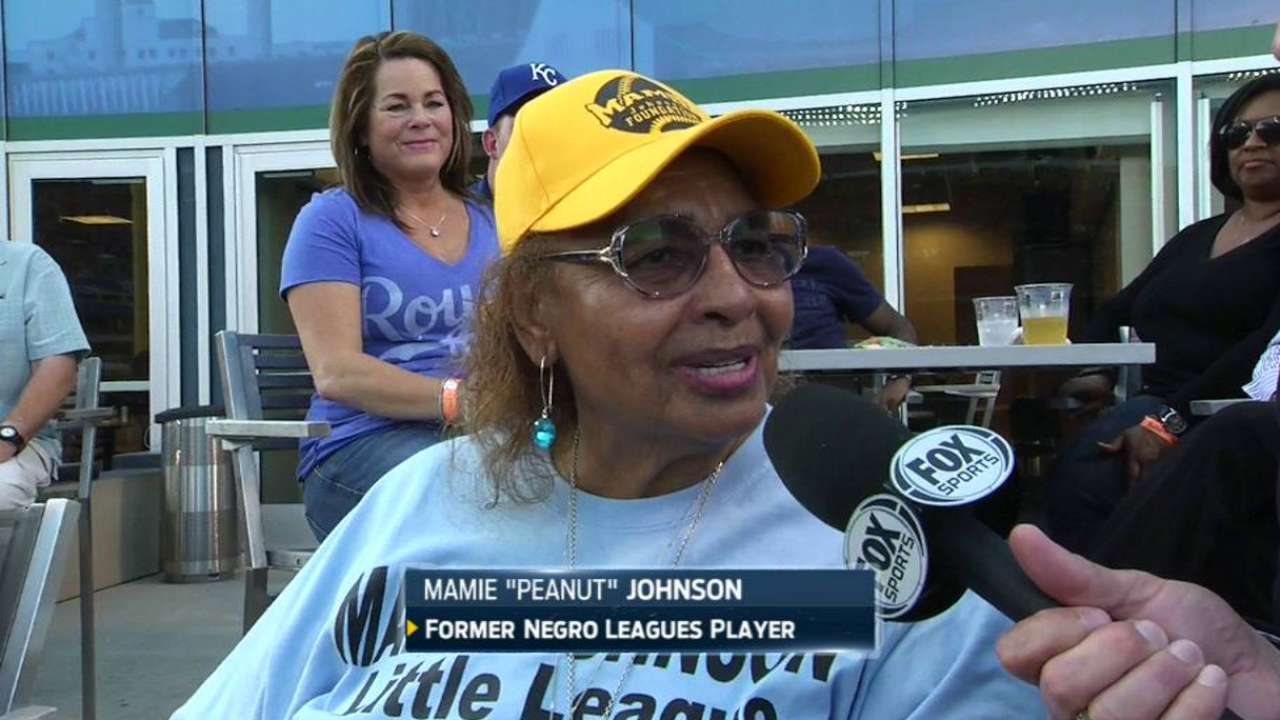 Mamie "Peanut" Johnson, who was the first female pitcher in the Negro Leagues, will be at the Negro Leagues Baseball Museum in Kansas City on Saturday at 2 p.m. CT for a discussion and autograph signing.
Johnson, who was in attendance for the Royals' 4-0 loss to the Rangers on Friday, was one of three women to play in the Negro Leagues, along with Toni Stone and Connie Morgan. All three women broke gender barriers while playing with men in the leagues and were all part of the Indianapolis Clowns.
"I played sandlot ball for quite a while and there was a gentleman who saw me play quite often and he approached me and asked me if I wanted to play pro baseball," said Johnson during an interview on Kansas City's broadcast. "I told him, 'Yeah,' so he sent me to meet the business manager of the Clowns and I met him, Mr. Bunny Downs. I went for a tryout the same day and the next day I was on the bus."
Her nickname comes from her 5-foot-3 stature during her time with the Clowns from 1953 through the 1955 season. Johnson signed with the team at 19 years old, and pitched to an 11-3 record in her first season. She went 10-1 in 1954, and 12-4 in 1955. She ended her career with a 33-8 record, and when she wasn't pitching, Johnson played second base, where she had a career batting average of .273.
Johnson played two seasons with Hank Aaron on the Clowns, and credits Satchel Paige for teaching her how to throw a curveball. Her story is told in the 2002 book, "A Strong Right Arm: The story of Mamie "Peanut Johnson," written by Michelle Y. Green.
"A gentleman gave me that name who played for the Kansas City Monarchs," Johnson said. "He looked at me because I was very small them and asked how I expected to strike anyone out because I wasn't big as a peanut, and I struck him out and the name stuck."
The now-79-year-old went to nursing school and became a nurse for 30 years following her baseball career.
Saturday's event will last until 3 p.m. and is free with paid admission to the museum. Autographs will be available with any purchase.
Connor Smolenski is a reporter for MLB.com. This story was not subject to the approval of Major League Baseball or its clubs.