Bullpen, defense spoil Twins' rally vs. Brewers
Minnesota comes back from five runs down, but gloves, relievers falter
MINNEAPOLIS -- The Twins showed off their resiliency against the Brewers on Friday night, bouncing back from an early five-run deficit to tie the game with a five-run fifth inning. But their bullpen and defense let them down late, as it unraveled over the final two innings in a 10-5 loss at Target Field.
Adam Lind carried the Brewers with six RBIs, including a three-run homer off Kyle Gibson in the third and a go-ahead RBI double off reliever Aaron Thompson in the eighth. It spoiled the comeback bid for the Twins, who saw Joe Mauer connect on a game-tying three-run blast in the fifth.
Carlos Gomez sparked Milwaukee's eighth-inning rally with a two-out double off righty Blaine Boyer, which prompted Twins manager Paul Molitor to bring in the lefty, Thompson. Thompson got Lind down to his final strike, but he roped a double over Torii Hunter's head in right to give the Brewers a lead they wouldn't relinquish.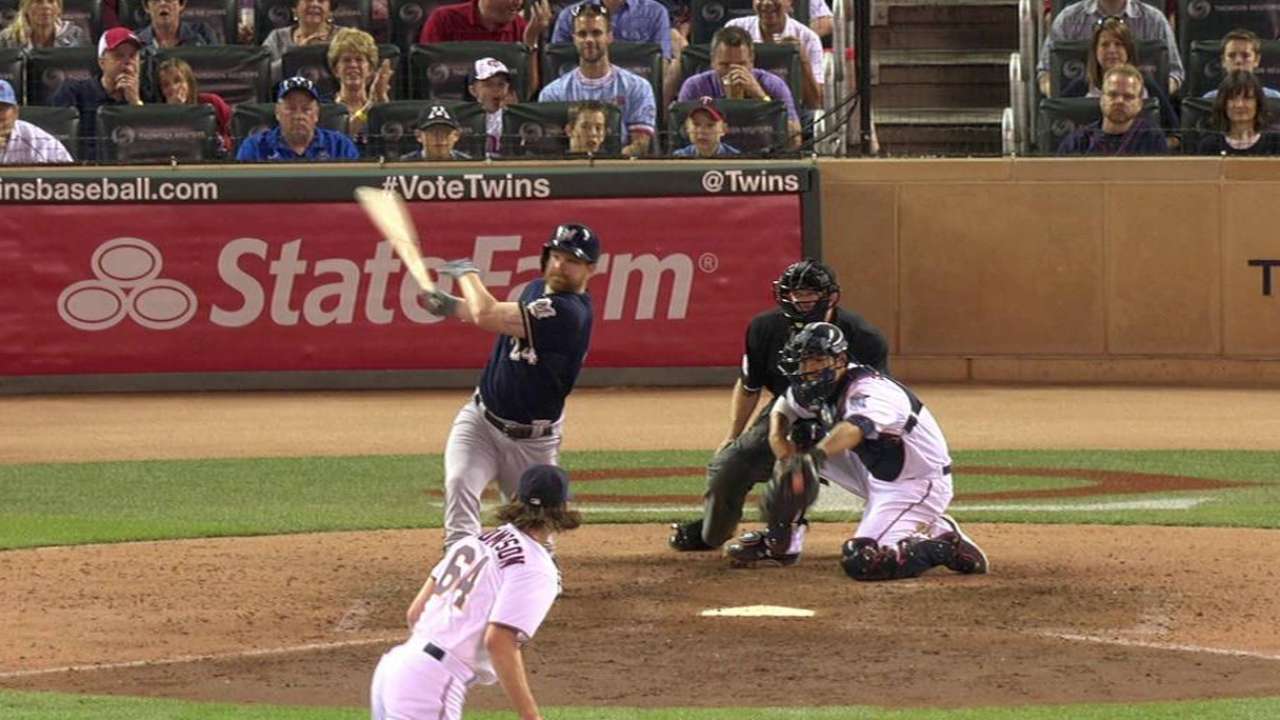 "Boyer has been my eighth-inning guy and has done a really good job, so I could've walked Lind and faced [Jonathan] Lucroy but I wasn't excited about that process," Molitor said. "I needed one out to get to [closer Glen] Perkins with a tie game in the ninth. Lind's numbers were obviously lopsided, and he got a breaking pitch in the zone and he smoked it. It's a tough play for any outfielder because it freezes you and takes off."
Hunter initially broke in on the play, but it went over his head, as he said he lost the ball in the lights.
"It was a line drive in the lights and if it's on a line it's going to stay in there," Hunter said. "All I could do was make an adjustment and try to jump as high as I could on the run. But it was hit hard."
After Lind's double, Lucroy popped one up about five feet in front of home plate, but it dropped in between four Twins to bring home an insurance run. The Brewers tacked on three more runs against lefty reliever Brian Duensing in the ninth, while Eddie Rosario also made a throwing error on a single to left.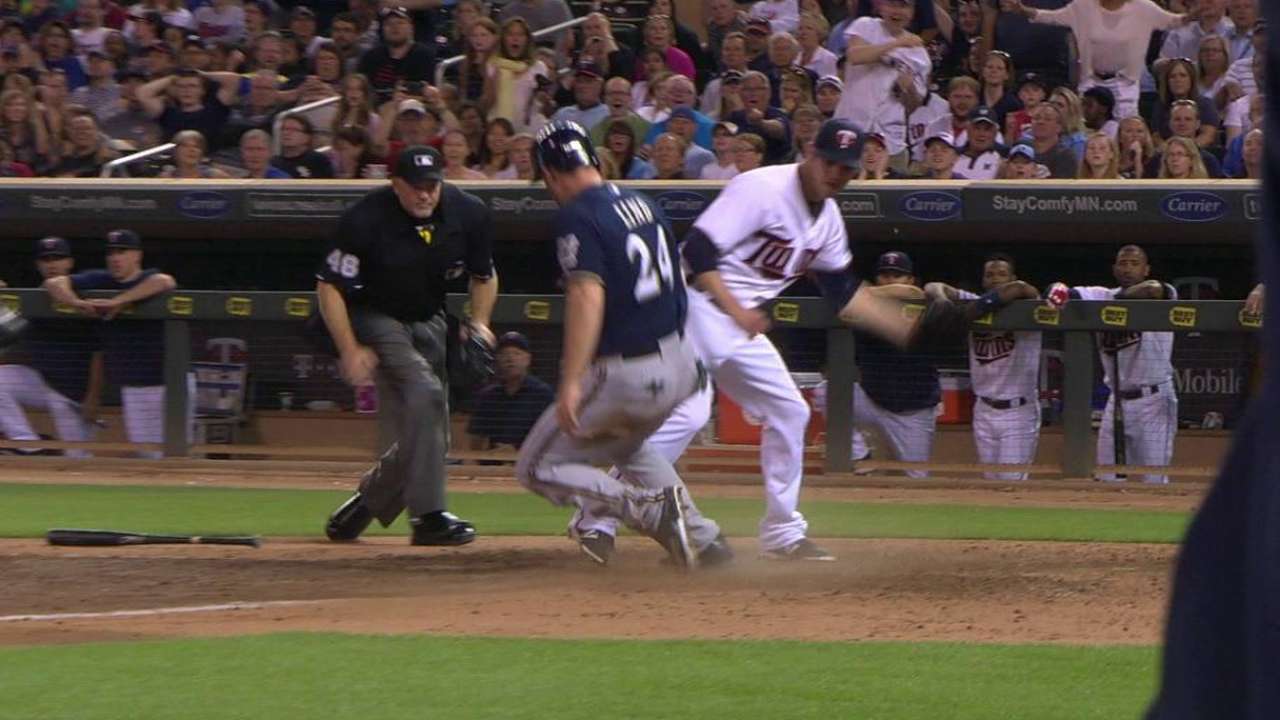 "On defense, we had some misplays with the missed popup being most glaring," Molitor said.
It came after the Twins made several misplays on Thursday, but they still ended up with a win over the Red Sox.
"We recovered yesterday but today we didn't," Molitor said. "But I think we're mindful of those things and we like to play cleanly and crisply. Those plays will bite you and you'll pay a price for them, and tonight we did."
So while this game didn't come with a happy ending, Hunter was still pleased with the way his teammates fought back, including Gibson, who was able to get through seven innings despite giving up three early homers.
"We were down five runs and we showed some fight," Hunter said. "But we just couldn't finish them."
Rhett Bollinger is a reporter for MLB.com. Read his blog, Bollinger Beat, follow him on Twitter @RhettBollinger and listen to his podcast. This story was not subject to the approval of Major League Baseball or its clubs.