Top prospects step up in Super Regionals
As Draft looms large on horizon, NCAA stars shine in tourney action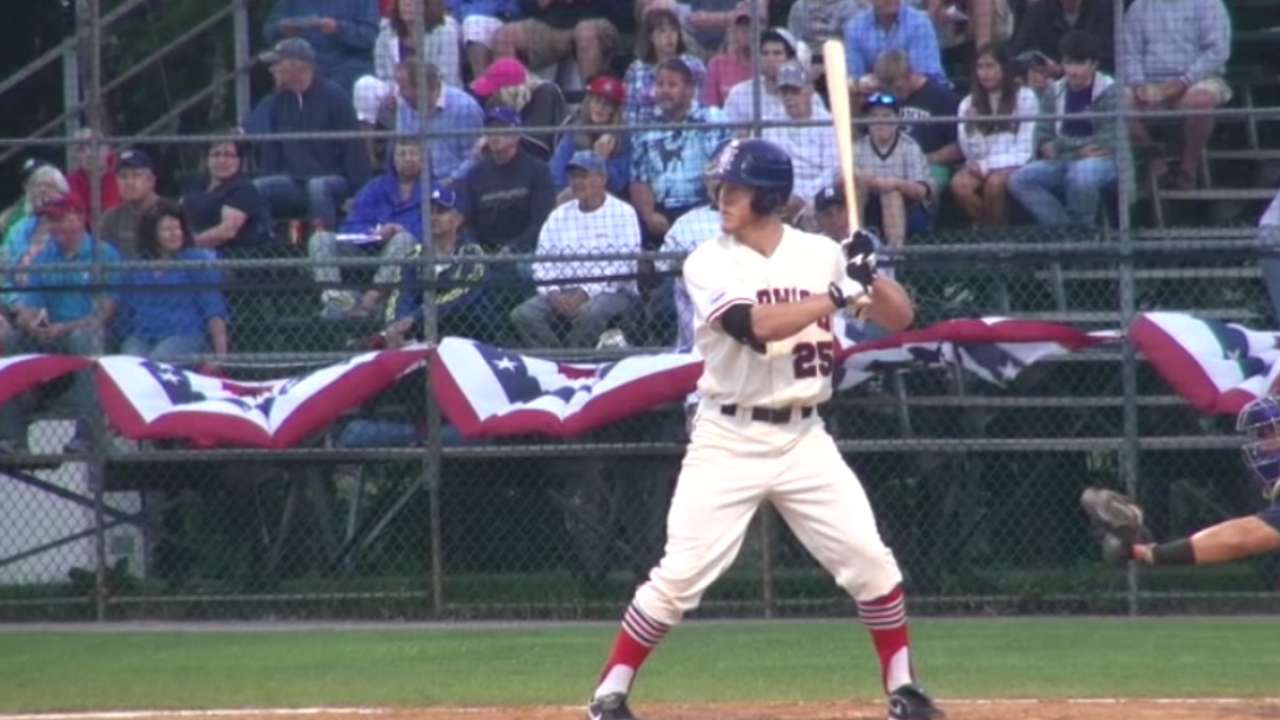 With the Draft only a few days away, a number of top prospects took the field Friday night as the NCAA Tournament rolled on.
Eight of the 16 remaining teams kicked off Super Regional play Friday night, while the other half will open their best-of-three series Saturday.
Here's a quick look at Friday's matchups and how some of MLB.com's Top 200 Draft prospects fared in their respective games. The Draft begins Monday at 6 p.m. ET on MLB.com and MLB Network.
Charlottesville Super Regional: Virginia 5, Maryland 3
Virginia came back by scoring five runs in the eighth inning, and UVA outfielder Joe McCarthy, MLBPipeline.com's No. 68 Draft prospect, was right in the middle of it.
McCarthy, who went 1-for-3, was intentionally walked with two outs in the eighth, loading the bases. The next batter whacked a three-run double to left-center field, turning a one-run deficit into a two-run lead.
Virginia reliever Josh Sborz, the 114th-ranked Draft prospect, struck out two and allowed one hit over two scoreless innings to pick up his 14th save.
Maryland second baseman Brandon Lowe (No. 148) went 1-for-3 with a walk.
Coral Gables Super Regional: No. 5 Miami 3, Virginia Commonwealth 2
The Hurricanes rode another solid start from left-hander Andrew Suarez, the Draft's No. 75 prospect, to a Game 1 victory. Suarez improved to 9-1 with a 2.96 ERA as he held VCU to one run on three hits and a walk while striking out four over five innings.
Miami third baseman David Thompson (No. 127) went 0-for-3 and left three runners on base.
Fayetteville Super Regional: Arkansas 18, No. 8 Missouri State 4
The Razorbacks pounded the Draft's No. 10 prospect, Missouri State right-hander Jon Harris, who was tagged for eight runs on nine hits and a walk over 5 2/3 innings.
Harris fell to 8-2 with a 2.45 ERA on the year. He gave up a solo shot by Arkansas center fielder Andrew Benintendi, the No. 8 Draft prospect, who also drew three walks and scored three runs.
Missouri State outfielder Tate Matheny, son of Cardinals manager Mike Matheny, went 1-for-2 with a walk and an RBI.
Gainesville Super Regional: No. 4 Florida 13, Florida State 5
The Gators jumped out to a big lead and routed the Seminoles to kick off their in-state-rivalry series. Florida shortstop Richie Martin (No. 34) went 1-for-3 with an RBI, and leadoff man Harrison Bader (No. 78) went 1-for-4 with an RBI and two runs scored.
FSU outfielder D.J. Stewart (No. 36) broke up the shutout with a two-run homer in the eighth inning, his lone hit of the night.
Adam Berry is a reporter for MLB.com. Follow him on Twitter at @adamdberry. This story was not subject to the approval of Major League Baseball or its clubs.