Statcast shows two different sides of Venditte
First ambidextrous pitcher in 20 years shows unique spin rates, extension
Normally, a Minor League lifer in his eighth professional season coming up to make his Major League debut a few weeks before his 30th birthday wouldn't stir up all that much interest around the game. This sort of thing happens dozens of times each year. But as you most certainly know by now, there's not a whole lot about Pat Venditte that's normal. The first switch-pitcher to appear in the big leagues since 1995, and only the second in the last century, Venditte finally made his debut for the A's in Boston on Friday night.
He didn't disappoint, throwing two scoreless innings as the A's fell, 4-2, to the Red Sox. When you have Statcast™, and you see a pitcher throwing from both sides in the same game -- Venditte threw lefty for his first hitter, and righty for his last five -- it's all but a given that we're going to apply it to the most fun story in baseball right now. So let's do exactly that.
• Switch-pitcher Venditte fires two shutout frames
The two Vendittes, as it turns out, aren't really that alike, with the exception that his release time to the plate is nearly identical no matter which hand he's using. (It's 1.24 seconds to the plate from the left side, and 1.23 from the right.) Lefty Venditte, which sounds like either like a movie villain or someone who starred during baseball's Golden Age decades ago, aligns with the traditional expectations of the soft-tossing southpaw. On Friday night, he averaged a perceived velocity of 74.61 mph on the seven pitches he sent in to Brock Holt. His spin rate was an above-average 2825.43 RPM.
Righty Venditte, meanwhile, was nearly a flamethrower by comparison, averaging a perceived velocity of 81.26 mph. He also didn't get nearly as much spin from the right side, averaging nearly 300 RPM less at 2542.45. Perhaps most interestingly, especially considering the fact that Venditte has a similar three-quarters/sidearm throwing motion from both sides, is the difference in extension. (That's "the distance of the release point of the pitch from the front edge of the pitching rubber," in Statcast™ terms.) Lefty Venditte's extension of 5.85 feet was a full foot shorter than Righty's 6.85 feet, which along with the spin, velocity, and handedness all combines to give hitters a considerably different look.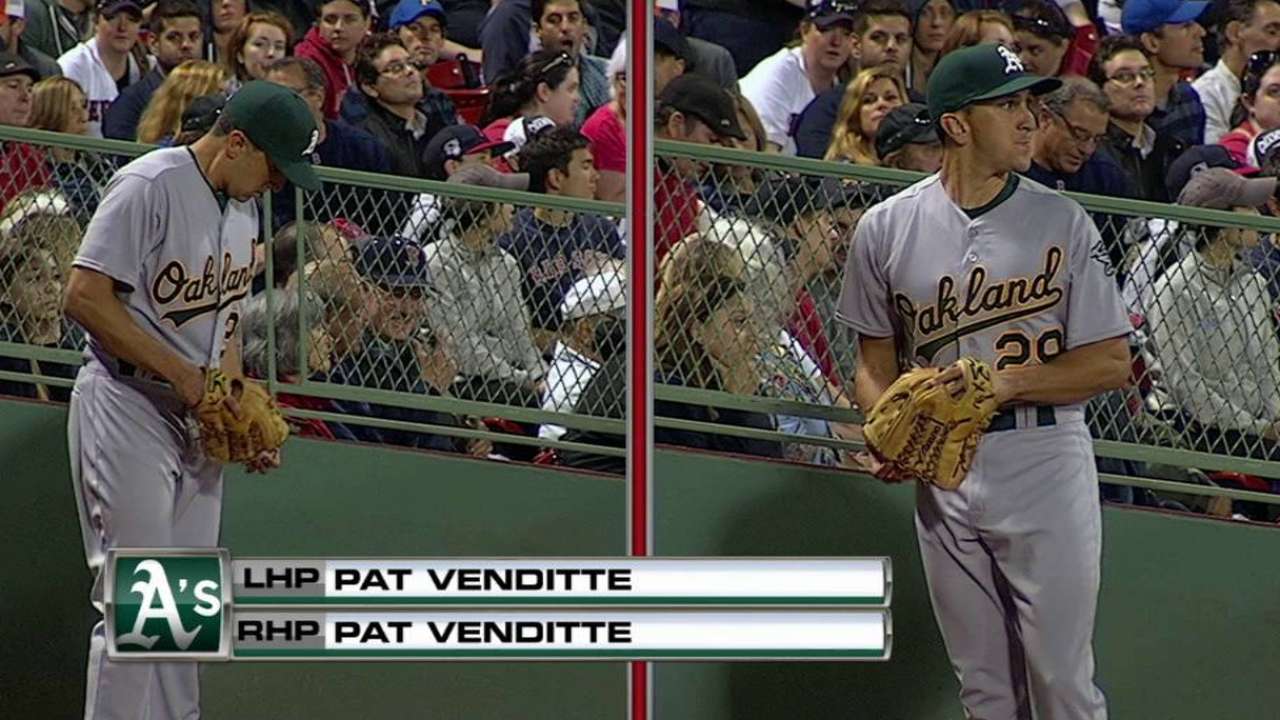 Now, is all of that going to add up to a successful career in the bigs? The odds are against him, certainly, because there's usually a reason when it takes eight years to get called up, and it's hard to get by with velocity that tops out in the low 80s no matter which hand you throw with. But simply by making it up and pitching with both hands in an inning, Venditte's done something just about no one alive has done. That, alone, is some kind of accomplishment.
Mike Petriello (@mike_petriello) is an analyst for MLB.com. This story was not subject to the approval of Major League Baseball or its clubs.