Revere's baserunning gaffe ends Phillies' rally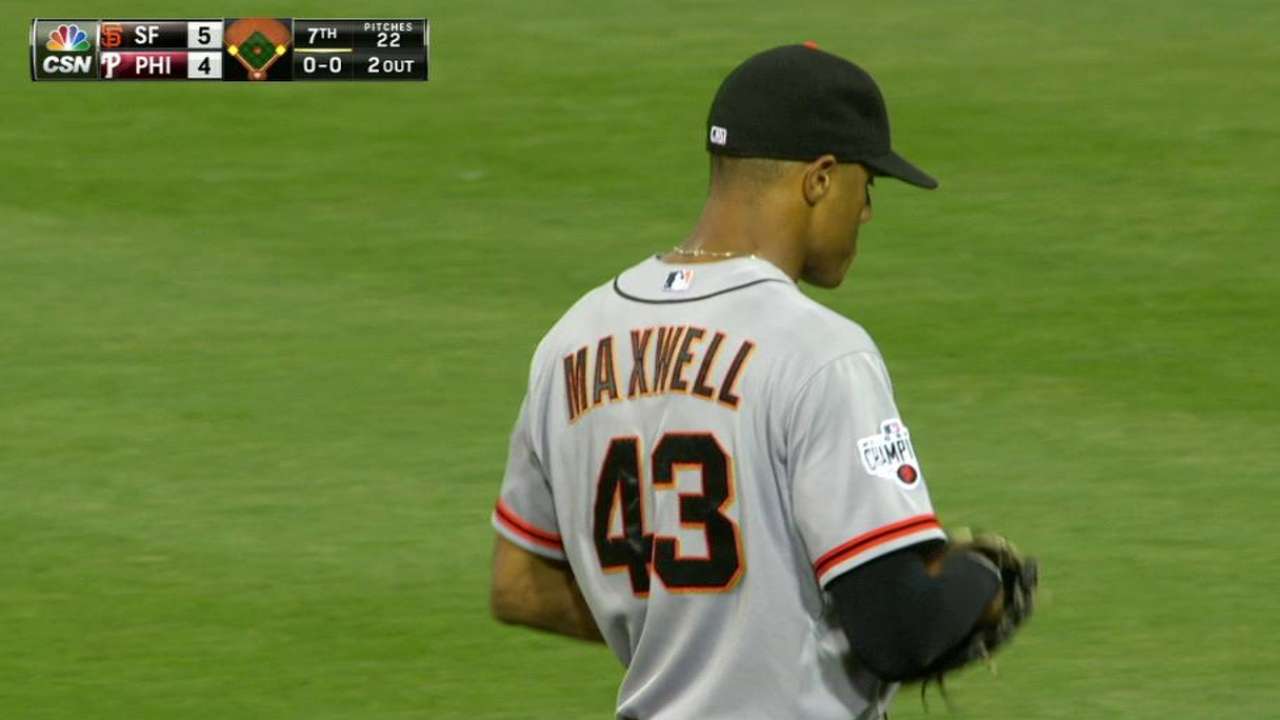 PHILADELPHIA -- It all happened so fast in the Phillies' 5-4 loss.
It was the seventh inning. The Giants led 5-4. Men were on first and third with one out. Giants pitcher Hunter Strickland kicked his leg. Ben Revere, standing on first base, darted for second.
Strickland delivered to the plate. Jeff Francoeur swung underneath the ball, popping it high to right fielder Justin Maxwell. Andres Blanco waited with one foot on third base, ready to tag and score as soon as the ball entered the webbing of Maxwell's glove. Revere had reached second base, but he needed to get back to first.
He turned and retreated to first. Maxwell called Blanco's bluff and hurled the ball toward home. Blanco stayed put. It was a routine flyout.
Except for one thing. Revere overstepped second and didn't touch it again before returning to first. The Giants relayed the ball back in to second base. Revere was out. The inning and the threat were over.
"Ben was stealing and overran the base and did not retouch it coming back," Phillies manager Ryne Sandberg said. "He went right over the top. I don't know that he knew he has to do that."
Despite Sandberg's comments, Revere said he was fully aware of the rule, he just didn't realize he had overstepped the bag altogether. It wasn't a lack of knowledge that beat Revere; he was a victim of his own speed.
"I was in momentum about to slide and then I kind of turned and saw the right fielder in," Revere said. "I went to go turn back and I thought I kept my foot on the bag. I didn't. In that situation, everything is going so fast. Him being shallow with a good arm, I was trying to get back as quick as possible."
Revere added that the decision to run was entirely his own. A hit-and-run had not been called. He was only stealing to try to get into scoring position with the middle of the lineup due up behind him.
As the one Phillies player with a direct line of vision to the play, Blanco said he thought Revere followed the protocol of what to do perfectly, adding that the only reason he feigned tagging up was to draw Maxwell's throw home and allow Revere to get back to first safely.
From the Giants perspective, the play was a collaborative effort from those not on the field. Manager Bruce Bochy said that pitching coach Dave Righetti was particularly vocal about relaying the ball into second base. Second baseman Joe Panik, on the other hand, didn't single anyone out.
"That was a heads-up play on everybody in the dugout's part," Panik said.
Friday marked the second time in two days that the Phillies lost in large part due to a blunder on the basepaths after Carlos Ruiz was ruled to have blocked home plate, which swung Thursday night's game out of the Phillies' favor. Blanco said that while this is unfortunate, it happens.
"That's going to happen," Blanco said. "It's baseball. We scored runs. We had a good at-bat, they had a good at-bat. That's baseball."
Nick Suss is an associate reporter for MLB.com This story was not subject to the approval of Major League Baseball or its clubs.