Iwakuma will stay in Seattle to continue rehab
Mariners pitcher will not join team on road trip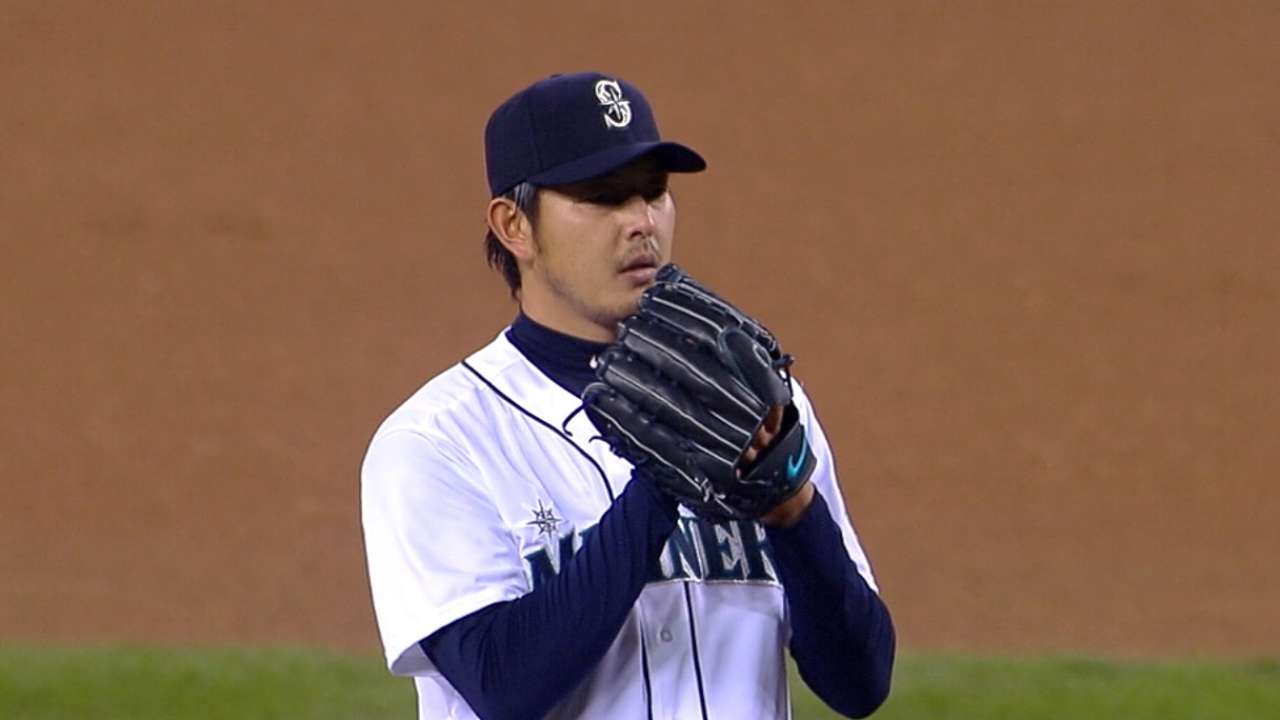 SEATTLE -- Mariners right-hander Hisashi Iwakuma didn't have any lingering effects Thursday from his first time throwing off a mound in nearly seven weeks, but manager Lloyd McClendon said the 33-year-old will stay behind in Seattle to continue his rehab program when the team leaves Monday on an eight-game road trip.
Iwakuma, on the 15-day disabled list with a strained right lat muscle behind his shoulder, played some light catch Thursday after throwing a 27-pitch bullpen session Wednesday, in his first serious test since being shut down after his third start of the year on April 20.
McClendon said the 2013 American League All-Star seemed to bounce back well from his throwing session and will repeat that process Sunday prior to the Mariners' final game of the homestand and then again Wednesday when the club is on the road.
There initially had been some thought of having Iwakuma go with the team so he could throw Wednesday's bullpen and then a simulated game late next week against live hitters, but McClendon said that can be done just as well at home.
"I don't see any big reason why he should travel to Cleveland to throw a bullpen," McClendon said. "He may go to Tacoma to throw a sim game. We've got expert eyes there. Or we may do it here. [General manager Jack Zduriencik] and his staff will be back here because of the Draft and they have very capable eyes to watch and see how he's doing. Then he gets to sleep in his own bed and relax and stay here in town."
If Iwakuma progresses as expected, he'll throw a simulated game or two and then begin a Minor League rehab stint with two or three games with Triple-A Tacoma. That would put him on schedule to potentially rejoin the Mariners in early July, though it's possible he could be held back until after the All-Star break on July 13-16 in order to give him extra time.
Worth noting:
• Center fielder Austin Jackson was not in the lineup Friday after starting 10 straight games since returning from a sprained right ankle. Jackson has hit .311 since coming off the disabled list, but still isn't 100 percent, McClendon said.
"We're just giving that ankle a day off. He's been going at it pretty good," said McClendon. "He's been a little stiff, but once he gets going he's been OK. But we have to be careful with it. He's done a nice job and I want to keep it that way. Part of that is keeping him energized."
• McClendon said Robinson Cano got caught looking at the outfielders' placement as he came off the bag and was picked off first by Erasmo Ramirez in the fifth inning of Thursday's 2-1 loss to the Rays, instead of checking the outfielders while on the bag and then turning his attention to the pitcher.
"Yeah, it was a mistake," McClendon said. "He turned his head. I would like to think that it cost us, but the way we've been swinging, I'm not sure it did. You'd like to think that. I've always said this. We want to make a big deal out of that play. It hurt. But one thing doesn't make you lose a game. It never does. We had many, many opportunities. We had a leadoff double and struck out three times in a row. I'm not going to put all that on Robbie. He made a mistake. You learn from it and move on."
Greg Johns is a reporter for MLB.com. Follow him on Twitter @GregJohnsMLB, read his Mariners Musings blog, and listen to his podcast. This story was not subject to the approval of Major League Baseball or its clubs.