Latos' rehab start Monday could be his last
Righty could return to Marlins' rotation next weekend; Jose, Cosart to throw Saturday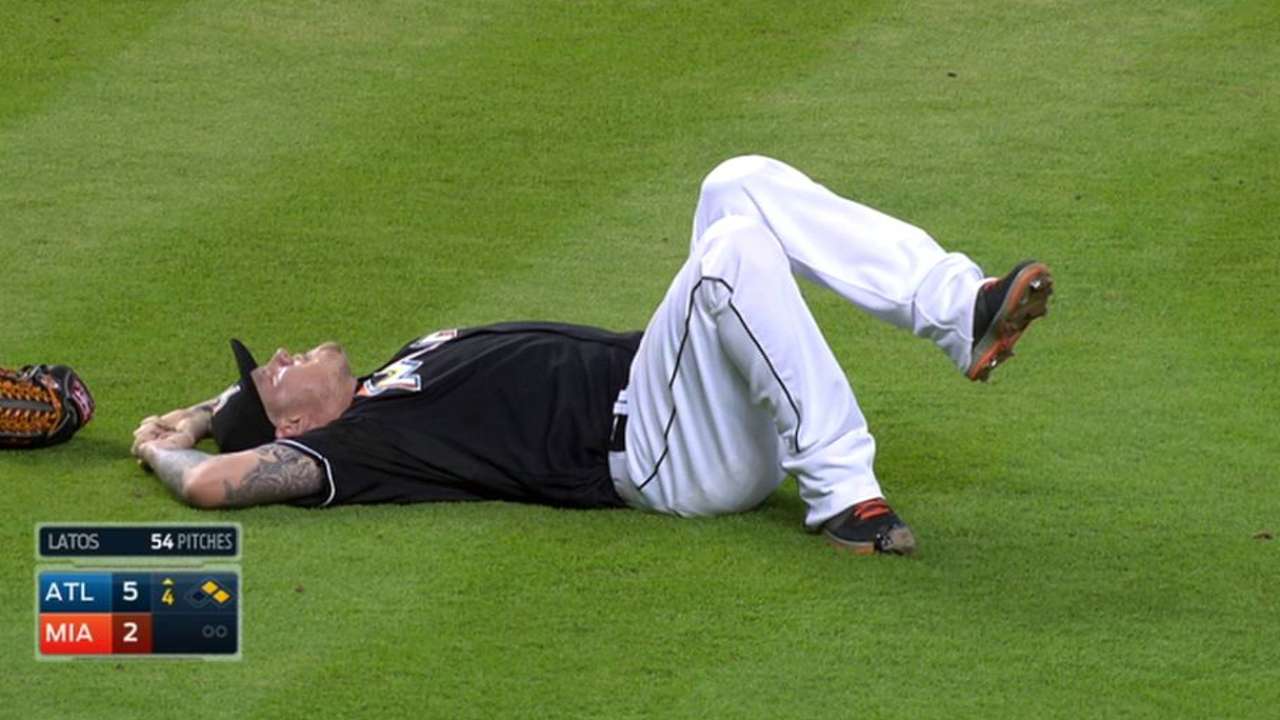 DENVER -- While two Marlins pitchers will continue their rehab on Saturday, another will throw on Monday in hopes of returning to Miami's rotation next week.
Marlins manager Dan Jennings said right-hander Mat Latos will pitch for Triple-A New Orleans on Monday and throw "somewhere between 85-90 pitches." This could be the final rehab appearance for Latos, who's been on the disabled list since May 23 -- retroactive to May 22 -- with left knee inflammation.
"I hope it can be [the last rehab outing]," Jennings said before Friday's series opener with the Rockies. "It would be nice to have that veteran presence back in the rotation."
Jennings was far from finished with the injury updates.
The manager said right-hander Jose Fernandez will be at 60 pitches in Saturday's appearance with Class A Advanced Jupiter at Charlotte. It will be Fernandez's first rehab start -- he's pitched an extended spring outing -- since undergoing Tommy John surgery.
Saturday will also serve as another rehab step for right-hander Jarred Cosart, who'll throw up to 75 pitches in an extended spring game, according to Jennings. Cosart has been on the DL since May 19 -- retroactive to May 14 -- with vertigo.
Right-hander Henderson Alvarez, meanwhile, will look to resume throwing next week, according to Jennings. Alvarez has been on the DL since May 23 with right shoulder inflammation.
"We've got a lot of things going on with some of the injury guys, the rehab guys," Jennings said. "So we're moving in the right direction."
Miami's injury list, though, doesn't stop with pitchers.
Two position players dealing with finger injuries -- Don Kelly (fractured right finger) -- and Michael Morse (sprained right ring finger) -- are both improving, according to Jennings. Kelly has already started hitting and is beginning to throw, while Morse has gotten in some dry swings after letting his finger rest.
Morse was sent to the DL on May 26 -- retroactive to May 24.
"He was very tender, and when he would swing the bat, the nerve in that finger was like a shock to him," Jennings said. "I think he was a little guarded on how he held the bat. Knowing that you feel that every time you swing is painful. I remember watching him around the batting cage and seeing him wince when he would take a swing.
"So hopefully the down time has let the inflammation and the nerve that has flared up calm down. Then we can move forward in a good way."
Dargan Southard is an associate reporter for MLB.com. This story was not subject to the approval of Major League Baseball or its clubs.