MLB.com Columnist
Fred Zinkie
DraftKings picks: Donaldson devouring lefties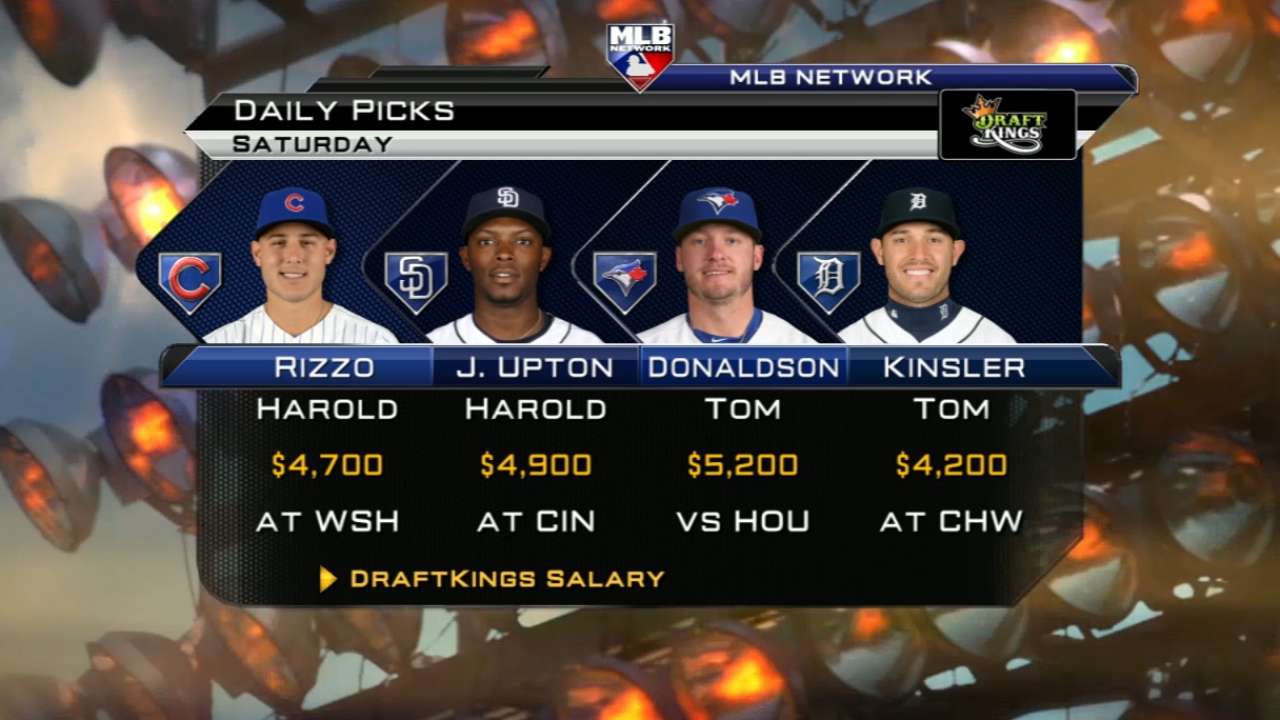 Welcome to DraftKings fantasy baseball, the Official Daily Fantasy Game of Major League Baseball.
The players listed below could provide difference-making stats for DraftKings participants Saturday.
Josh Donaldson (Blue Jays): With a lifetime .303/.381/.604 slash line against lefties, the third baseman has proven to be among baseball's best in those matchups. Donaldson could improve on his impressive 2015 statistics (.312 average, 15 homers, 39 RBIs, 45 runs) when he faces Astros lefty Brett Oberholtzer (career 1.31 WHIP) at hitter-friendly Rogers Centre.
Edwin Encarnacion (Blue Jays): The first baseman brings a lofty lifetime .876 OPS against left-handers (.816 vs. righties) into a matchup with Oberholtzer, who has thrown just 8 1/3 innings this season due to injury. Encarnacion could be part of a productive Blue Jays stack, as Toronto boasts a Major League-leading .869 OPS against southpaws.
Jose Bautista (Blue Jays): Since the outset of his breakout 2010 season, Bautista has posted a .276/.396/.565 batting line against southpaws and an overall .283/.408/.590 slash line at his offense-inducing home park. The outfielder -- who hits in between fellow stars Donaldson and Encarnacion -- could be involved in plenty of run scoring on Saturday.
Danny Valencia (Blue Jays): DraftKings participants who pay a premium price for multiple Blue Jays stars could offset those expenditures by adding the cheaper Valencia, who qualifies at second base and the hot corner in DraftKings contests. Valencia has compiled pronounced career splits, with an .871 OPS against left-handers in comparison to a .618 mark vs. righties.
Brandon Belt (Giants): Belt could thrive when he vacates his spacious home venue to hit at homer-happy Citizens Bank Park against Phillies right-hander Severino Gonzalez. Of his 52 career homers, the first baseman has hit 40 against righties and 35 on the road. With these facts in mind, look for Belt to display some power on Saturday.
Brandon Crawford (Giants): By hitting .293 with eight homers and 37 RBIs across 184 at-bats, Crawford has been among the most productive shortstops this season. On Saturday, he could thrive at Philadelphia's hitter-friendly venue when he brings his balanced career splits into a matchup with the rookie Gonzalez, who has a 6.88 ERA and a 1.71 WHIP this season.
Giancarlo Stanton (Marlins): In his big league tenure, the outfielder has produced an impressive .290/.385/.607 slash line against left-handers. Stanton could display his prodigious power when he steps into offense-inducing Coors Field to face lefty Chris Rusin (career 4.56 ERA).
Martin Prado (Marlins): Prado has thrived vs. left-handers, against whom he has posted a lifetime .822 OPS (.740 vs. righties). The third baseman -- who also qualifies at the second base in DraftKings contests -- could reach base often against Rusin (career 1.44 WHIP).
Ian Kinsler (Tigers): The second baseman has long fared best vs. left-handers, registering a career .875 OPS in those matchups (.760 vs. righties). On Saturday, he could reach base often or score multiple runs at hitter-friendly U.S. Cellular Field against White Sox lefty John Danks, who sports a 4.87 ERA in 443 2/3 innings since the outset of the 2012 season.
J.D. Martinez (Tigers): Martinez could flash his power when he puts his lifetime .818 OPS against left-handers (.741 vs. righties) up against Danks (career 4.30 ERA). Also working in the outfielder's favor is the fact that he will be hitting into a White Sox defense that ranks 29th in the Majors with a .666 defensive efficiency ratio.
Rajai Davis (Tigers): The sparkplug -- who owns a career .303/.359/.448 slash line against lefties -- could score multiple runs for a productive lineup against Danks (lifetime 1.33 WHIP). He could also swipe a base against catcher Tyler Flowers, who has often struggled to control speedsters such as Davis (316 career steals).
Stephen Vogt (A's): The catcher -- who is hitting .308 with 11 homers and 39 RBIs across 159 at-bats this season -- could drive in multiple runs when he vacates his spacious home park to face Red Sox righty Joe Kelly (5.83 ERA, 1.46 WHIP in 2015).
Josh Reddick (A's): Like his teammate Vogt, Reddick has taken his game to the next level this season by hitting .300 with eight homers and 32 RBIs across 180 at-bats. Having produced a career .783 OPS against right-handed hurlers (.665 vs. lefties), the outfielder could display his power during a road contest against Kelly (lifetime 1.38 WHIP).
Madison Bumgarner (Giants): The left-hander ranks among baseball's most reliable starters, having posted an ERA between 2.77 and 3.37 in each season since 2010. On Saturday, Bumgarner could compile quality innings when he faces a Phillies lineup that ranks last in the Majors by a notable margin with 171 runs scored.
David Price (Tigers): The lefty could rack up quality frames and whiffs when he brings his lifetime 3.20 ERA and 8.4 K/9 rate into a matchup against a White Sox lineup that ranks last in the Majors by a wide margin with a .531 OPS against southpaws.
Felix Hernandez (Mariners): Hernandez is yet another ace on a loaded Saturday schedule that also includes Dodgers star Clayton Kershaw. Set to match up with Alex Colome, he of a career 4.60 FIP, King Felix could improve his season-to-date stats (8-2 record, 2.63 ERA, 0.98 WHIP) during a home game against the Rays.
Adam Warren (Yankees): On Saturday, Warren could be a popular target for DraftKings participants who need an economical second starter. The right-hander -- who has posted a 3.75 ERA and a 1.21 WHIP this season - matches up well against an Angels lineup that ranks 23rd in the Majors with a .676 OPS against righties.
All statistics are accurate through the completion of Thursday's games.
Fred Zinkie is the lead fantasy baseball writer for MLB.com. Follow him on Twitter at @FredZinkieMLB. This story was not subject to the approval of Major League Baseball or its clubs.