Rays end standoff in 9th with Forsythe's shot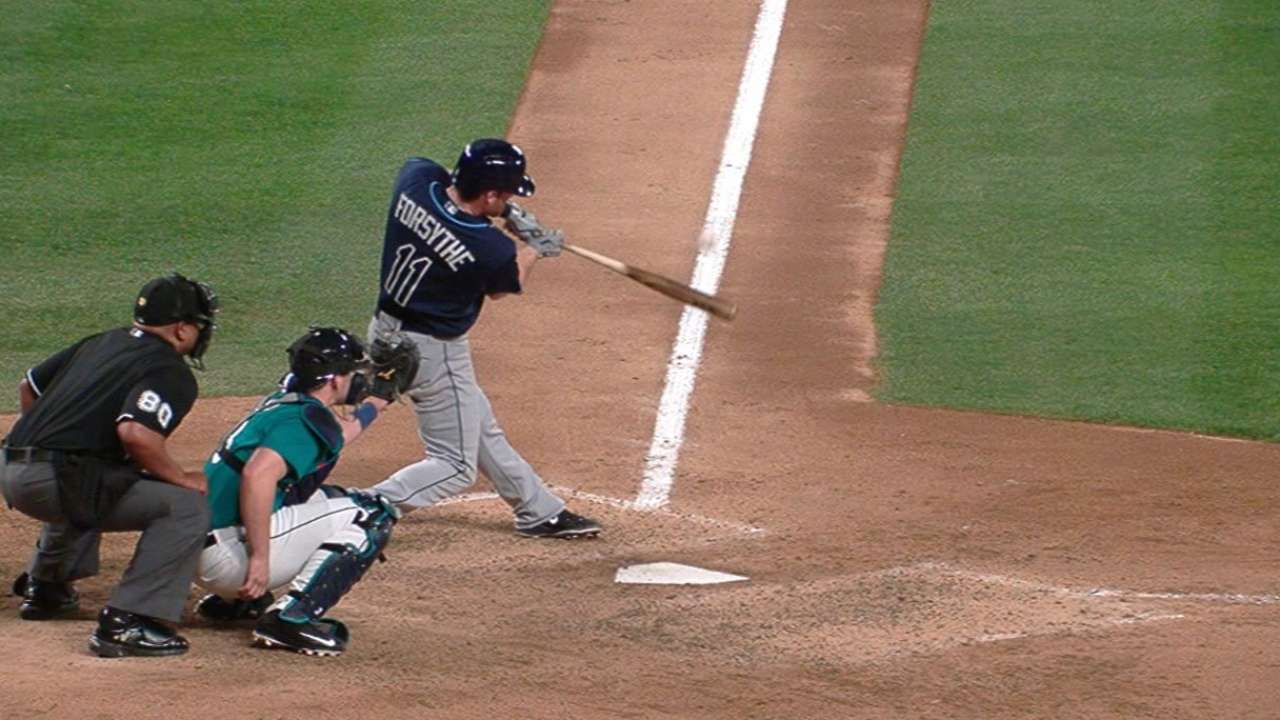 SEATTLE -- Rays second baseman Logan Forsythe homered off Mariners closer Fernando Rodney leading off the ninth Friday night to break a scoreless tie as Tampa Bay handed Seattle its seventh straight loss, 1-0, at Safeco Field.
Rodney has allowed a run in nine of his last 13 appearances as his ERA rose to 6.94. Mariners lefty J.A. Happ (3-1, 3.31 ERA) threw seven scoreless innings, allowing six hits with one walk and six strikeouts, but wound up with his fifth straight no-decision. Seattle fell to 24-31 and has scored three runs or fewer in 10 consecutive games.
Rays starter Jake Odorizzi pitched 4 1/3 scoreless innings with four hits, but was taken out of the game after feeling tightness in his left-oblique muscle in the fifth. Three relievers finished up the shutout for Tampa Bay, which won its fourth straight to stay a half-game back of the Yankees in the American League East at 30-26.
The Mariners got the tying run to third with a leadoff triple by Austin Jackson in the ninth before Kevin Jepsen closed out the win by striking out Brad Miller, getting Mike Zunino on a fly out to shallow right and Dustin Ackley on a fly ball to left.
"What a ballgame," Rays manager Kevin Cash said. "What a well-pitched ballgame from both sides. Not a lot of offense, but that's OK, we found a way to win there."
MOMENTS THAT MATTERED
Happ holds the line: The 32-year-old southpaw was outstanding in his 11th start of the season for Seattle and kept the Rays scoreless for seven innings as he lowered his ERA to 1.88 in six Safeco Field starts. His biggest test came in the fifth when Jake Elmore laced a one-out double and moved to third on a wild pitch. But Happ stranded him there by striking out Asdrubal Cabrera and Kevin Kiermaier. The Rays also had runners on second and third in the sixth, but Forsythe lined out to third baseman Kyle Seager to end that threat.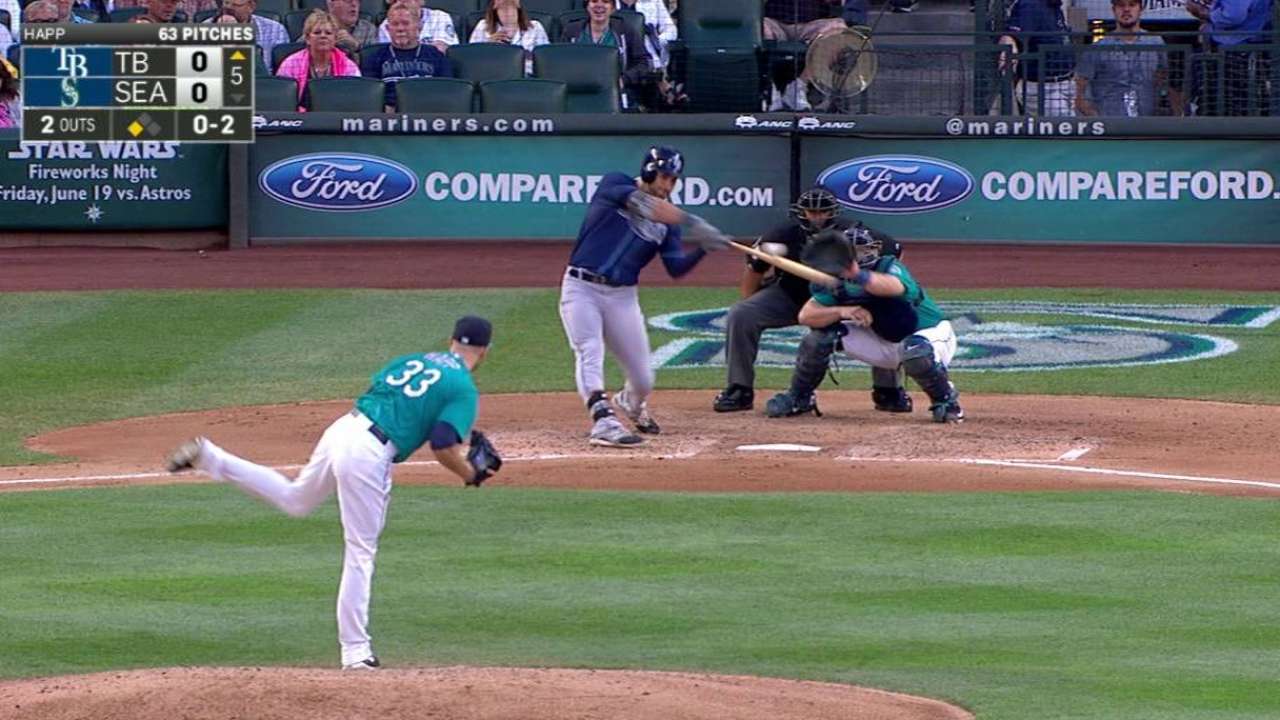 Cedeno to the rescue: When Odorizzi had to leave the game with one out in the fifth and runners on first and second. Xavier Cedeno came in and took his time warming up -- which is allowed when a pitcher leaves with an injury -- and the left-hander then retired Logan Morrison and Robinson Cano on groundouts to keep the game scoreless.
Cano conundrum: The Mariners keep waiting for their $240 million second baseman to start producing as expected, but the six-time All-Star went 0-for-4 and grounded out to first in a crucial bases-loaded at-bat to end the seventh against Rays reliever Andrew Bellatti. Cano is now hitting .243 with two homers and 18 RBIs in 54 games. More >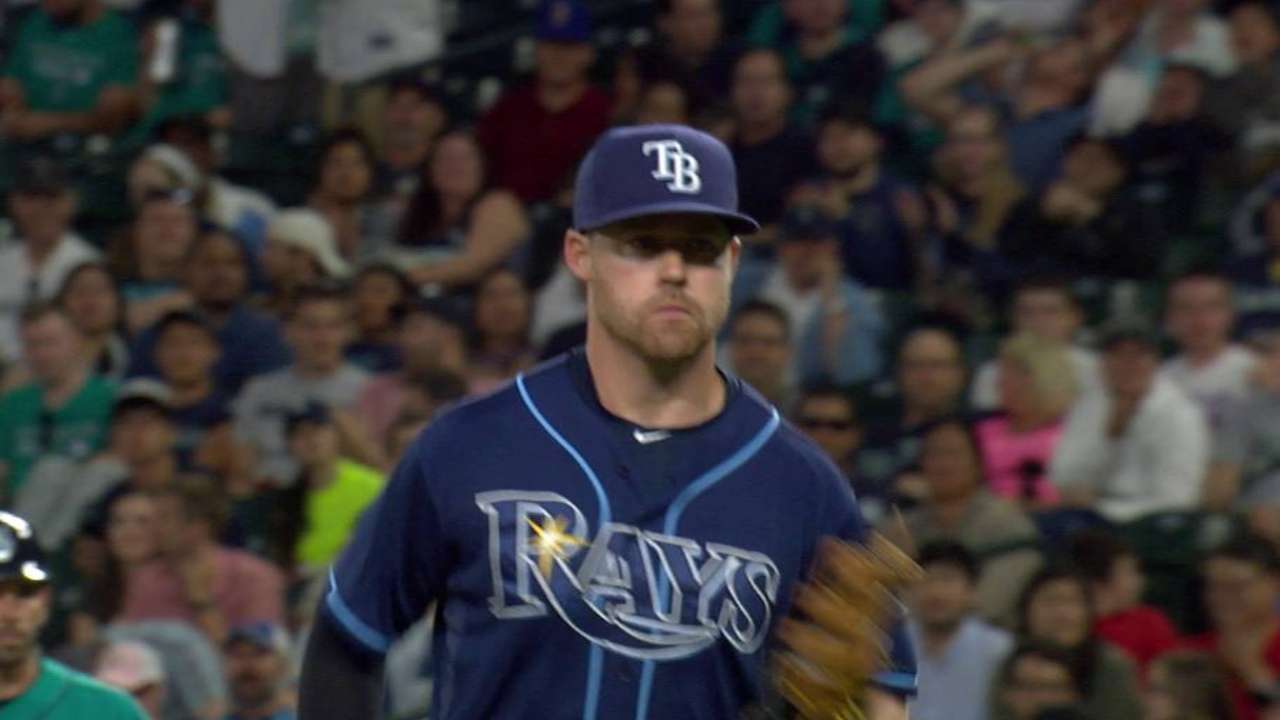 Forsythe goes deep: Forsythe led off the ninth against Rodney and was swinging at 2-1. He connected on a 94-mph fastball and sent a drive over the wall in left for his seventh home run of the season and a 1-0 lead.
"Leading off of Rodney with the stuff he has, I was just trying to get a ball across the plate," Forsythe said. "And not try and do too much. I was just trying to get the barrel to it. I got one that got some white of the plate and I got the barrel to it and I got it out of the park."
The Rays caught a break that Forsythe was still in the game at that point. After he lined out to third to end the sixth, Forsythe tried to toss his bat back toward the dugout. Instead, the bat stuck to his hand to where it altered the bats flight and nearly struck home-plate umpire Adrian Johnson. Fortunately for the Rays, Johnson could see that the toss in his direction had been an accident, which enabled Forsythe's heroics.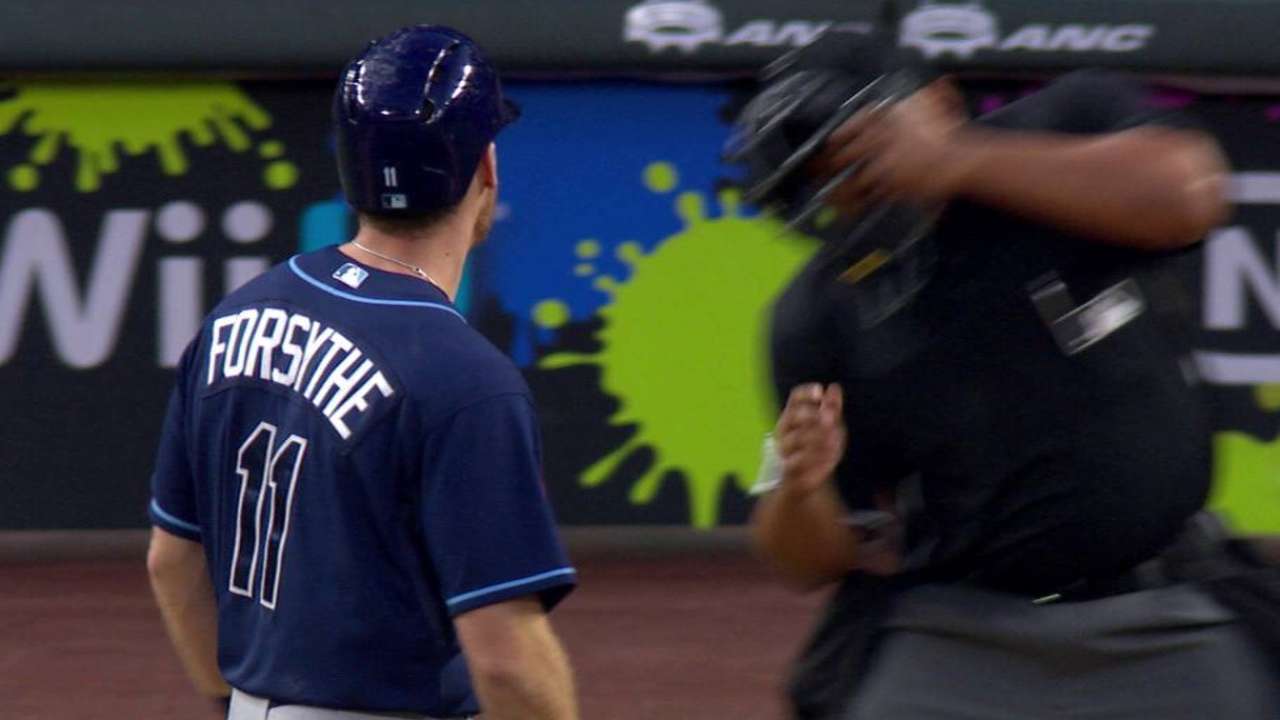 QUOTABLE
"Unbelievable, Jep's been a bulldog out there." -- Forsythe on Kevin Jepsen getting the final three outs after allowing a leadoff triple in the ninth More >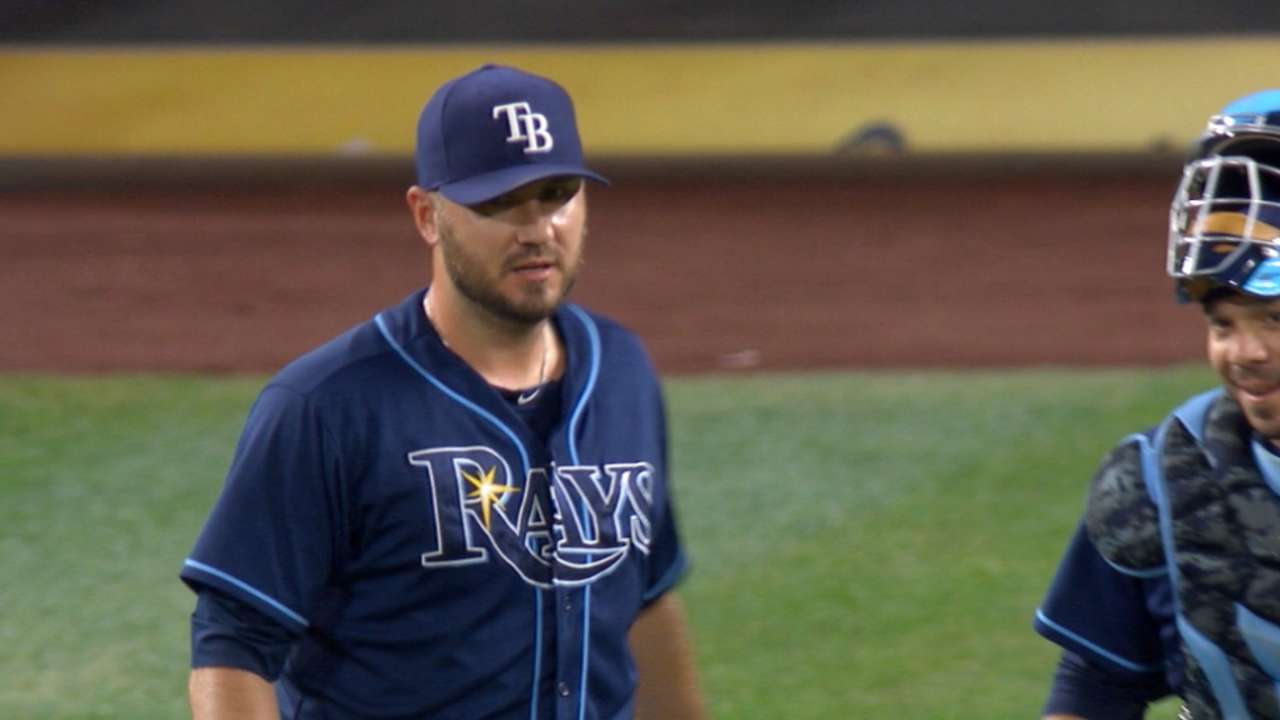 "You win as a team, lose as a team, whether it's 10-9 or 1-0. We've got to come tomorrow to play and come with some energy and enthusiasm and keep the positivity. We're going to get out of it. Every loss right now feels like five, but it's one loss and we've got to turn the page. As much as I don't like saying that, that's the reality of it. You've got to come tomorrow ready to go." -- Happ after Seattle's season-high seventh straight loss More >
SOUND SMART WITH YOUR FRIENDS
• Mariners right fielder Nelson Cruz still leads the American League in home runs with 18, but he's cooled considerably in the last two weeks. Cruz has gone nine games without a homer and has just one in his last 14 games. He also has just one RBI in his past nine games.
• The Rays have allowed two runs or fewer in 27 games this season, including three of the last four games.
UPON FURTHER REVIEW
For the second night in a row, McClendon challenged a safe call on a stolen base by the Rays and again the call was overturned on replay. This time it was Evan Longoria, initially ruled safe by second-base umpire John Tumpane. Longoria instead was called out after the replay showed second baseman Cano made a spinning tag after taking catcher Zunino's throw on the third-base side of the bag and getting his glove on Longoria's thigh before he reached the base. The out was the third of the inning for the Rays.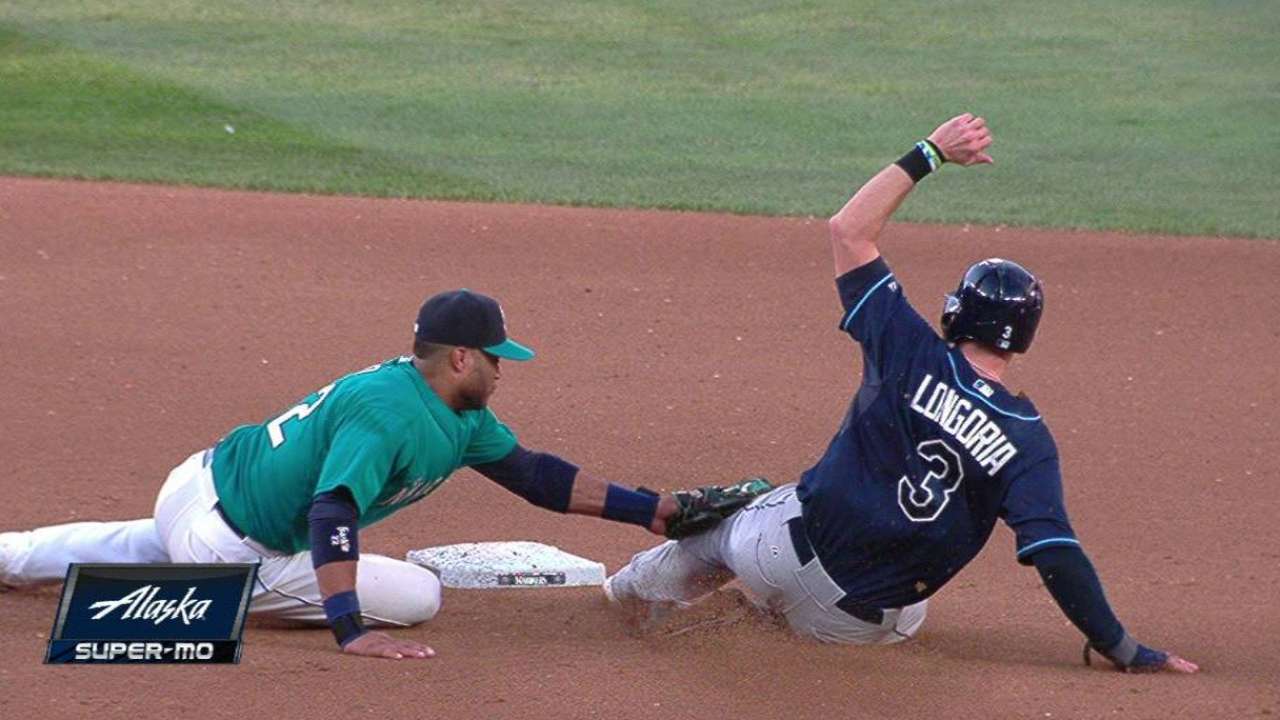 WHAT'S NEXT
Rays: Alex Colome (3-2, 5.05) will make his second career start against the Mariners in Saturday's 10:10 p.m. ET game at Safeco. The right-hander's first career start came against them came on May 26 at Tropicana Field when he earned a no-decision after holding the Mariners to two runs on five hits in 5 1/3 innings. That night he retired 14 of the final 16 batters he faced.
Mariners: Felix Hernandez (8-2, 2.63) looks to bounce back from his worst start of the season. The King gave up seven runs on six hits and five walks in 4 2/3 innings on Monday to the Yankees, a far cry from his four-hit shutout against the Rays at Tropicana Field his previous start. Hernandez has a 16-inning scoreless streak vs. the Rays and is 5-0 with a 1.61 ERA in nine Safeco Field starts against them, including his perfect game in 2012.
Watch every out-of-market regular season game live on MLB.TV.
Bill Chastain is a reporter for MLB.com. Greg Johns is a reporter for MLB.com. Read his Mariners Musings blog, and listen to his podcast. This story was not subject to the approval of Major League Baseball or its clubs.