Rusin's start Saturday could be start of something
Filling in for injured Lyles, oft-shuttled pitcher might settle into Rockies' rotation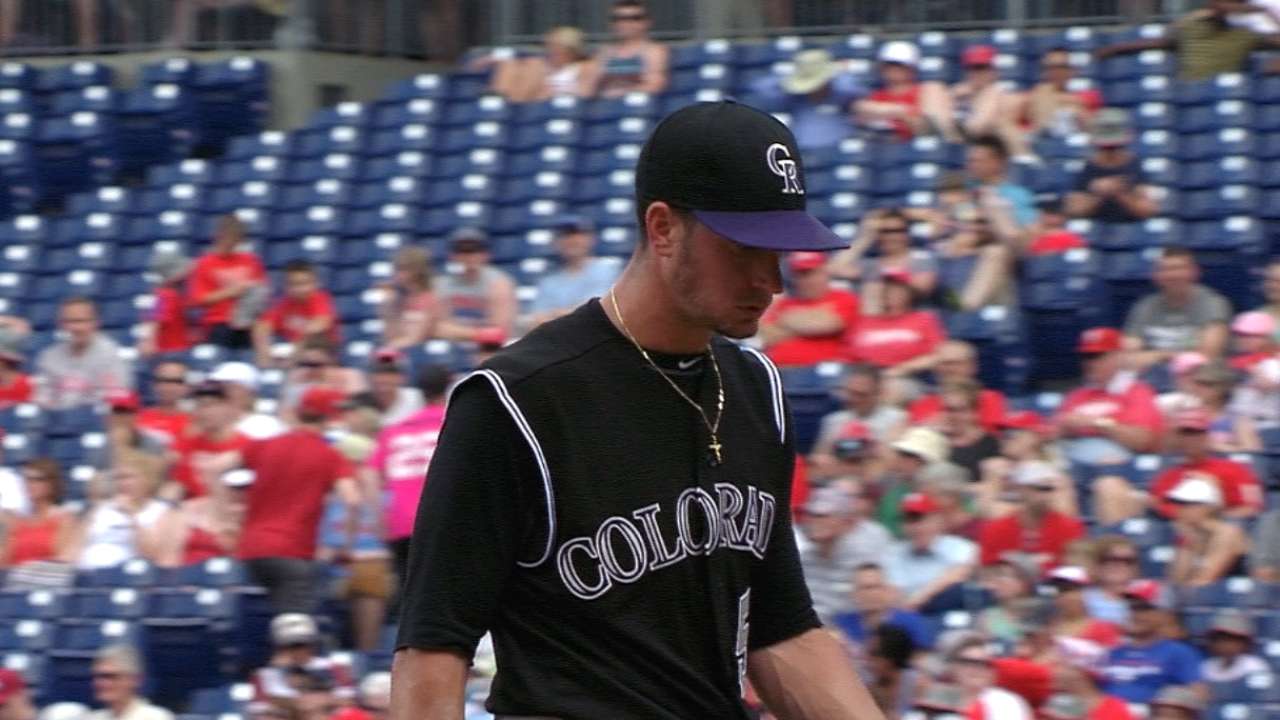 DENVER -- Rockies left-hander Chris Rusin has learned to roll with a flexible pitching schedule.
The Rockies announced Friday that Rusin (1-0, 0.77 ERA) will start Saturday night's game against the Marlins. Rusin replaced an injured Jordan Lyles on Sunday in the second inning and threw 4 2/3 scoreless innings for the win in a 4-1 victory over the Phillies, but he has been on call for bullpen duty since. But since Colorado didn't need him during a four-game series with the Dodgers, Rusin got the starting nod Saturday vs. Miami.
"I've gone through this every year, so I've got to take that approach to it; you can't think too much into it or your performance will suffer," said Rusin, who went back and forth between Triple-A and the Majors in 2012-14 with the Cubs before being claimed by the Rockies off waivers at the end of last season.
By starting Rusin on Saturday, the Rockies pushed righty Kyle Kendrick to Sunday afternoon. Lefty Jorge De La Rosa, originally the Sunday starter, has been pushed to Tuesday against the Cardinals. De La Rosa has been dealing with a cut on his left middle finger. It bothered him during his last start, a victory Tuesday over the Dodgers.
Saturday's start might be the beginning of the first big opportunity for Rusin. Lyles' hyperextended left big toe required season-ending surgery.
But Rusin learned the hard way not to anticipate what will happen.
Rusin made 20 starts over the 2012 and '13 seasons with the Cubs. But last year, he was usually the 26th man on doubleheader days, and his big league action was limited to four relief appearances. While wondering why he wasn't receiving more chances, he was struggling at Triple-A Iowa (8-13, 4.31 ERA).
"Last year, I got a little frustrated and I let my performance suffer because of it," said Rusin, who was called up from Triple-A Albuquerque as the 26th man (but not used) on May 6, but had a strong start against the Reds on May 26 (seven innings, one run in a no-decision) and the emergency outing against the Phillies. "I just let people getting called up and me not getting called up in September put too much pressure on myself. My last couple of starts in Triple-A weren't what they should've been."
• Rockies manager Walt Weiss said extra rest for Kendrick and De La Rosa made sense.
"The thought was the schedule we're in right now, a long homestand and 17 straight games, we felt like it was a good opportunity to give everyone in the rotation another day or two," Weiss said.
Righty Chad Bettis (2-0, 2.70 ERA), the team's best starter since being recalled from Albuquerque, is in line to pitch Monday against the Cardinals, and he threw a bullpen Friday in anticipation of making the start. But the Rockies have not listed a starter. Righty David Hale (1-0, 4.26 ERA in two starts) could be available for a callup from Albuquerque should the Rockies want Bettis to have extra days of rest.
• Right-handed reliever LaTroy Hawkins threw a scoreless inning with one strikeout, and strikes on 10 of his 13 pitches, in the first game of his injury rehab assignment at Albuquerque. Hawkins, coming back from biceps tedinitis, had an earlier rehab assignment halted after two games because of soreness. The Rockies have scheduled for Hawkins to pitch again Sunday.
• Regular left fielder Corey Dickerson, out with left foot plantar fasciitis, has run the bases twice this week and taken batting practice. Weiss said Dickerson experienced some soreness the first time but was better the second. He hasn't been scheduled for a rehab assignment, but Weiss said it could happen soon.
Thomas Harding is a reporter for MLB.com. Follow him on Twitter @harding_at_mlb, and like his Facebook page. This story was not subject to the approval of Major League Baseball or its clubs.