Verlander likely to join Tigers next week
Right-hander to make rehab start at Triple-A on Saturday
CHICAGO -- Justin Verlander's rehab start for Triple-A Toledo on Saturday will likely be his last before joining the Tigers' rotation next week.
At that point, the question then becomes: What are the realistic expectations for the former Cy Young Award and Most Valuable Player Award winner who has been sidelined since Opening Day with a triceps strain?
"That's a tough question to answer," Tigers manager Brad Ausmus said Friday before the opener of a three-game series with the White Sox.
"I hope he's Justin Verlander of three years ago or the Cy Young/MVP year. I hope we get that, but I just don't know. We don't know where he's at. The progression has been so staggered. But he certainly makes [the rotation] better."
This will be Verlander's second start for Toledo, and the right-hander is expected to throw 85 to 90 pitches.
Ausmus wouldn't say what day Verlander would pitch for the Tigers next week, and figuring out the likely rotation is complicated by the fact that there are two days off (Monday and Thursday) in the schedule. Ideally, though, the Tigers probably would like him to have five days of rest -- one day more than normal -- so Friday against the Indians at Comerica Park seems a logical spot.
Whenever he does pitch, the Tigers will be delighted to have him back. Ausmus said the team's rotation has been "hot and cold" so far this season.
"We've had some guys throw some really good games," he said, "and we've had some clunkers."
Worth noting
• Victor Martinez (left knee) continues to work out at extended spring camp in Florida, and Ausmus said the reports have been encouraging.
"I saw video of Victor running and hitting today, from this morning," Ausmus said. "He looked good. He didn't have any noticeable limp to his gait."
Martinez, who has had trouble batting left-handed because of weakness in the knee, will join the Tigers on Tuesday in Detroit. At that point, he'll be evaluated and the decision will be made whether he's ready for a rehab assignment.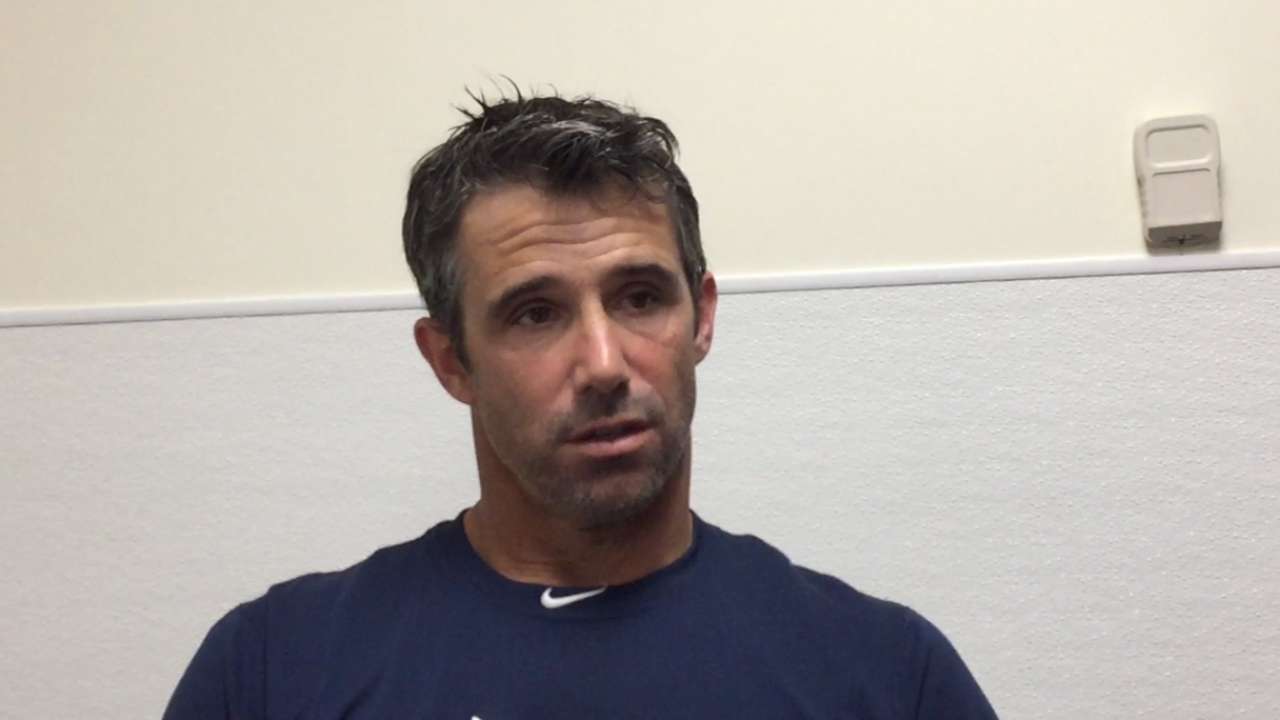 • Right-hander Bruce Rondon (right biceps tendinitis) was expected to join the team in Chicago on Friday, but instead will make one more rehab appearance with Triple-A Toledo on Saturday. He probably will follow Verlander and is scheduled to throw two innings.
Ausmus said the decision was made to give Rondon one more game and isn't a sign of a problem.
• Center fielder Rajai Davis joined the team on Friday following paternity leave for the birth of a son, Jordan Michael, earlier this week. Outfielder Daniel Fields was sent back to the Minors to make room for Davis.
John Jackson is a contributor to MLB.com This story was not subject to the approval of Major League Baseball or its clubs.