What to watch for in today's games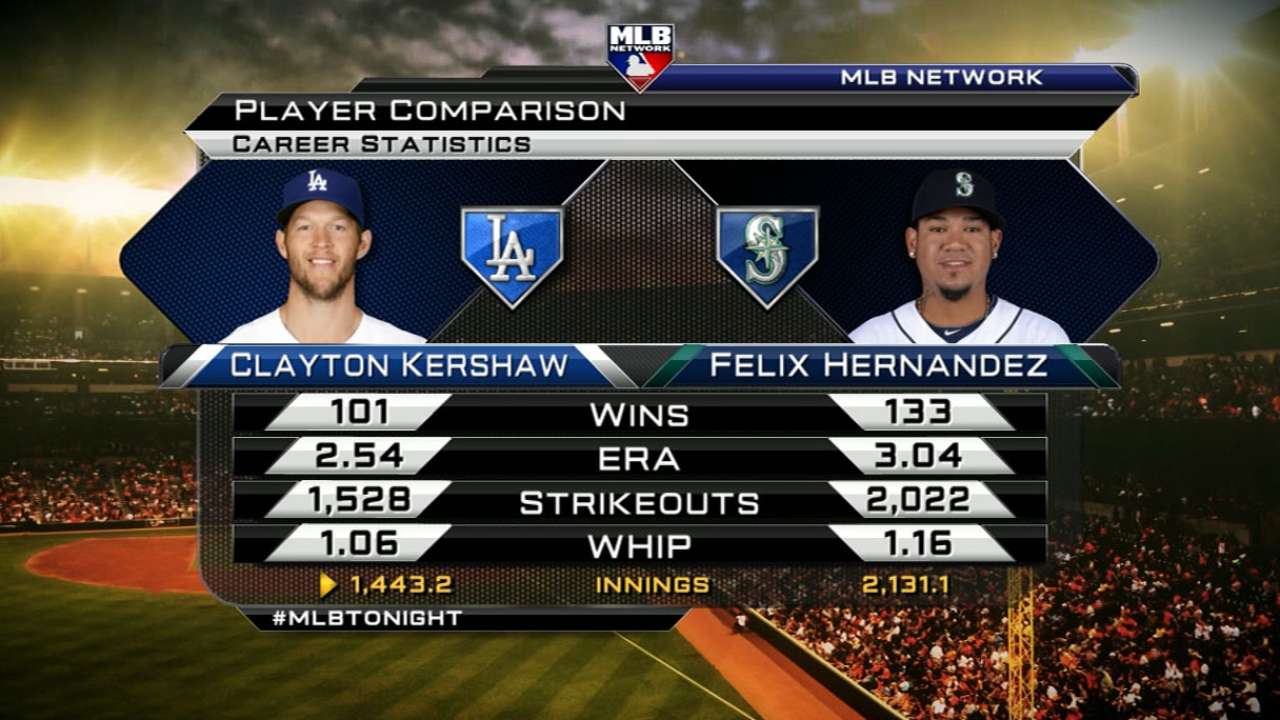 Jaime Garcia can't be happy to see Clayton Kershaw.
Garcia has pitched three times this year, and the Cardinals haven't scored in two of those games. And now he has to face off against the Dodgers and the two-time defending National League Cy Young Award winner in a 10 p.m. ET contest. Kershaw may just be finding his form, too.
The left-hander was banged around for five earned runs twice in his first first seven starts, but he's won back-to-back outings and allowed just two earned runs in his last 14 innings. Kershaw is leading the league with 11.2 strikeouts per nine innings, the highest rate of his standout career.
Garcia started his season late due to a shoulder injury, and he's posted a 2.70 ERA in three outings. The 28-year-old has completed at least six innings in each of his first three starts, and he's yet to allow more than three earned runs in any of them. Garcia has allowed two home runs in 20 innings.
Here are a few other matchups and games to look forward to Saturday.
Price of success: DET @ CWS, 7:15 p.m. ET
David Price gets an extra day of rest for this game, the product of a season-high 121 pitches in his last outing. His next-highest pitch output -- 117 -- came three starts earlier, and the Tigers erred on the side of giving his arm a break. Now, Price gets to line up against fellow southpaw John Danks.
Price pitched against the White Sox in April, and he held Chicago to one run in eight innings. For his career, though, the White Sox have often had his number. Price, the 2012 AL Cy Young winner, is just 3-5 with a 3.36 ERA in 11 career starts against Chicago.
Danks, 30, has posted a 3-4 record and a 4.81 ERA in his first 10 starts this season, and he hasn't posted a winning record since going 15-11 with a 3.77 mark in 2010. Danks, acquired from Texas in December of 2006, has made all 223 starts of his big league career with the White Sox.
More Felix, please: TB @ SEA, 10:10 p.m. ET
Seattle's Felix Hernandez, the league leader in victories (eight), got lit up for a season-high seven earned runs in his last outing. The Mariners are 9-2 when Hernandez takes the ball, and his last start also represents the only time this season that he has been knocked out before completing five innings.
Hernandez has thrown two shutouts this season, and he has just one no-decision. The 29-year-old allowed just one home run in his first five starts, but he's given up seven in his last six outings. Hernandez has held opposing hitters to a .186 batting average in six starts at home.
The Rays are right in the thick of the race for the top spot in the AL East, and they're one of two teams in the East with a winning record on the road. Alex Colome will get the start for the Rays and he's managed a 3-2 record and a 5.05 ERA in his first seven starts this season.
Spencer Fordin is a reporter for MLB.com. This story was not subject to the approval of Major League Baseball or its clubs.