Grant: Tribe should pick best player available
Director of amateur scouting thinks approach works best for Indians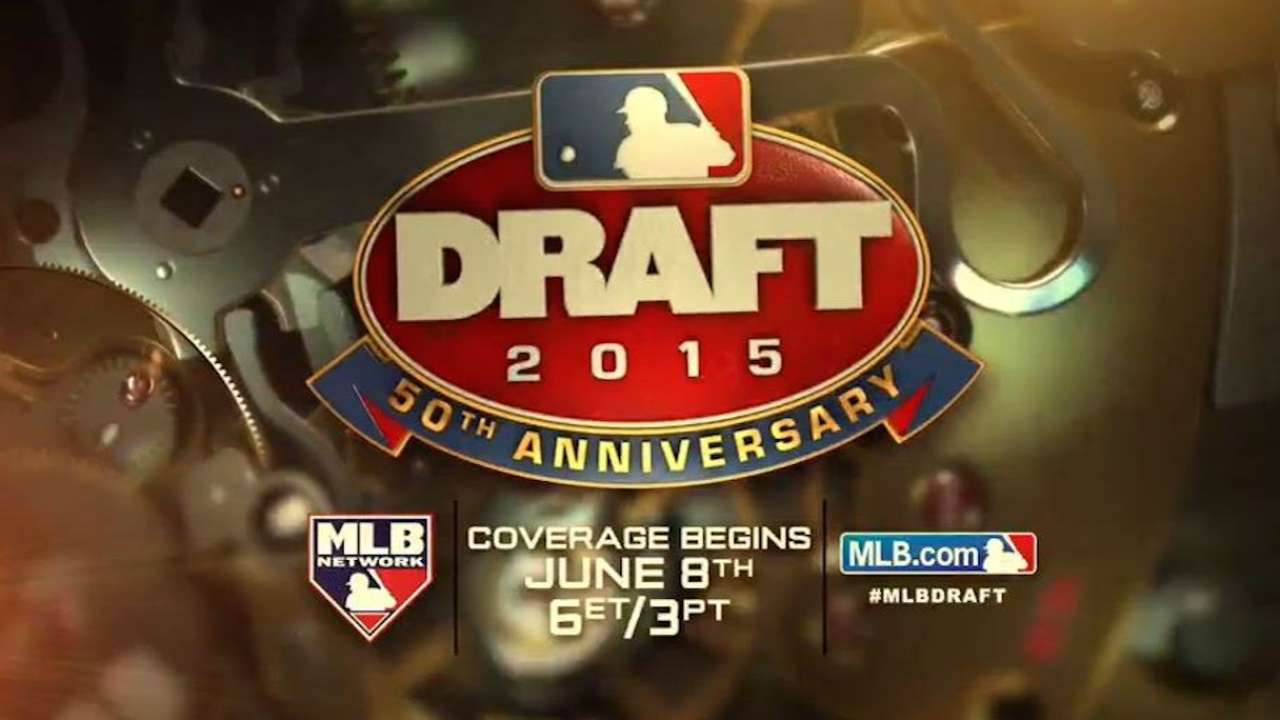 CLEVELAND -- The Indians are firm believers in the best-player-available approach when it comes to the annual Draft. It is a strategy that has led to Cleveland selecting a highly-touted center fielder with its top pick in each of the past three years.
Even after selecting outfielders Tyler Naquin (2012), Clint Frazier (2013) and Bradley Zimmer (2014) in the first round of the past three Drafts, the Indians would not hesitate to grab another center fielder with the 17th overall pick on Monday, if that is the player deemed the best available on the board.
"I don't think you can allow that to play into it, especially with how baseball develops players," Brad Grant, the Indians' director of amateur scouting, said on Friday at Progressive Field. "It's a four-to-five year process to allow that to happen. The good part about taking a premium position player, like a center fielder, is that then you have versatility with what you might do with that player.
"If they hit enough, they're going to find a spot on the field. To do that again would be fine. We'll take the best player."
The 2015 Draft will take place from Monday-Wednesday, beginning with the Draft preview show on MLB.com and MLB Network on Monday at 6 p.m. ET. Live Draft coverage from MLB Network's Studio 42 begins at 7 p.m., with the top 75 picks being streamed on MLB.com and broadcast on MLB Network. MLB.com's exclusive coverage of Day 2 begins with a live Draft show at 12:30 p.m. on Tuesday, with exclusive coverage of Day 3 beginning at 1 p.m. on Wednesday.
MLB.com's coverage includes Draft Central, the Top 200 Draft Prospects list and Draft Tracker, a live interactive application that includes a searchable database of over 1,700 Draft-eligible players. Every selection will be tweeted live from @MLBDraftTracker, and you can also keep up to date by following @MLBDraft. And get into the Draft conversation by tagging your tweets with #mlbdraft.
After the 17th overall pick in the first round, Cleveland will then have the 42nd pick, during the Competitive Balance A round prior to the second round. The Indians then select at No. 59 and No. 93 within the Draft's first 100 picks.
Grant said the best-player-available method works well for picking at No. 17.
"The Draft this year, there's depth to it," Grant said. "There's no one particular area that stands out. There are really good players in it. Picking at 17 gives us an advantage in that we'll have a lot of good players to choose from and we'll have a very good choice there. If you look at our last three Drafts, the last three, we've taken a center fielder.
"We're picking down in the Draft because of how we're playing at the Major League level. At 17, we're going to look to take that player that fits best for us and not lock ourselves into anything. We want to be able to react to the Draft. So, if there's a player there that we didn't anticipate being there, we're ready to take that player. So, we don't lock ourselves into anything."
Jordan Bastian is a reporter for MLB.com. Read his blog, Major League Bastian, follow him on Twitter @MLBastian and listen to his podcast. This story was not subject to the approval of Major League Baseball or its clubs.