MLB.com Columnist
Phil Rogers
Draft prospect Perez follows Venditte's path
Switch-pitcher may be picked next week after building reputation in Cape League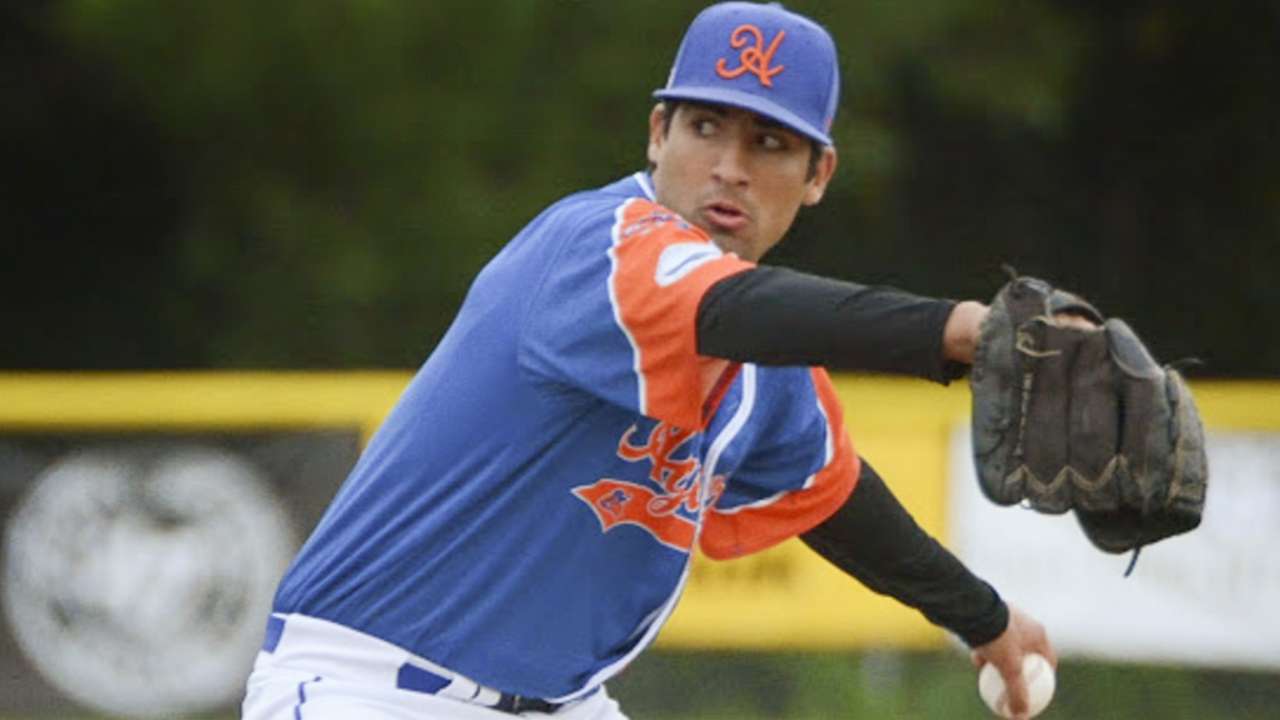 The trail has been blazed.
Pat Venditte, baseball's first truly ambidextrous Major League pitcher since Tony Mullane, who retired in 1894, joined the A's on Friday after eight seasons in the Minor Leagues and recorded two scoreless innings in Oakland's 4-2 loss in Boston.
• Ambidextrous Venditte hurls two shutout frames
• Two different sides of Venditte
The wait for the next pitcher of this kind might not be nearly as long -- not if Ryan Perez can help it.
"This sort of puts my name up there as well,'' Perez said of Venditte's promotion. "It's good for him and for me. I'm excited.''
Perez, an ambidextrous pitcher from Judson University, in the Chicago suburbs, is expected to be selected within the first 10 rounds of next week's Draft.
While it took a long time for Venditte's routine to be viewed as more than a gimmick, scouts see Perez as a legitimate prospect. His ability to throw 90 mph-plus from both sides is considered an intriguing asset, at least by some organizations.
"With me, a team gets two arms out of the bullpen, not just one,'' Perez said. "You can benefit from that. You only pay one player, but you get two. You're saving money.''
Sounds like something that might appeal to A's general manager Billy Beane, doesn't it?
A scout I talked to on Friday said Perez could go as high as the fourth or fifth round despite a disappointing junior season in which he pitched exclusively right-handed until the last few weeks. A projection that high may be optimistic, but Perez was heavily scouted last summer, when he went to the Cape Cod League on a 10-day trial and ended up as MVP of its All-Star Game, and he has been throwing well in showcases and individual tryouts over the last few weeks.
"Legitimate, big-time stuff,'' a scout says of Perez. "He's got a wicked curveball from the left side.''
Perez threw both left- and right-handed in the Cape Cod League, adjusting to gain a platoon advantage against hitters, as does Venditte. But Perez left an impression when throwing left-handed to a right-handed hitter during his perfect inning in the Cape's All-Star Game.
Facing Cincinnati's Ian Happ, a switch-hitter who's expected to be a first-round pick on Monday, Perez opted to throw left-handed. So Happ dug in to bat right-handed.
"He struck him out with his curveball,'' said the scout. "It's a really good pitch.''
When Perez strained his left triceps at the start of the season, he was used only as a right-handed pitcher by Judson head coach Rich Benjamin. But he rehabilitated the injury and was back throwing from both sides as the Eagles went 40-20, advancing to the NAIA National Tournament.
Perez had hoped to pile up innings after going 12-3 with a 2.43 ERA over 111 innings in his sophomore season. He was limited to 27 1/3 innings, however, and never really got into his rhythm.
Coming off a down season, Perez will be a definite wild card in this year's Draft class. He's been busy doing workouts the last few weeks, throwing for scouts from the Padres, Cubs and Cardinals in addition to a Perfect Game showcase that was attended by scouts from several organizations.
Venditte earned All-America honors at Creighton but lasted until the 45th round in the 2007 Draft, prompting him to return to Creighton for his senior season. The Yankees drafted him for the second time in '08, that time in the 20th round.
The radar gun was never Venditte's friend.
While Venditte was a useful reliever in the Yankees system, he never received big league consideration because he couldn't hit 90 mph with either arm. He kept getting outs, however, and that eventually opened a door for him after the A's signed him as a Minor League free agent.
Any success Venditte has can only help Perez.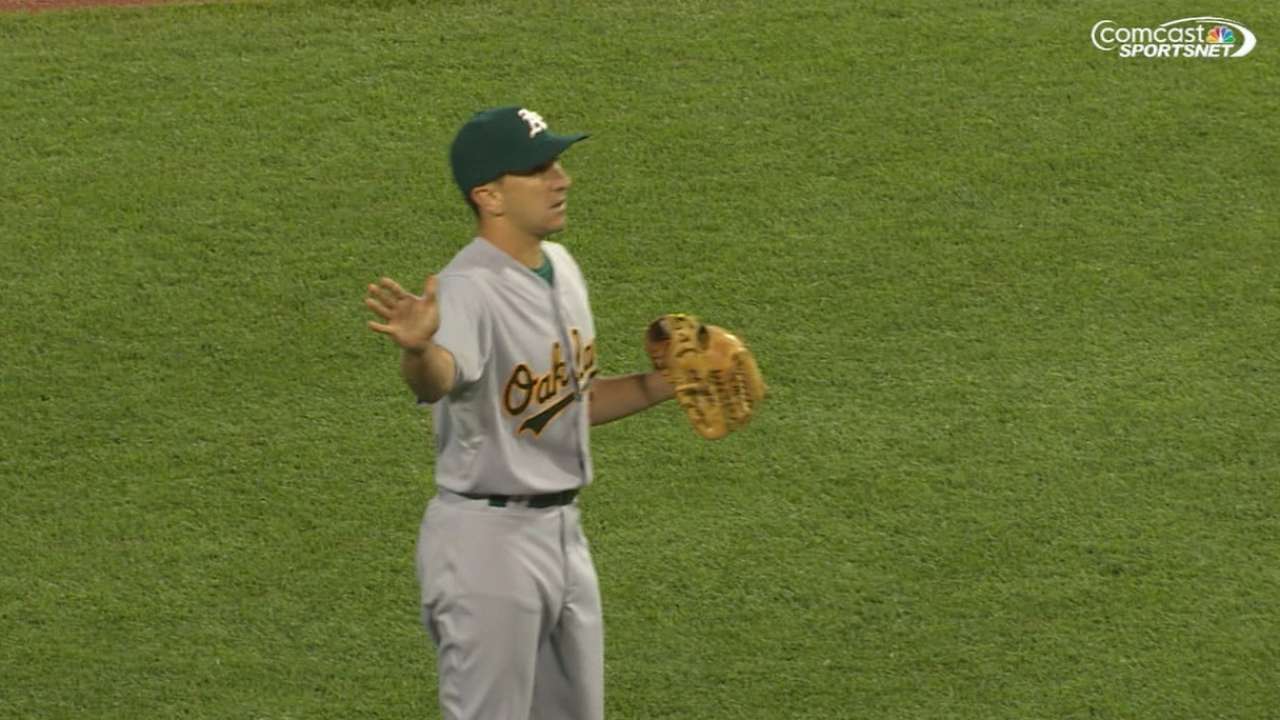 Like Venditte, Perez has been throwing ambidextrously his entire life, keeping both of his arms in shape to pitch. Perez underwent Tommy John surgery on his right arm in high school and was used exclusively left-handed as a freshman at Judson. But his right-handed velocity returned, and he opened eyes in his sophomore season while working as a starter and more often than not switching the hand he'd throw with on an inning-by-inning basis, not batter-to-batter.
Perez is a huge believer in his ability to be effective against the best hitters by using both arms.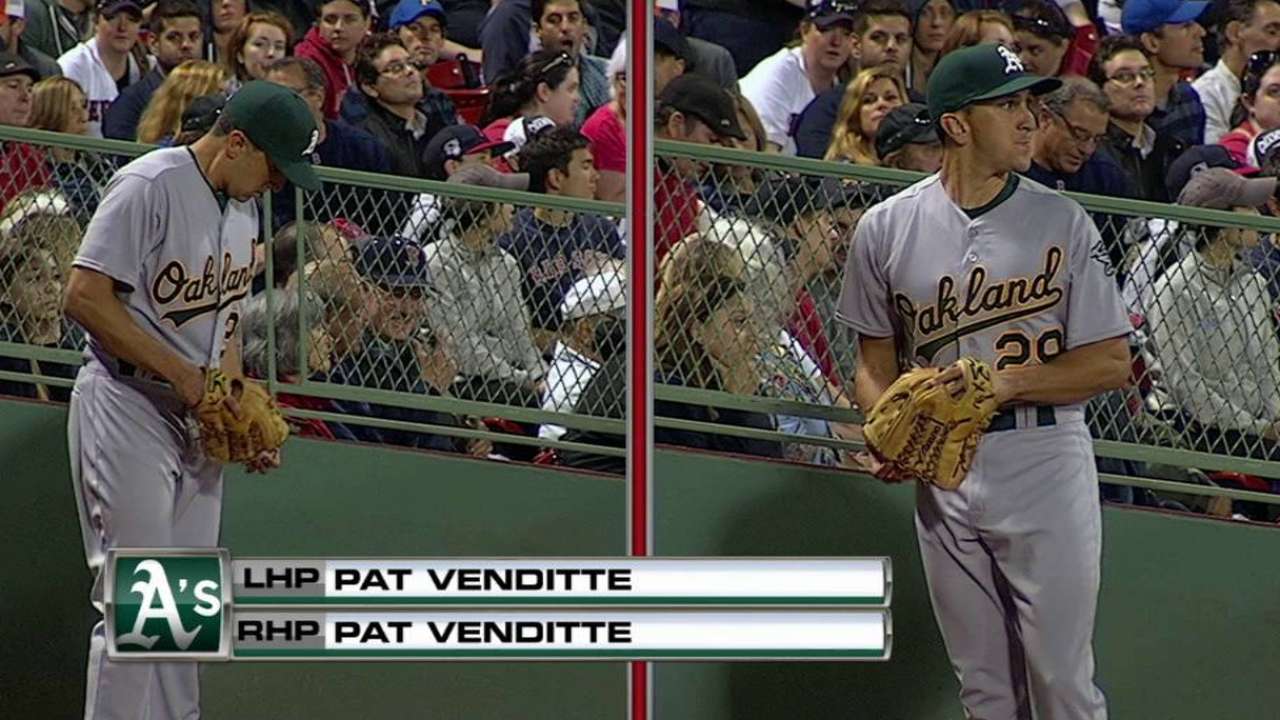 "Even for me, even for Pat, there are things we haven't even thought of yet,'' Perez said. "We're like the first of this breed, if you want to say that. It's almost like a whole different type of baseball, but why not? People use their whole bodies in other sports. Hockey players can shoot from both sides of the ice. Soccer players kick the ball with both feet. … This is unusual in baseball, but I think there are a lot of benefits to it.''
Will teams buy into the idea? It won't be long until we find out.
Phil Rogers is a columnist for MLB.com. This story was not subject to the approval of Major League Baseball or its clubs.