Flurry of roster moves includes Wieters' return
Orioles catcher comes off 60-day DL as one of club's several transactions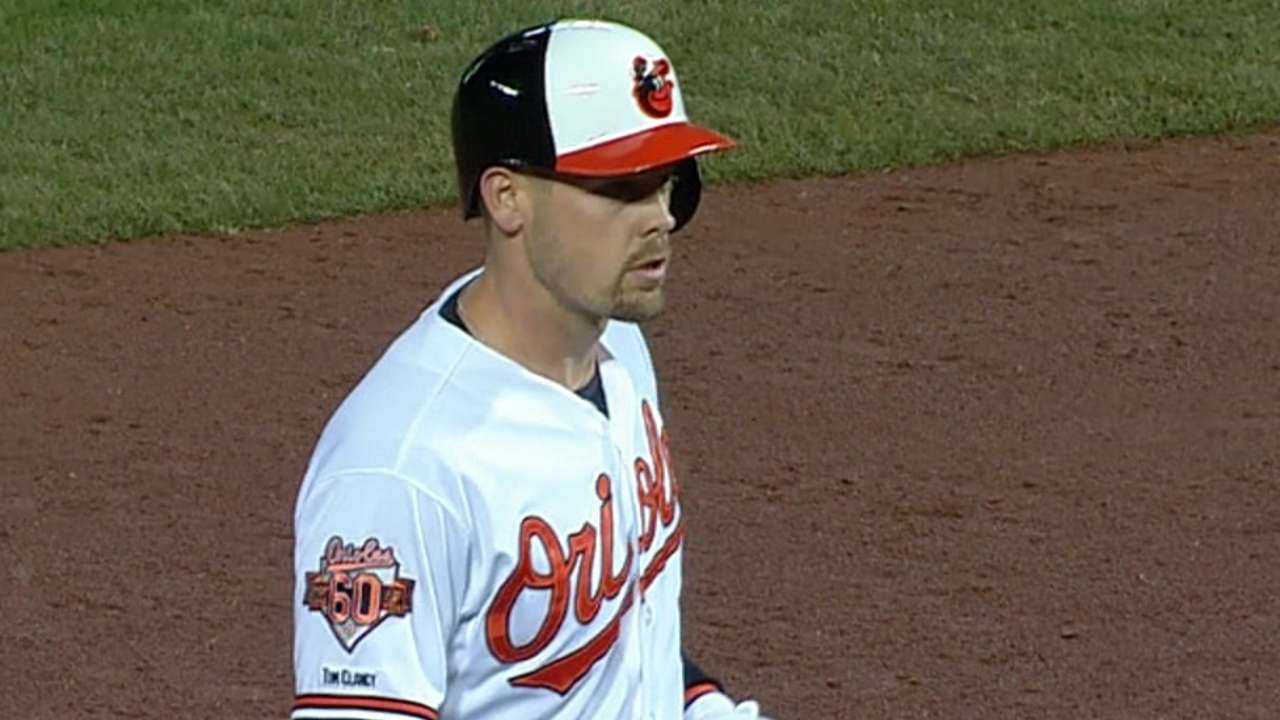 CLEVELAND -- The Orioles got their All-Star catcher back.
Baltimore made a series of transactions ahead of Friday's series opener in Cleveland, headlined by the return of Matt Wieters from the 60-day disabled list after a nearly year-long recovery from elbow surgery on his throwing arm.
"I know Matt's excited. It's been a long road for him," manager Buck Showalter said. "He's crossed a lot of bridges. You can just tell by his face that he'll get into the competition very quickly."
For the time being, Showalter plans to alternate days behind the plate between Wieters and Caleb Joseph, with Wieters potentially seeing some time as the designated hitter. Wieters will catch again on Sunday and also Tuesday, but Showalter said beyond that, there is no concrete schedule for what days he will catch, and that if Wieters needs consecutive days off at any point, they will do that.
Wieters underwent Tommy John surgery on June 17, 2014, to replace his ulnar collateral ligament, a process typically reserved for pitchers, though not exclusively. Former teammates of Wieters, catchers Craig Tatum and Taylor Teagarden, have also undergone the surgery.
"I've talked with both of them, but what I've learned from talking to everybody about this surgery is that everybody's body is different and everybody's going to have a different experience with it," Wieters said. "I've probably talked to 50 guys who have had it and probably got 49 different stories."
Wieters said the toughest part of the rehab process was learning his body -- when to push himself and when to take a step back -- and says he will not be changing anything about his throwing mechanics.
"We felt like the mechanics were fine before, so that wasn't the issue," Wieters said. "It's just a matter of trying not to change anything, because that way you can hurt something else."
The O's also designated veteran infielder Everth Cabrera for assignment, while optioning catcher Steve Clevenger and right-handed pitcher Mike Wright down to Triple-A Norfolk. Infielder Rey Navarro was recalled, and the contract of left-handed reliever Cesar Cabral was purchased from Norfolk.
Cabrera made the National League All-Star team in 2013 with San Diego before being suspended 50 games for using performance enhancing drugs. He batted just .208/.250/.229 with no home runs and two steals in 29 games this season.
Cabral has made 12 Major League relief appearances with the Yankees over the past two years and has dominated the Minor Leagues this season, throwing 21 2/3 scoreless innings between Double-A and Triple-A.
"I don't know what else a guy can do down at the level below this one to cause his promotion," Showalter said. "It's the biggest jump in sports, so we'll see how that plays, but I'll have no hesitations to use him."
Left-handed reliever Brian Matusz also had his eight-game suspension for having a foreign substance on his arm upheld by the league office, following an appeal.
"I'm sure they've got good reasons and a process in place with time to look at it," Showalter said. "Obviously I'm biased, but I have a lot of honest knowledge of what went down. You have to go with the decision and move on."
Spencer Fordin is a reporter for MLB.com. August Fagerstrom is an associate reporter for MLB.com. This story was not subject to the approval of Major League Baseball or its clubs.