Excitement for first Draft building for Rikard
Red Sox director of amateur scouting tackling challenge of 'non-typical' class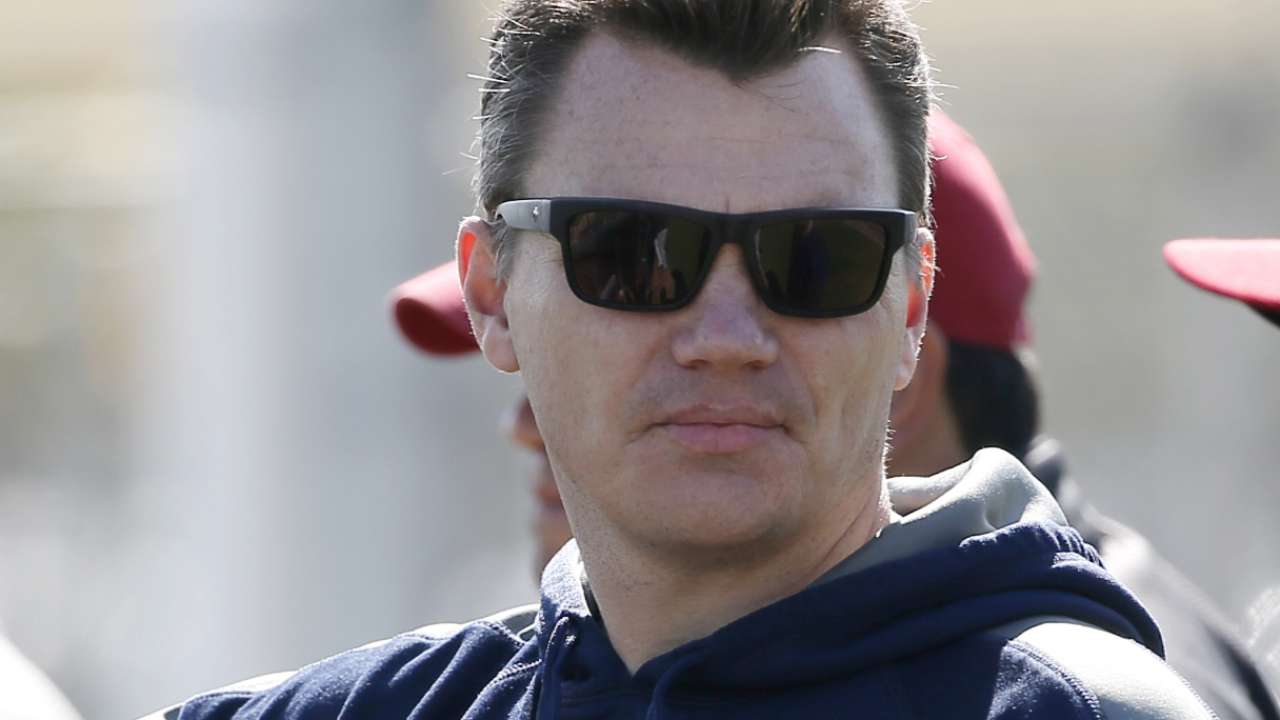 BOSTON -- With more than a decade's worth of scouting experience under his belt, first-year director of amateur scouting Mike Rikard has grown accustomed to the long hours of travel his new title with the Red Sox requires.
As Rikard prepares to piece together his first class in next week's Draft, however, the former college coach admitted his emotions may run high when the staff finally bunkers up in its war room.
"Going through anything of this magnitude for the first time, there's going to be some level of anxiety," Rikard said. "You just try to keep that positive, and it's certainly an exciting time."
The Red Sox find themselves in an interesting position ahead of the Draft. They hold the No. 7 pick following last season's disappointing finish and then do not pick again until the third round, the 81st overall selection. Boston forfeited a second-round pick and a Competitive Balance Round B pick -- the latter sandwiched in between the second and third rounds -- after signing Pablo Sandoval and Hanley Ramirez this offseason, respectively.
With just two selections in the first 110 picks, Rikard said the team has been able to focus more on a narrower pool of targets. However, he also noted that the six teams drafting ahead of them could go in several different directions, making the decision tougher.
"I think to that point, this Draft class may be a little non-typical, just because there's some uncertainty in front of us," Rikard said. "There maybe hasn't been those guys at the top of the Draft that have kind of solidified themselves. There is some gray area as far as what teams may do in front of us."
The Red Sox's more recent Drafts have tended to dip into the high school ranks. Last year, the team took prep players Michael Chavis (shortstop) and Michael Kopech (right-handed pitcher) in the first round. High school lefty Trey Ball was the club's pick at No. 7 overall in 2013.
MLB.com analyst Jim Callis predicted the Sox will land Vanderbilt right-hander Carson Fulmer in his most recent mock draft.
With high expectations at the Major League level, will there be any temptation for the club to draft a more polished prospect who could ascend quickly?
"I think one of the hardest things we do is try to project amateur talent," general manager Ben Cherington said. "Mike and his staff have been working really hard to do that all spring. If we start to weigh too heavily the shorter term needs at the Major League level, we start to make the Draft harder than it already is."
As for Rikard, who has worked with the Red Sox since 2004, he will rest a little easier on Monday knowing his fingerprints are already on several successful Draft classes.
"To be quite honest, the transition has been as easy as I could have anticipated," Rikard said. "We have a staff that's been together for a long time. There's a great amount of trust factor. There's a lot of comfort level."
The 2015 Draft will take place from Monday through Wednesday, beginning with the Draft preview show on MLB.com and MLB Network on Monday at 6 p.m. ET. Live Draft coverage from MLB Network's Studio 42 begins at 7 p.m., with the top 75 picks being streamed on MLB.com and broadcast on MLB Network. MLB.com's exclusive coverage of Day 2 begins with a live Draft show at 12:30 p.m. on Tuesday, with exclusive coverage of Day 3 beginning at 1 p.m. on Wednesday.
MLB.com's coverage includes Draft Central, the Top 200 Draft Prospects list and Draft Tracker, a live interactive application that includes a searchable database of over 1,700 Draft-eligible players. Every selection will be tweeted live from @MLBDraftTracker, and you can also keep up to date by following @MLBDraft. And get into the Draft conversation by tagging your tweets with #mlbdraft.
Alec Shirkey is an associate reporter for MLB.com. This story was not subject to the approval of Major League Baseball or its clubs.