Moscot debuts for Reds; Iglesias to DL
Marquis designated for assignment; club's No. 14 prospect faces Padres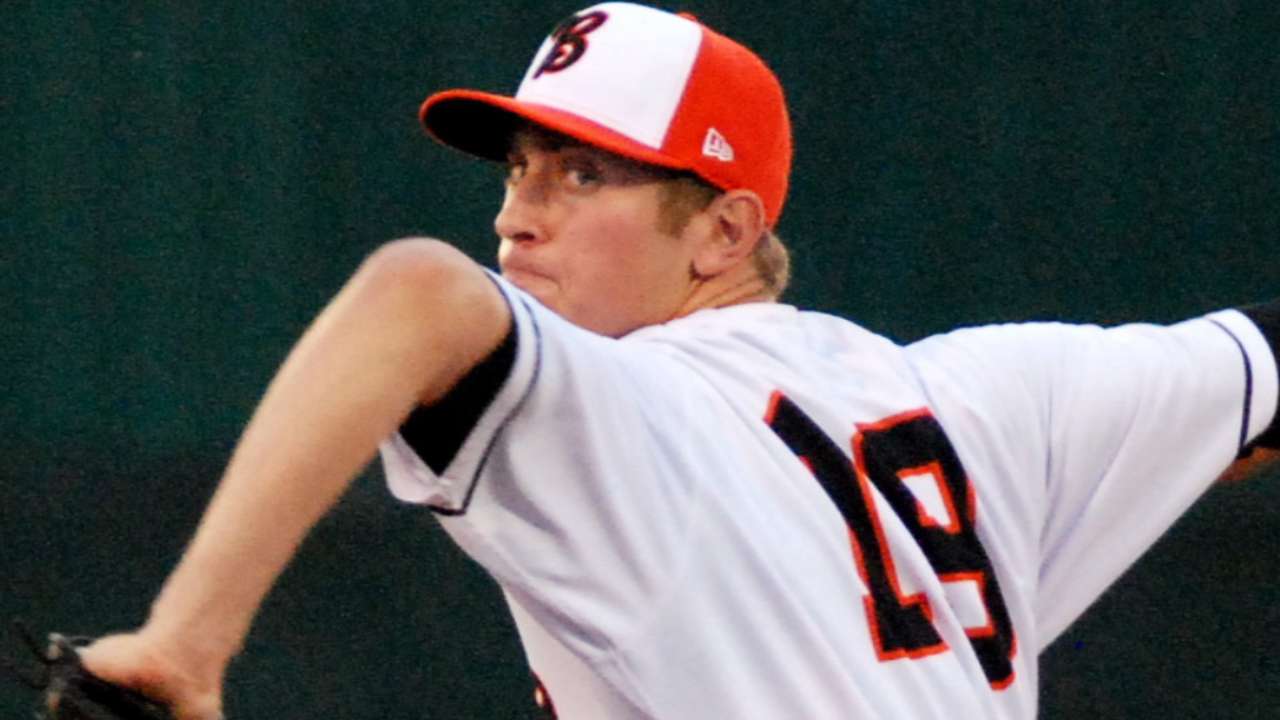 CINCINNATI -- Prior to Friday's game against the Padres, the Reds placed rookie starting pitcher Raisel Iglesias on the 15-day disabled list, retroactive to Sunday, with a strained left oblique.
Iglesias was scheduled to make his fifth start of the season on Friday in the opener of a three-game series, but it was announced around 1 p.m. ET that No. 14 prospect Jon Moscot had been called up from Triple-A Louisville to make his Major League debut in place of Iglesias.
Moscot allowed four runs on four hits over five innings with three strikeouts in Friday's 6-2 loss to the Padres.
The Reds also recalled right-hander Pedro Villarreal from Triple-A and designated veteran righty Jason Marquis for assignment. Villarreal has appeared in two games this season in the Majors, posting a 10.13 ERA in 2 2/3 innings. His last appearance with the Reds came on May 9.
Moscot, the Reds' fourth-round pick in the 2012 Draft, was 7-1 with a 3.15 ERA and 34 strikeouts in nine starts with Louisville this season.
"He's been our best Triple-A starter; he's a kid that we've liked," Reds manager Bryan Price said of Moscot. "We see him as one of our better young pitching prospects. He's done everything he's needed to do with the Triple-A level at this point in time to be the best candidate to come in and make this appearance, and because of the injury, he'll probably be in the rotation for at least a couple, few starts, then we'll see where we are."
Price said Iglesias mentioned soreness after his most recent start, on May 30 against the Nationals, and the manager wanted to give Iglesias time to recover instead of risking further injury.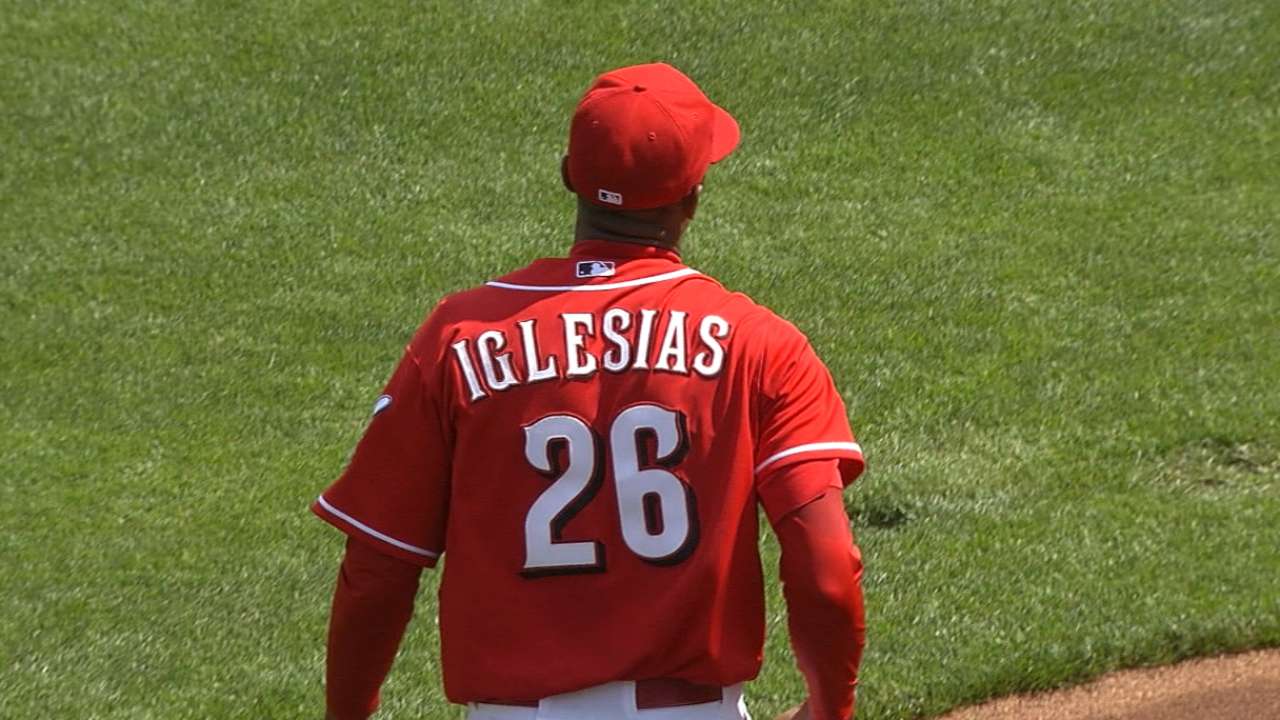 "It's just one of those things that can definitely get worse by pitching, and if it gets worse, it can be certainly extended time on the disabled list," Price said. "So we decided to go the safe route and we brought up Jon Moscot, who was scheduled to pitch today as well."
Iglesias has appeared in six games (four starts) for the Reds this season, his first in the Majors, going 1-1 with a 5.11 ERA and 25 strikeouts in 24 2/3 innings.
Marquis has struggled this season, going 3-4 with a 6.46 ERA in nine starts. Price decided last week to move the 36-year-old Marquis from the rotation to the bullpen to make room for the return of ace Johnny Cueto.
"Jason came in ready to compete for a job in Spring Training and won a job," Price said. "He threw some good starts for us, especially early in the season, then scuffled a little bit in the second part of his nine starts. We just made the decision to go with a younger guy that we think might be here more long term."
Moscot, who was scheduled to start for Louisville on Friday, will be the eighth pitcher to start for the Reds in 2015, and the third to make his Major League debut this season.
"He's not a secret; he was a relatively high pick, but beyond that, he's always a performer," Price said. "He went to [Class A Advanced] in his first full season and got off to a slow start, as far as wins and losses, but ended up pitching really well in the California League, then to Double-A and now to Triple-A.
"He's just a very mature guy that wants to learn everything he can and really is a student of the game. … We feel, organizationally, that Jon has all the character traits that you need to be a good starting pitcher."
Robert Bondy is an associate reporter for MLB.com. This story was not subject to the approval of Major League Baseball or its clubs.